The Boom of incredibly talented paper artists is showing no signs of stopping, and we are not complaining! Our latest paper artists crush is Helen Musselwhite. The UK based artist takes inspiration from nature, especially the English countryside which she holds very dear to her. Her colorful, highly individual and cheerful works bring a smile on anybody's face.
Helen Musselwhite is an artist who works in creating graphic visual designs and illustrations out of paper. Her distinct and creative style has abled her to work with some of the biggest clients out there. Using paper illustrations and artworks has become very popular in advertising in the past few years. It's been used in everything from print to television, and by a wide array of companies. Musselwhite was one of the first artists to work with clients such as McDonald's, Nokia and Audi, so you've probably crossed paths with her work one time or another.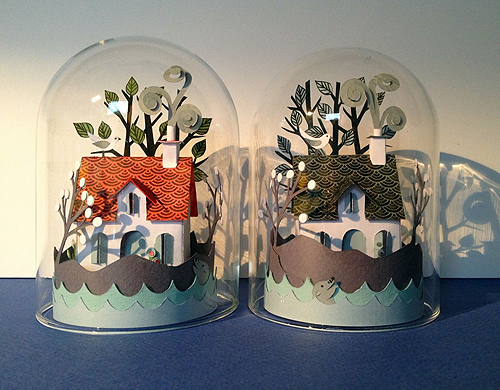 Glass domes, a personal project
Musselwhite creates very visually appealing paper sculptures, where she combines hand cut layers of colored paper and very strong graphic illustrations using the contrast of colors and materials.  You can truly see her passion in her work, how much attention is put into each detail, as well as the range of work she publishes shows her interest in the medium. Her talent lies in three-dimensional paper sculptures, which she often build with-in a box or a  frame.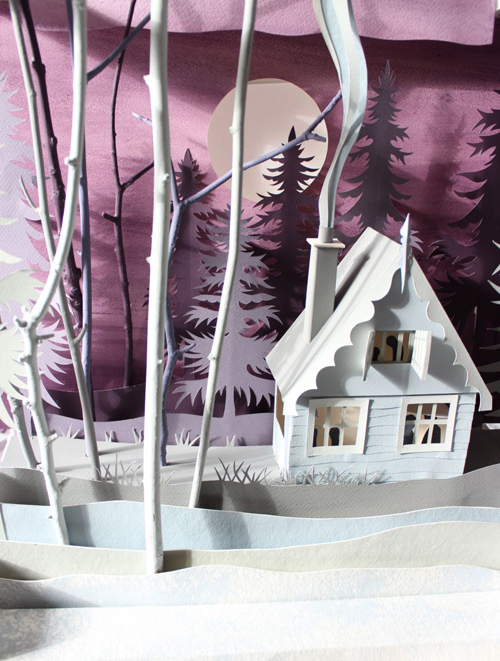 Commissioned work for Holland Herald –KLM's inflight magazine 
As for the chosen material, Musselwhite explains the appeal of paper: "I think it's simply that there's so much that can be done with it; so many ways to manipulate it. The more I work with paper, the more I find I can do with it. Essentially, it's as good a medium as you can make it – as good as your own creativity, and that's a fantastic challenge."
She also states that Watercolor paper, because of it's many textures and weights, to be her favorite material to work with. As her work is very colorful more often than monotone, she uses a range of papers with different finishes and glosses. She has become a master in paper manipulation, describing herself as a paper addict, who struggles to walk past a crafts store. Which we can totally understand!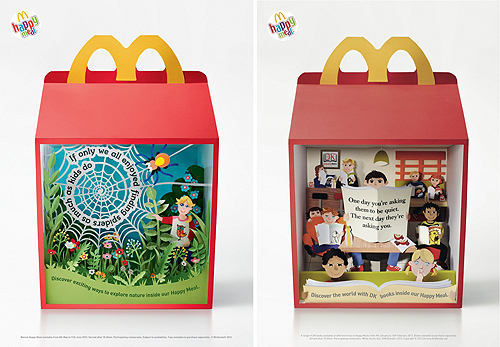 Happy Meal box to promote books and the natural world, commissioned by Advertising Agency Leo Burnett
You can see where Musselwhite draws her inspiration, as you can see references to the Arts and Crafts Movement, 70s' textile design as well as Japanese pattern design in her works. She also states Andy Warhol, Edward Bawden, and Robert Tavener as her main influences, with the English countryside and its nature being the subject in most of her works. She also holds a special interest in owls, which are visible in a number of her artworks.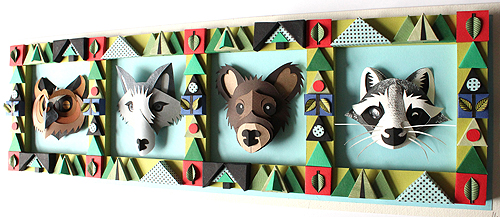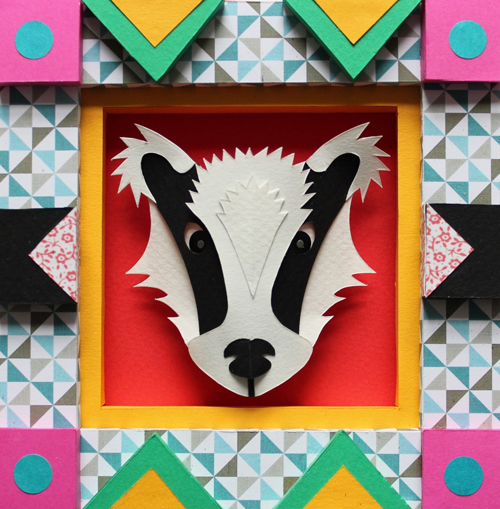 Artwork exhibited at Boxbird Gallery in Hove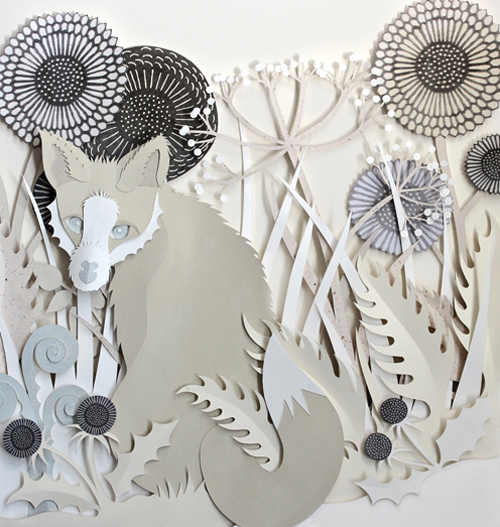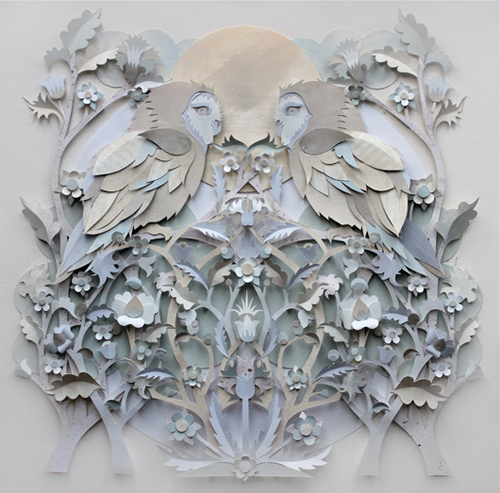 The Ghost collection, commissioned by Chewton Glen Hotel
To our delight, Musselwhite is a quite productive artist, publishing new work often. So make sure to visit her official website to see more of her works and to catch up with the artist through her blog.
Photo source Helen Musselwhite