UK-based JR CHUO is a young 19-year old contemporary paper cut and spray paint artist who's fast gaining recognition. CHUO's work explores "the notion of facades in society that conceal harsh realities", through incredibly delicate, precisely hand-cut lace-like pieces that easily capture anyone's attention with their meer beauty. Despite the artist's young age, he has explored and perfected his skills and technique for years now and does not shy away from bigger issues, such as climate change and coral bleaching, winning him the praise and interest of the art world. The bold, sometimes fluorescent color schemes in CHUO's work have an alien, or an under the water feel or an other-worldly dimension.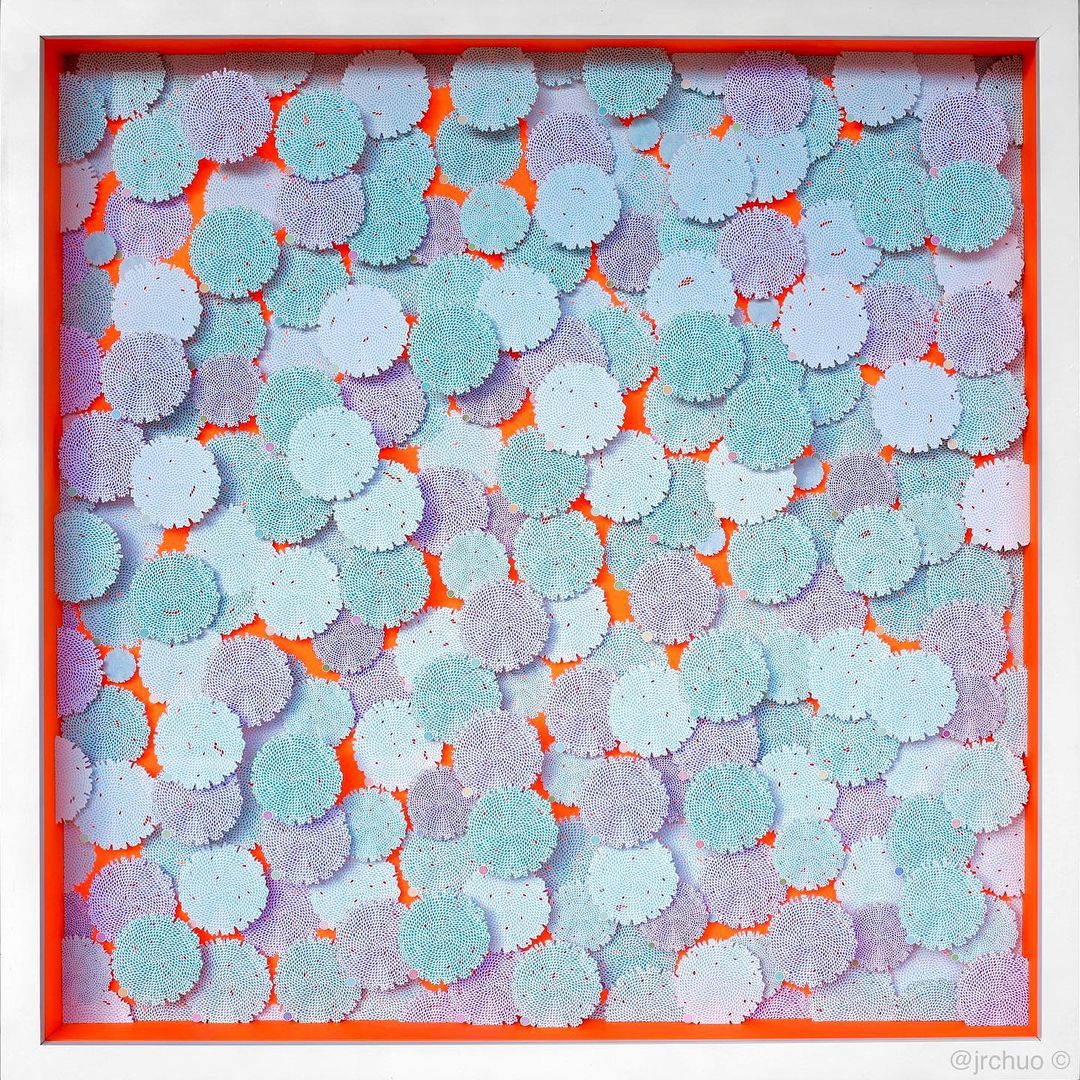 The cellular nature of CHUO's pieces juxtaposes organic and organized patterns, creating a captivating and dramatic harmony in which small pieces build a larger whole.
CHUO's work celebrates the complexity paper as a medium can offer, highlighting its inner structure, as well as its delicate, yet unique beauty. Most of the artist's work is built of thousands of individually cut shapes, which then together in harmony form a large seamless design. While feeling organic and almost primitive, CHUO draws inspiration from the organized nature of urban maps and the simplification of metropolitan areas, as well as the constantly under-thread coral reefs, which share a common aesthetic structure of complex yet abstract networks.
Most of the artist's work is build of thousands of individually cut shapes, which then together in harmony form a large seamless design.
The precise work and rigorous effort that goes into making these sometimes massive pieces feels impressive, and dramatic at once. With a diameter of almost 2 meters, CHUO's largest paper cut piece – Shinjuku – took around 2 years to complete and captures his ever-evolving paper cutting technique over this time period. This piece was selected by Saatchi Art as one of their 'Curator's Picks' for The Other Art Fair London in July 2021, where the artist recently exhibited some of his latest work. 
Another highly expected piece 'Roppongi Reef' will be exhibited at the Tokyo International Art Fair this October. The piece consists of hundreds of hand-cut paper pieces elevated at different heights and is inspired by the complex nature of coral reefs.
Follow the paper artist on Instagram for more inspiration and up-to-date information on upcoming exhibitions.