POOOPS! paper bags are the first product from Zerowastepets, a Russian brand manufacturing convenient products for an eco-friendly life with pets. The POOOPS! paper bags are not only useful with their clever closing mechanism and recyclability but they're not bad to look at either, thanks to Katerina Teterkina from Openmint Studio who designed the branding and packaging.
Who could have thought a product designed for the disposal of poop can look this cool!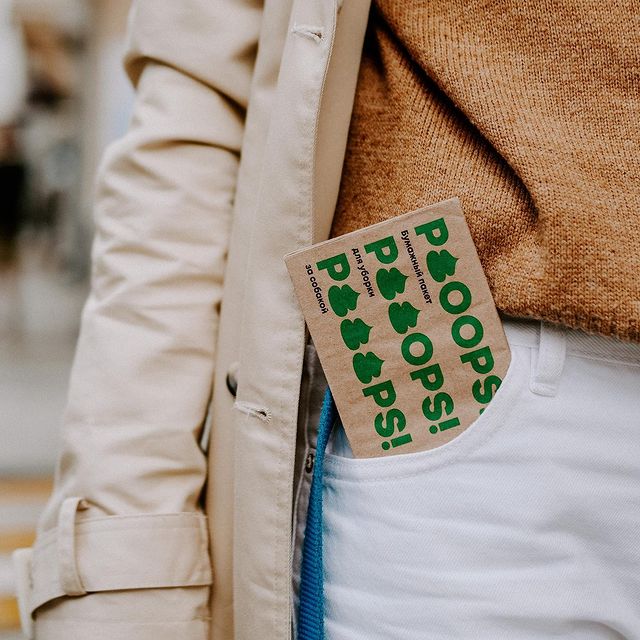 When the designers and clients share an equal interest in sustainability, a truly pioneering product with a beautiful design is possible
Zerowastepets strongly believes that a greener future is possible, including living with our pets. The POOOPS!
bags are made of 100% recycled paper and cardboard, making them completely biodegradable. Being currently the only truly eco-friendly alternative to single-use dog waste disposal products in Russia – such a pioneering product deserves a beautiful branding as well. Openmint Studio, an international branding and design studio in Moscow, Russia, enjoys working with clients who share their values on sustainability, environmental issues, and conscious design while being
passionate about what they do. Making the studio and Zerowastepets are a great match.
"Developing the brand language, we focused on the specifics of recycled paper as a material. Since the pack of bags needs no extra packaging except the sleeve, we made it as contrasting as possible for the product to stand out from its competitors in the eco-segment."
The unique design and structure of the POOOPS! paper bags allow you to quickly and easily clean up after your pet. The handles that are made of heavy-duty recycled cardboard help keep your hands off the contents of the bags for a comfortable cleaning experience. The bags are no larger than a cellphone for easy carry, and the simple yet playful branding brings a smile to your face even during this not-so-glamorous but necessary task. The naming of the product is a play on two words while. You can find more information on the product on the
Zerowastepets
Instagram page, while
Openmint Studio's
Instagram is a guaranteed source of design and packaging inspiration.