I've always thought of books to be somewhat of life-saving objects, as they educate and widen your world like nothing else, but now, the revolutionizing Drinkable Book will actually save lives! Each page of this book doubles as a water filter that removes deadly bacteria, as well as educates on sanitation and hygiene – and it even looks good!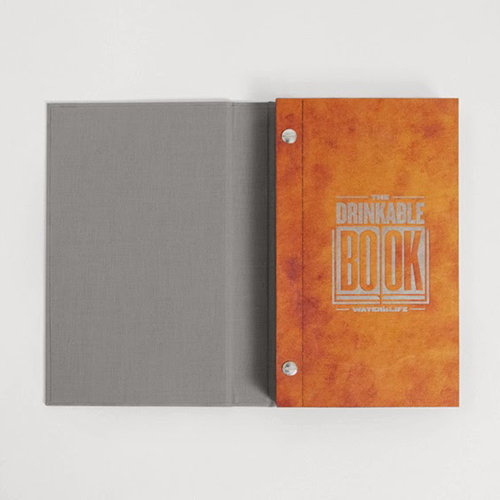 A team of American scientists and designers have collaborated to create the Drinkable Book, using a combination of typography, nanotechnology and specially-designed filter paper. A great example what can be done when professionals from different fields put their efforts together, a true innovation of the future
DDB New York and the nonprofit Water Is Life charity have launched the Drinkable Book that not only educates at-risk populations on sanitation and hygiene but also each page of the book doubles as a mean to purity contaminated water. The book's pages unique technology was invented by chemists Dr Theresa Dankovich. Each page is coated with microscopic particles of silver. When water passes through, more than 99% of harmful bacteria – like cholera, E.coli and typhoid, are destroyed, and the resulting liquid is safe to drink. The paper, and the text, printed in food-quality ink, provides basic safety information, such reminders to keep trash and feces away from water supplies.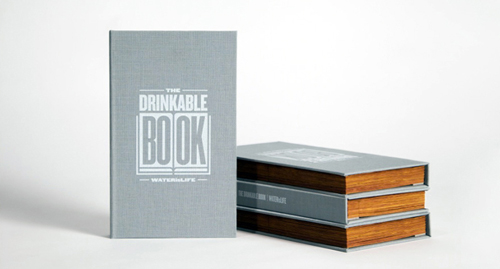 Typographer Brian Gartside from New York was brought on board to help design the book's aesthetic. "At the moment, this is by far the most exciting project I'm working on," he told Dezeen. "The process of designing the book itself was unlike anything I've done before, simply because of all the variables that were beyond our control." – Gartside explains.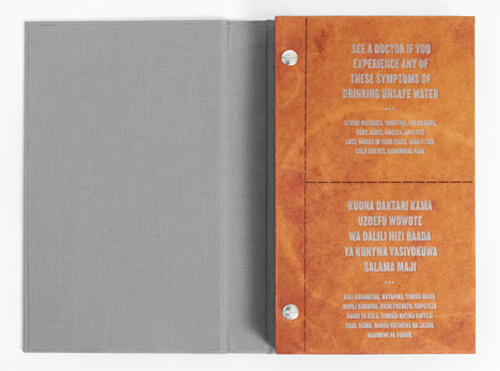 The filter paper costs pennies to produce, and each page gives 60 days of safe drinking water, while the whole book can provide a person with drinkable water up to four years. Providing clean water and useful information about sanitation to communities in need has been always been a challenge, but now it seems, the Drinkable Book breaks both obstacles. Incredible!
And how it all works?
A single page is broken down into two 11.5cm x 11.5cm filters with the top one printed with hygiene information in english and the bottom one in local language. The first patch was produced for Kenya and done in english and swahili. That filter is then slipped into the specially produced tray that is part of the 3D printed package the book comes in. The filter purifies the water poured through, and everything left is safe to drink.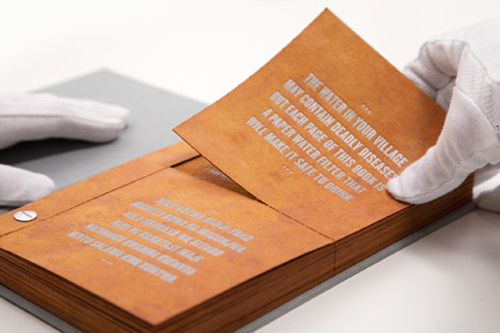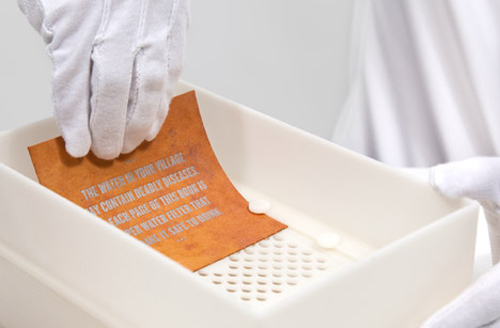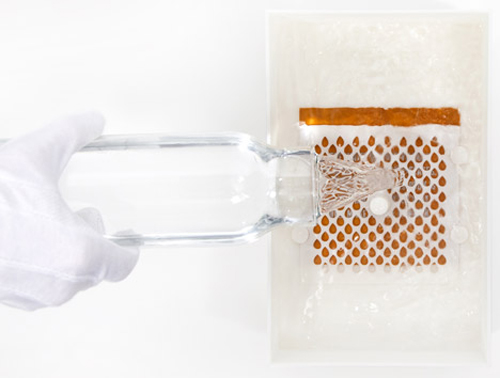 For more information watch the video below or visit Water is Life homepage.
Photos via Water is Life