Bruketa&Žinić&Grey is one of the most award-winning advertising agencies in Southeastern Europe with over 600 international awards for creativity and effectiveness in design and advertising. Known for its imaginative and creative corporate projects, Bruketa&Žinić&Grey's creates innovative and clever solutions for projects ranging from brand strategy to packaging design and web design to offline marketing communications.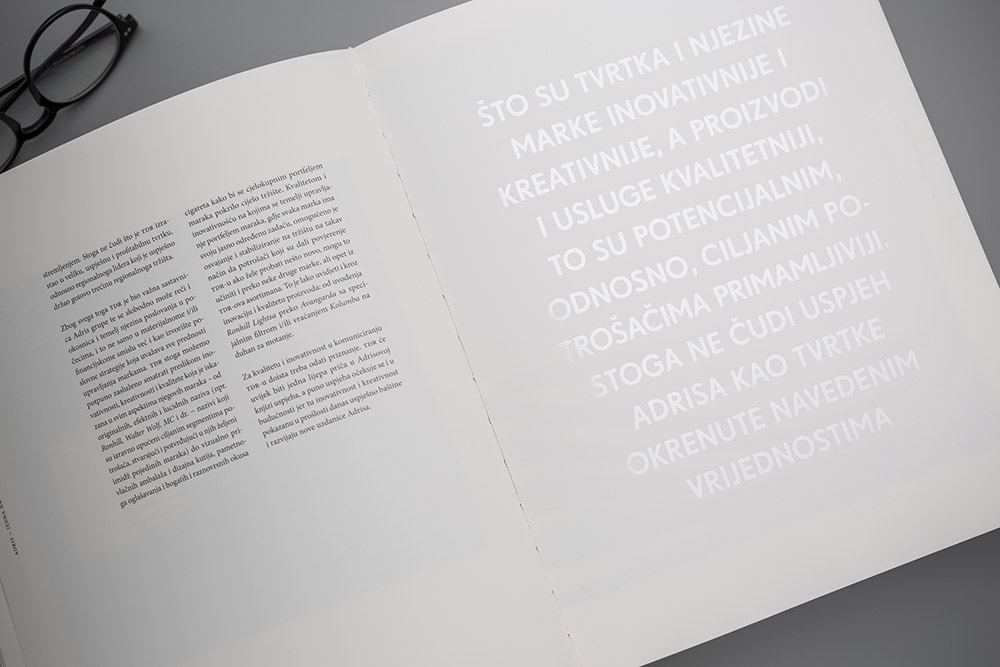 Croatian company Adris Group is a long-standing client of Bruketa&Žinić&Grey, with numerous collaborative projects created over the years, with the most famous one being their annual reports. Bruketa&Žinić&Grey has built a reputation on designing incredible annual reports for Adris Group, including one that glows in the dark, another that weighs a lot more than it looks, one whose pages change color upon touch, and a monograph which tells the story of the company through the words of six renowned authors.
"The One Croatian Story" – a story of successes and contributions to the Croatian society
The Adris Group's annual report from 2016, "The One Croatian Story" is a monograph and one of their most ambitious publishing ventures. Designed as an interdisciplinary look at the company's operations and achievements, the book examines various aspects of the company's corporate philosophy and includes an extensive overview of the architectural and design achievements of the Adris Group. The large, monumental book with white, "upholstered" covers is elegantly in line with other Adris Group publications.
The book is a success story written in six chapters by six renowned authors, experts who view the Adris group from different points of view and perspectives in completely different aspects. The story tells the companies transformation from a tobacco business to a sustainable company focused on elite tourism, healthy food production, and the financial sector – a story of successes and contributions to the Croatian society and economy of the Adris Group. 
Achievements and activities presented through Adris Group's contribution to the Croatian architectural culture
The design concept of the annual report monograph relies on architecture and ambiance in a visual sense. The diverse activities of the Adris Group are presented through their urban and natural interventions, example, aquaculture company Cromaris is represented through a modern hatchery in Nin and aerial photographs of the fish farm, hotel company Maistra's activities through progressive hotel architecture, and Croatia Osiguranje insurance company is represented by the iconic but also the energy-sustainable architecture of its new headquarters in central Zagreb.
Exclusive, high-quality feel with GardaPat 13 Klassika
The annual report monograph is printed on GardaPat 13 Klassica 150g – exclusively available at Europapier – chosen because of its characteristics: warm natural shade, matt velvet surface, and high thickness, which met our need feature for a big book block and exclusive touch and feel. The book contains a series of photographs of varying quality, so we needed a paper with high-quality results in full-color print.
Bruketa&Žinić&Grey initially considered a different material for the book cover, which proved to be expensive and unavailable but decided for GardaPat 13 Klassica for its soft-touch lamination, which gave an almost identical result. The same printing techniques of embossing and hot foil printing which were used on the book covers were also used for the bookcase also. Skin Black and Eska black were used for the bookcase.