Toilet paper hoarding must be one of the most wildly spread and funniest idiosyncracies from the covid-era that we all know and will remember for years to come. "Remember how we all bought tons of toilet paper in the beginning" is a sentence most of us have muttered in disbelief in the last months. And without taking any gravity away from a serious matter, you can't deny, that it all now feels a little bit silly. But one artist saw an opportunity in a single toilet paper roll, and turned it into something incredible.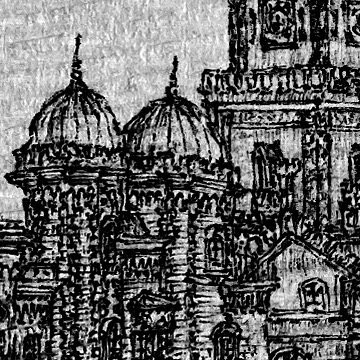 The Escape Roll by Nethmie Hetti
While in lockdown in 2020, Canadian artist and creative Nethmie Hetti took it upon herself to put this new, hot commodity into good use, and turn it into an (almost) endless roll of canvas, on which she drew beautifully detailed cities and landscapes, inspired by all the places she couldn't visit at the time. A perfect example of how to turn a negative experience into a positive, and make the most out of a hairy situation, as her "drawing project turned out to be surprisingly therapeutic", Hetti writes.
"Sometimes it was meditation, sometimes it was like my therapy, and sometimes I just wanted to set it on fire, but I think I'm always gonna come back to projects like this in which I just sit and cut the world out of my mind, and it's just me and something like the toilet paper roll, where I just dedicate all the things I have seen and experienced into an output…"
See the video below in which the artist talks about how the project began while she was in 14-day-long quarantine in her room and needed something to entertain herself with. And how limited resources and amazing creativity turned into stunningly detailed, hand-drawn illustrations inspired by the artist's travels throughout Europe. "I channeled my restless mind into minuscule impressionist scribbles of landscapes that slowly began to span across almost 37 ft of toilet paper". What began with only a fine-tip marker and a single roll of toilet paper – turned into a meaningful project that lasted 320 days. You can still follow the project on Instagram where Hetti has shared the work in incredible detail.