The world's largest trade fair for books and publishing, Frankfurt Book Fair is just around the corner. In two days' time, Frankfurt will once again become the stage on which professionals from the international publishing, printing, paper, and creative industries meet and discuss, as key industry players, best-selling authors, and literary fans from all over the world come together and celebrate the world and future of publishing. In the past years, the fair has garnered more visitors than any other book fair, with hundreds of thousands of visitors enjoying the highly diverse range of exhibitors, as well as a top-class program that includes several keynote speeches, readings, talks, and performances with international industry doers and makers.
Our hot tips when visiting Frankfurt Book Fair 2022
First off, we advise you to remember all the basics when visiting a fair at this stature. Wear comfortable shoes, as you end up walking kilometers upon kilometers during your visit, bring a bag or a backbag for all your finds and souvenirs, and of course, a bottle of water is always good to remember. Get your hands on a copy of the complete exhibitor's guide and familiarize yourself with the exhibitors, schedules, and the hall plan of Frankfurter Buchmesse beforehand so you won't miss anything important.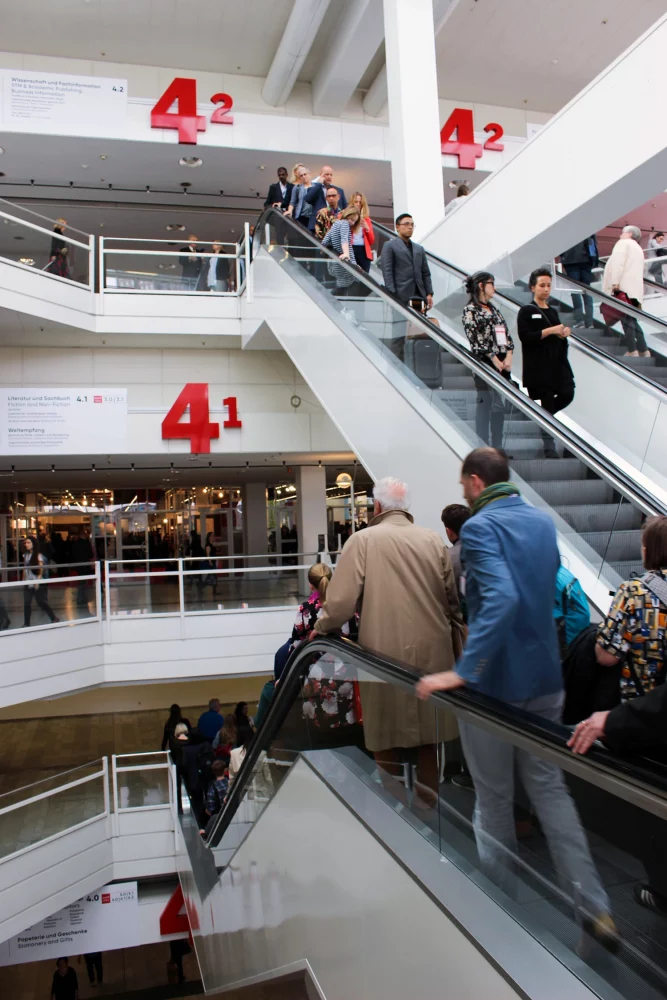 As seasoned guests, trade visitors, and exhibitors of past Frankfurt Book Fairs, we put together a short list of hot tips to see and visit when visiting the fair this year. Below are listed a few top events and our favorite art book exhibitors present at the fair. Hope to see you there!
Event: Book design
Thu 20.10 16:00-16:45
Guest of Honour Pavilion Spain – Cereza Stage (Forum, Level 1)
In the context of major changes in the publishing industry, the book, as a physical object, competes with other media for the attention of readers. However, it has found design to be one of its greatest allies because those who love it, besides its content, appreciate the beauty of its materiality. But what does design actually bring? What is the level of Spanish editorial design? How do new reading habits influence the proposals of publishers and designers? Can graphic quality be reconciled with the market's desire for something new?
Event Can Creativity Save the World?
Wed 19.10 14:00-15:00
Booth 4.0/H57
The panel will explore the crucial role and extraordinary power of imagination and creativity in helping to solve the problems of the world. Despite these dark days of the global pandemic, man-made climate catastrophe and brutal war, the power of creative, imaginative thinking gives us reasons for optimism and hope. The panel discusses how to identify and free up one's creativity and apply that creativity to a world in need.
Art book exhibitors:
MOMA
Hall / Booth 6.1/C102
Exhibitor details

Brandstätter
Hall / Booth 3.1/H26
with two booths: Exhibitor details and Exhibitor details
Jap Sam Books
Hall / Booth 3.1/J139
Exhibitor details
Lecta Cartiere del Garda Condat
Hall / Booth 3.1/H91
Exhibitor details
Schirmer/Mosel Verlag GmbH
Hall / Booth 3.1/J120
Exhibitor details
Scheidegger & Spiess
Hall / Booth 3.1/J143
Exhibitor details
You can find many other interestant exhibitors from all around the world in the exhibitor's guide.
Note! 
Even though hardly any restrictions will be necessary at this year's fair, FBF will continue to ensure your safety with various measures and recommendations. Thanks to generous space planning, optimized visitor flow management social distancing, and hygiene rules will be enforced to a certain extent.  Conditions for a safe personal exchange at each stand are created for everyone's comfort and ease of mind. Read more on the measures and guidelines in place at FBF measures and recommendations about safety.
Frankfurter Buchmesse is open to visitors from 19 to 23 October
Open Wednesday to Saturday from 9.00 am to 6.30 pm
Open Sunday from 9.00 am to 5.30 pm