By popular demand, we're continuing to scour through the depths of Instagram to find and discover the most interesting, inspiring, and downright exciting artists and designers for your enjoyment and delight. This new series became to be from the simple realization that we love to discover new talents – so why wouldn't everybody else too? This week, it's the special type of paper art we want to dwell in: collage artists.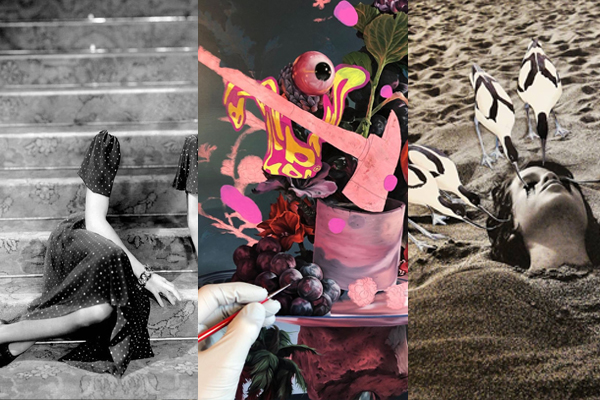 Talented collage artists to follow on Instagram for your inspiration and intrigue
This unique bunch of creatives – collage artists – is as wide and varied as our tiny globe, and includes individuals from all backgrounds and specialties. Yet the common nominator among collage artists seems to be the skill to see things from a fresh perspective. A unique point-of-view on things is required when creating something new from old, existing material. Collage artists most often work with material cut, torn, or ribbed from magazines, newspaper clippings, advertisements, books, or illustrations, adding ribbons, paint, bits of colored or handmade paper, as well as parts of texts, photographs, or found objects, all laid out, combined and glued to a piece of paper or canvas, creating new artwork. The origins of collage art can be traced back hundreds of years, but the technique made a dramatic reappearance in the early 20th century and has remained as a novelty art form.
We've put together a curated list of 32 talented collage artists, in no particular order, to follow on Instagram, for your inspiration and intrigue. We hope you discover new creatives to love and learn from – make sure to click on the nametag to see more of the artist who created the individual piece, and give them a follow!
If you wish to see your name on one of our Who to Follow on Instagram lists send us a message on Instagram, whether you're a designer, studio, artist, illustrator, or printer, we want to see your work! We very much appreciate everyone who has tagged us or sent us their work before – keep it coming – we're always on the lookout for our next inspiration fix. And if you think we've done a terrible mistake by not including you or someone you know on the list below, let us know in the comments.
Also check out our previous Follow on Instagram articles: 42 Creative Crafters & DIYers to Follow on Instagram and 48 Talented Lettering Artists to Follow on Instagram.