Bilderbox, founded in June 2010, has been a one of a kind establishment since its beginning. It's a must-visit for any street art enthusiasts, cartoonist or graphic novel collector visiting Vienna, and it has also become a favorite among the locals. At Bilderbox you can find rare collector items as well as a wide range of street art books and designer toys, graffiti spray cans and other street art accessories which are hard to come across elsewhere.
The small and bright blue framed shop on the quiet Kirchengasse in the middle of the 7th district is the epicenter of Vienna's comic book scene. Situated in the midst of other independent stores of the area, owned by Malte Steinhausen, enthusiasts himself, the shop offers a wide range of comics, from rare collectible items to more popular publications, in English as well as in German. Steinhausen honestly states that the products offered are selected by his own liking and what he personally wants to promote, no "hello kitty stuff" as he puts it.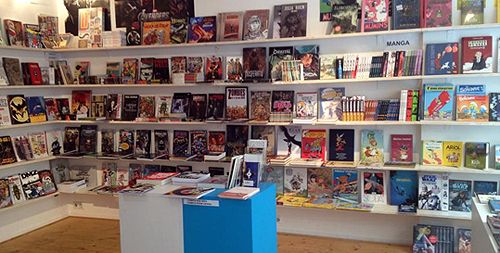 The wide spread of comic books
The first feeling when stepping into the shop is that you are definitely welcome. The instant "hallo!" accompanied by a smile comes from the back of the shop. The bright and airy interior is a far cry from the usual dark and dusty comic book shops. The very well thought out spread of books and comics was the first thing that caught my eye and lured me in from the street. It's not so common these days that the range of books in a store is put together so well, and made so easily accessible to the customer. The first half of the store is mainly dedicated to the comic books and graphic novels, and the back section having shelves of graffiti spray paint, street art books, DVDs and a small collection of clothing. Although the selection first might feel narrow, it's done extremely well as it seems there is something for everybody.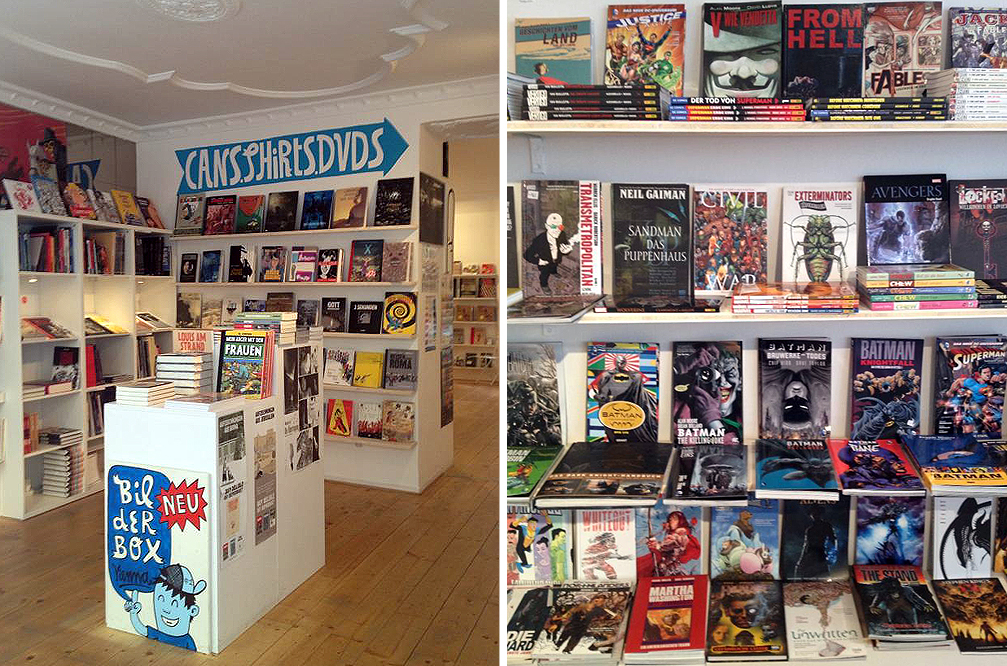 As Steinhausen puts it "the customer should feel comfortable and happy staying here, sitting down, sipping on free coffee and getting good advice". We think this should be the motto of every store! So if you're into graphic novels, street art or just looking for a nice shop to visit while in Vienna, head over to Kirchengasse 40. You can't miss the graphic white & blue storefront, which tempts you in with big windows and colorful book displays.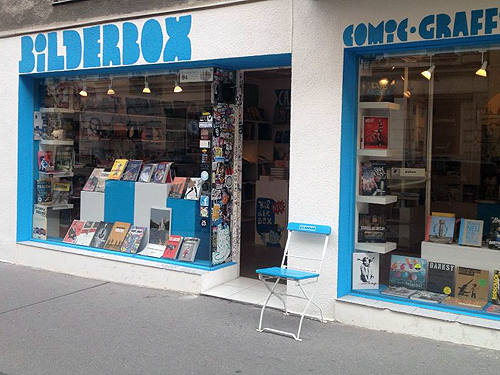 Bilderbox Vienna
Kirchengasse 40/1
1070 WIEN