At Europapier, we feel the need to do our part in making the world and future better for us all, and it starts with our customer service. We always try to take care of our customers and collaborators to our best abilities, and truly understand why it's us that they have decided to trust. We asked Monika Kazimierczak, brand manager of the Polish sock brand Zooksy, about her experience working with Europapier and the decision to use Refit Paper for the packaging of their new collection.
Following the values of circular economy and sustainability, the sock brand Zooksy aims to create aesthetically pleasing yet environmentally friendly products for all sharing the same midset 
Zooksy is all about crazy patterns, sustainable design, slow fashion, responsible production, and circular economy – words we full-heartedly agree on. The sock brand has a real mission, which makes the collaboration even more fruitful on both ends. "When working on a new product at Zooksy, we always want it to bring added value for both us, and our customers. We do not force a philosophy, we all know that's not the way, but when launching a new product on the market it must be consistent with our values. After all, Zooksy is more than just socks!", Kazimierczak says.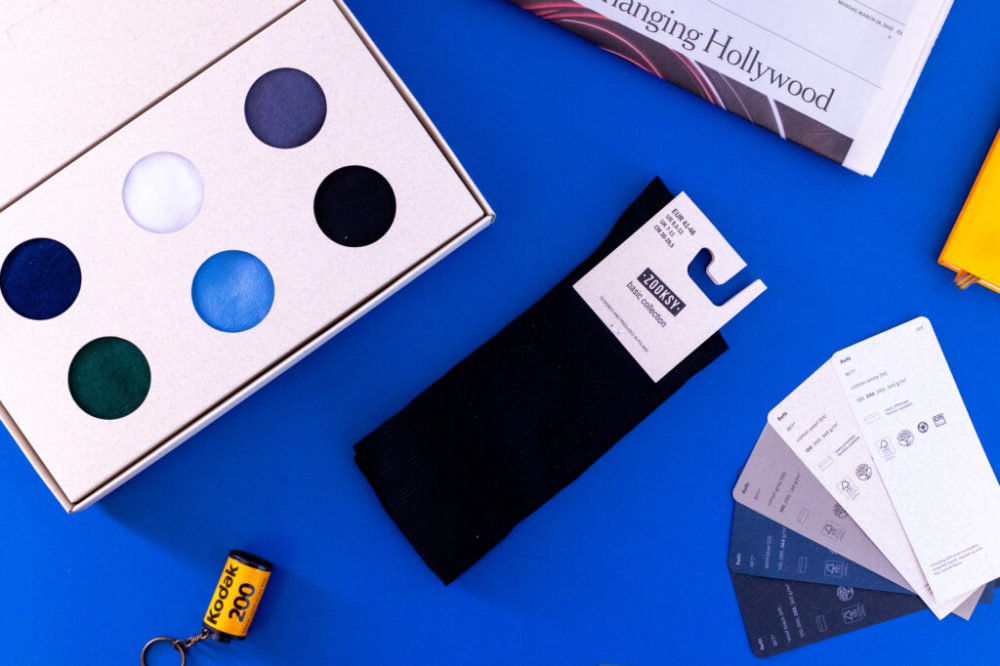 These brand values are communicated through the new premium Zooksy Basic collection, classic socks that are characterized by extremely high quality, as well as versatility. The Basic collection comes in a rich yet subtle color palette making them a timeless addition to numerous styles – from an elegant suit to casual sandals or urban sneakers, the collection is a big step toward slow fashion and creating a capsule wardrobe.
Refit paper immediately caught my attention – its visual value is so high that it does not need any additives
"When looking for a way to package the Basic collection socks, I wanted the packaging, as well as the product itself, to be universal, timeless, practical, and at the same time very aesthetically pleasing. It had to be simply premium – so that it could also be given as a gift. Refit paper immediately caught my attention – its visual value is so high that it does not need any additives",  Kazimierczak says about the brand's decision to use Refit paper for the new packaging.
"We wanted the packaging to be minimalist, but also very nice. We immediately felt the chemistry – Refit paper is timeless and not subject to trends, just like Basic socks. We knew it was a great match!" With the Zooksy Basic collection, the values of the brand and the consumer meet in a beautiful way. When reaching for premium value in both quality and aesthetics, it's the smallest of choices that come into play. Less is more ideology is present, while ecological values are highly appreciated throughout the process from the production to packaging and customer consideration.
Both Refit paper and Zooksy utilize manufacturing residue and textile by-products in their production, making the paper an easy choice for the sock brand
"Refit was the best choice for one more reason. I know that its production uses ingredients with a low environmental impact – post-consumer recycled cellulose or cotton fibers, the source of which are textile by-products. We know this topic very well! At Zooksy, we try not only to segregate all production precipitation but also to reuse it. The circular economy is extremely important to us. All production waste, which we are not able to reuse ourselves, we release further into the world – they are recycled and put back into use in the furniture and automotive industries. Even then, we know that a company that also contributes to the fight against the growing mountain of waste must be our partner and the decision to use Refit paper was just a formality!", Kazimierczak concludes.
Refit (previously written about here) is a paper assortment made out of over 15% of cotton and wool fibres, which are visible on the surface and give the paper its uniquely appealing appearance. In addition, it includes 40% of post-consumer recycled cellulose FSC ® certified and 45% of virgin cellulose FSC ® certified fibres. Refit is exclusively available at Europapier Group.