Up-Cycling is an increasing trend in the paper industry, meaning the use of waste materials, destined to be thrown away, to create new objects with a greater value than the original product. Up-Cycling is very much appreciated at Europapier and we strongly believe reprocessing raw materials is of great importance to us all, and will be even more so in the future!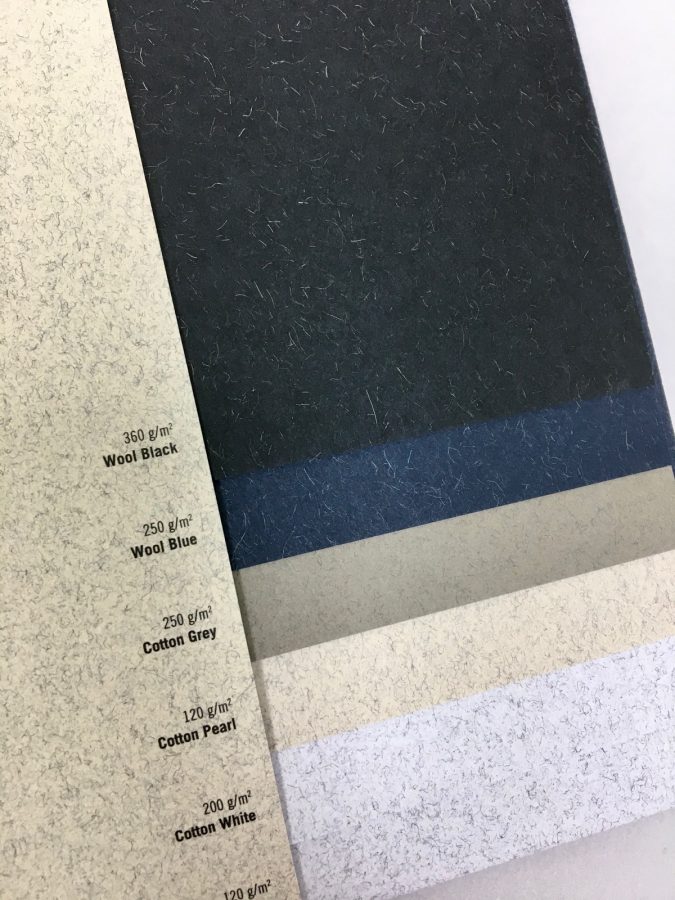 Favini has been a pioneer in up-cycling papers and boards for over 30 years. The first collection in this range was developed in the 90s: Shiro Alga Carta. Due to the then harmful algae plague in the Venice lagoon, Favini found a resourceful method to include it in a new paper. Another beloved highlight was Crush, a design paper range made from 15% agricultural waste products such as almond, olive, lavender, to name just a few ingredients. In 2016 there was another outstanding development from this area: Remake made of 25% discarded leather residue from traceable Italian origin.
2020 marks the launch of Refit, an assortment made out of cotton and wool fibres. Favini uses waste products from wool and cotton textile manufacturing processes, which often remain as fluff residue on the side of the machine. After a special treatment, these are then introduced into the pulp from which Refit is made.
The residues of wool and cotton are visible on the surface and give a unique appearance. On a tactile level, the wool contained in REFIT WOOL teases the fingertips with a distinctive roughness of the line, while the cotton gives a soft touch to REFIT COTTON.
Refit Wool comes in darker colours, such as Wool Black and Wool Blue, while Refit Cotton introduces lighter shades: Cotton White, Cotton Pearl and Cotton Grey. The eye-catching assortment comes in a range from 120 to 360 g/m2.
The content of the new Refit paper includes over 15% of fibres deriving from textile by-products , 40% of post-consumer recycled cellulose FSC ® certified and 45% of virgin cellulose FSC ® certified fibres.
The Refit Cotton Wool Visual Book
Due to the innovative content of wool and cotton fibers, the result of the industrial symbiosis between the textile and paper world, Refit is the ideal paper for the fashion and luxury packaging sector. With this in mind, the Refit visual book has been designed with the same attention to detail as a haute couture garment, drawing inspiration from the world of fashion. At the same time, the book is a demonstration of the range of creative ideas and printing techniques that can be achieved on the Refit paper.
The visual book has been designed and conceived with the same attention to detail as a finely tailored item of clothing.
Silk Pearce, the creative agency behind Refit's swatch book and visual book, played on the fashion element and put together a concept around creating an outfit. The outfit consists of a cotton shirt, wool jumper and denim jeans. The individual elements of the outfit have been broken down within the visual book, with each process highlighted by a different printing technique on the paper.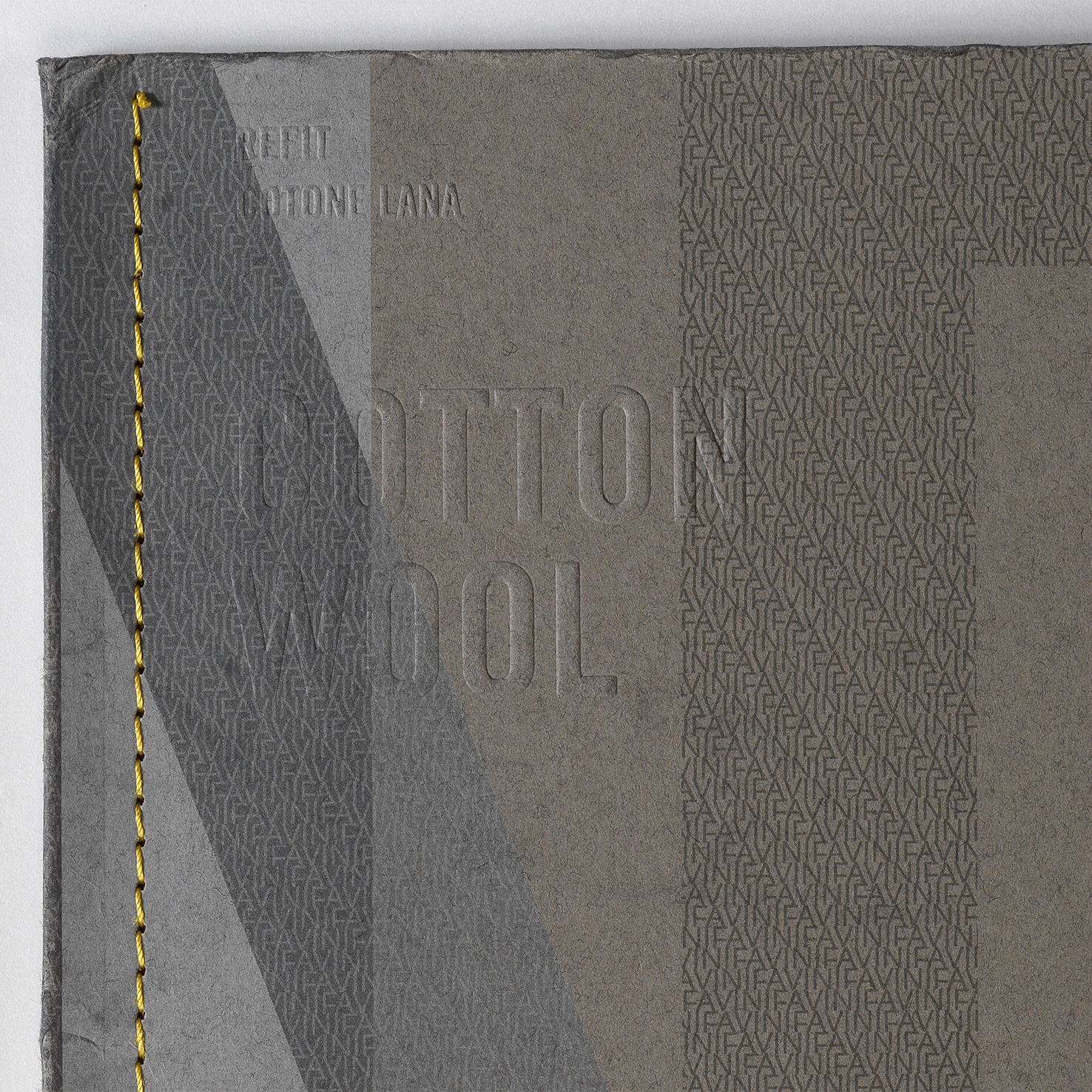 Distressed edges – a worn authentic denim look for the cover
The cover, made with Refit Cotton Gray, reminds of the street style of the "ruined" denim garments now worn by fashion bloggers. The binding of the visual book itself looks like the seams of the pockets of jeans and is in fact made with singer thread stitching. 
A burned out effect has been achieved with distressed edges, while tumbling adds a worn authentic denim look. 
This stunning tag made of Refit Cotton Pearl is inspired by the industrial production of labels for clothes and trousers before they are put in the laundry and tumbled, then it was imprinted hot-marked "Refit" with burns to 420°C .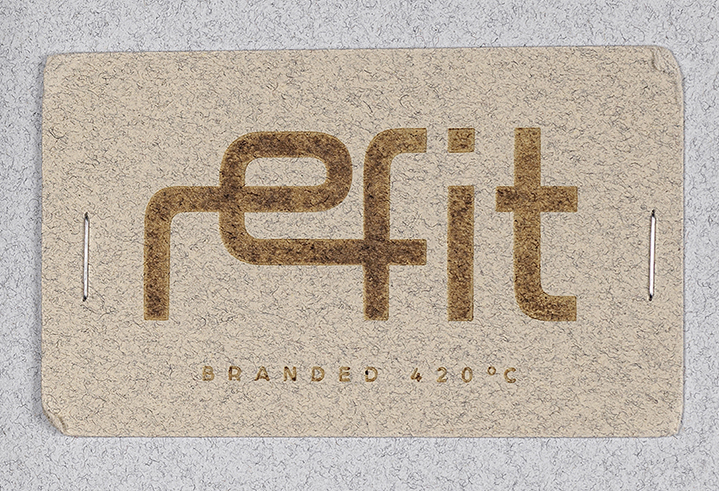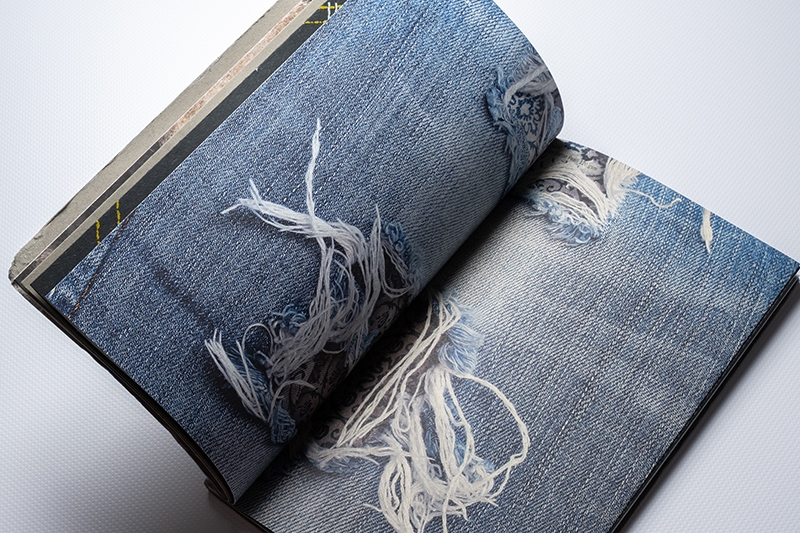 Refit Cotton: "fresh laundry" sensation and versatility in printing solutions
Refit Cotton is distinguished by the "fresh laundry" sensation given by the dark cotton content on the light shades of the paper. It is versatile in the printing phase, all the main printing techniques add further value to Refit paper.
Jeans pattern printed on Cotton White and Cotton Pearl.
Refit Wool: not advisable for lithography, but many other superb effects
Refit Wool, with its characteristic surface fluff  that contrasts the dark hues of the paper, is a unique material to the touch, the wool fibres that are clearly perceived when caressing the paper give a peculiar tactile effect. Refit Cotton is easy to print in lithography whereas with Refit Wool  we advise you not to print the woolly quality in lithography, but we suggest enhancing this material with hot foil, screen printing and dry impressions for superb results. Here are some superb examples:
Sewing needles – hot foil and screen printing on Refit Wool Black
An image that definitely catches the eye while flipping through the visual book: tailor pins which are printed on Wool Black, resembling a fine cloth. Each pin is hot foil printed in silver, with the pin head screen printed in yellow. This offers a 3D, minimalistic and impactful look.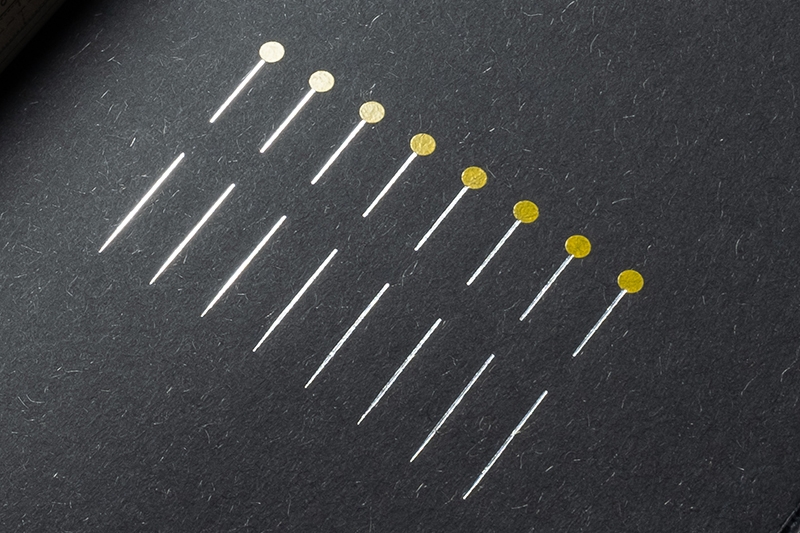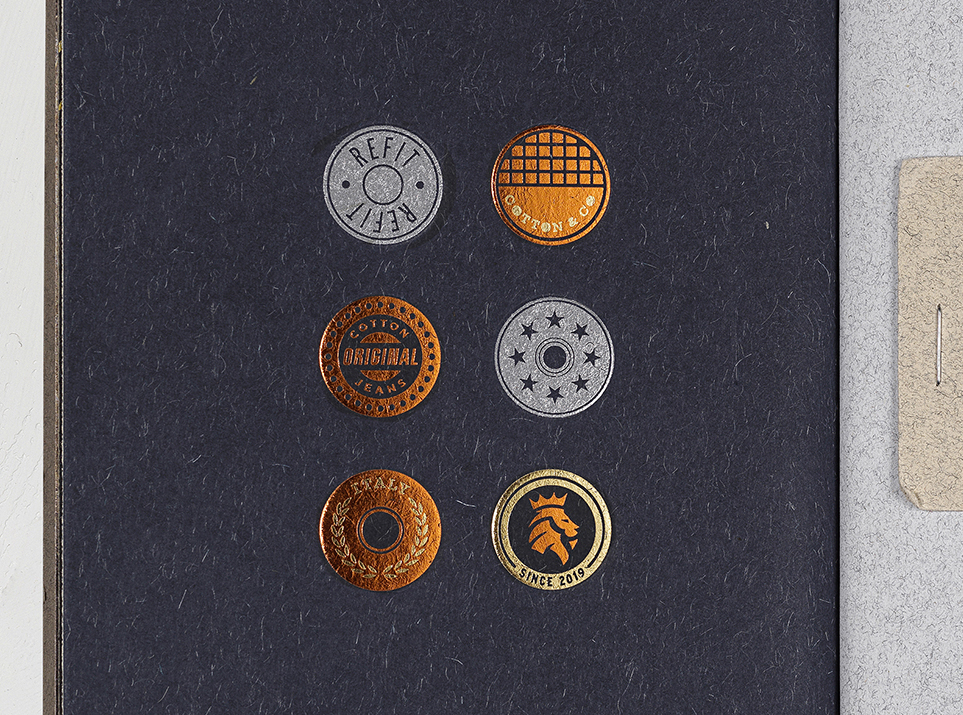 Six buttons and three different printing techniques:
The buttons were printed using hot foils, dry printing plates and silk-screen printing on Refit Wool Blue.
A simply outstanding result.
Blind embossig on Refit Wool Black
This wonderful relief print plays with the wool residues present on the surface of the Refit Wool Black paper. It invites to touch, to perceive not only with the eyes, but also with the hands. 
In creating the Cotton Wool Visual Book, Favini collaborated with Silk Pearce agency. Every time Favini launches a new product, they are keen to create a story around its papers. They love experimenting with print and see it as a real craft, which is very exciting to designers everywhere. 
All Favini projects are fascinating, but this is particularly special because it is a very innovative product with so much potential – Gail Russell, creative director at Silk Pearce.
Refit is exclusively available at Europapier. For any questions, creative ideas and projects, please don't hesitate to get in touch!