Kiel, Germany-based branding and digital design studio Alessia Oertel (previously written about here) creates contemporary, future-oriented design solutions, visual concepts, and strategic assistance for a wide range of clients and brands in the education, leisure, fashion, and tourism sectors. With a keen eye for detail and a skill to create curiosity in the target audience, the studio's unique know-how lies in creating engaging and desirable brand experiences. The studio recently had the privilege of working on a comprehensive brand identity project for FutureSchool.AI, an online learning platform offering premium courses in ML & AI, Leadership, Problem Solving, Communication Skills, and Sustainable Environmental Efforts for Indian teens aged 14-17.
We crafted a brand experience that prepares young learners for the future. Through thoughtful design choices, captivating visuals, and a compelling communication strategy, we transformed FutureSchool.AI into an aspirational and impactful brand"– the studio writes.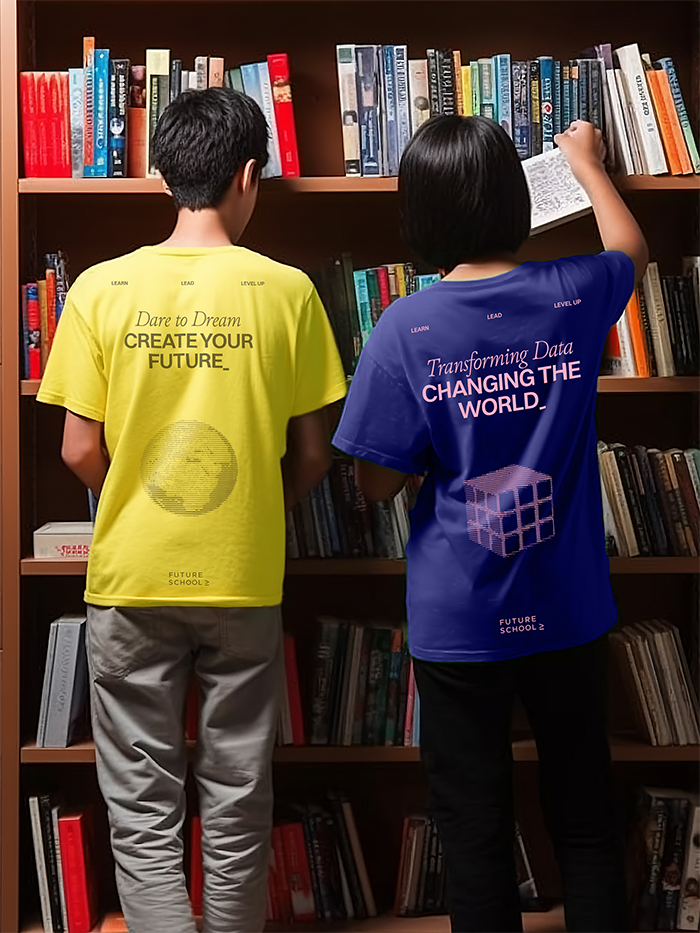 The FutureSchool.AI online learning platform offers a transformative educational experience that goes beyond traditional boundaries. Studio Alessia Oertel's branding concept aims to inspire and provoke a future-forward mindset. Through carefully curated visual elements, including captivating colors, symbols, typography, and imagery, the brand creates an environment of curiosity, confidence, and growth. The brand name itself, "FutureSchool.AI," encapsulates the essence of the program, highlighting the importance of future readiness and the integration of artificial intelligence.
"FutureSchool.AI's communication strategy is resolute and empowering, focusing on the mantra "Learn. Lead. Level up." This message encourages students to embark on a journey of continuous learning, leadership development, and skill enhancement. By delivering thought-provoking messages and captivating narratives, FutureSchool.AI aims to make a profound impact on the personal and intellectual growth of its students."
The visual identity is marked by a symbol where the word AI is represented as "≥," signifying greater than or equal to in mathematics. This symbol not only reflects the school's scientific nature but also symbolizes its ambition to excel and push boundaries. The forward-facing angle of the symbol represents progressive change, aligning with FutureSchool.AI's mission.
To complement and strengthen its core message, the visual identity utilizes a carefully selected color palette. A prominent yellow evoking positivity and optimism, while a mix of saturated primary colors add vibrancy and enthusiasm. While the incorporation of dark, saturated shades convey a sense of prestige, establishment, and the pursuit of excellence. Imagery also plays a significant role of the branding experience, with custom motion ASCII videos taking center stage. Through the use of playful 3D objects transformed into ASCII representations, the courses come to life.
Combining geometric sans serif and humanistic oblique serif fonts, the typography reflects the brand's commitment to modernity, future readiness, and refinement. This harmonious blend of fonts adds an elegant touch to the overall visual identity. FutureSchool.AI truly intertwines technology, education, and inspiration to empower young minds to embrace their potential and shape a better future, and with its distinctive and engaging visual identity, FutureSchool.AI is sure to propel its students toward a future brimming with possibilities.