Designed by the young design office Studio MODE, the Graffiti bar won both of the categories at the RABDA awards: The Best European as well as the Best International Restaurant & Bar Design Award. The interior of the space has been described as "a visually exquisite venue" situated inside the Graffiti Gallery Hotel in Varna, the largest city on the Bulgarian Black Sea Coast.
A unique and artistic space, the interior is built around the impressive ceiling, formed by hundreds of plywood slivers rising up from the three strong curvy columns in the middle of the room. They alternate between white and natural shades of untreated wood, giving contrast against the dark hidden ceiling. Especially the structure of the columns reminds us of fine paper lampions. The white wall tiling is a three-dimensional imitation of the geometrically patterned floor, giving it all a cohesive feel. Space is filled with shapes and geometric forms and somehow manages to create a balanced and relaxed atmosphere. The subtle lighting fixtures, the light colors and wood tones give it all a very airy and open feel.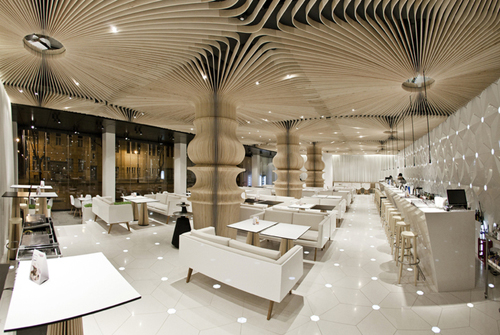 The great interior is designed to be an easy and natural continuation of the architecture. The front half of the Graffiti bar reflects the exterior area by using similar flooring as the streets of Varna. Space gets its special award-winning style from a perfect and carefully thought out mixture of patterns, forms, and materials. The strong geometric shapes don't fight against each other but form an interesting yet cohesive space within. The modern materials are nothing new in the interior and architecture world, but the strong approach towards maximum space utilization against the normal minimal style is something new and exciting.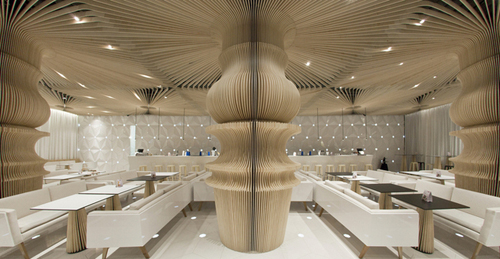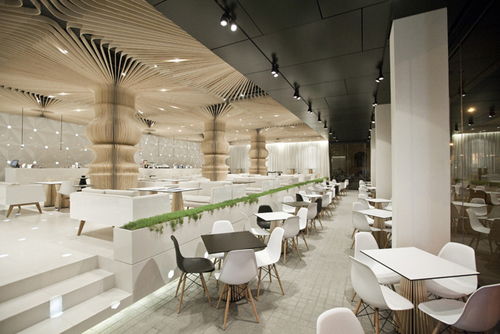 We can't wait for our next visit to the city of Varna, to be able to enjoy a refreshing drink or a night out in this fabulous interior. And as the bar is located inside the Graffiti Gallery Hotel just below their own art space of contemporary art you can enjoy a full day of art and culture in the most astonishing surroundings.
A hot tip! From 3.-25.7 The Graffiti studio will be showing a solo exhibition of the renown Bulgarian painter, Teofan Sokerov.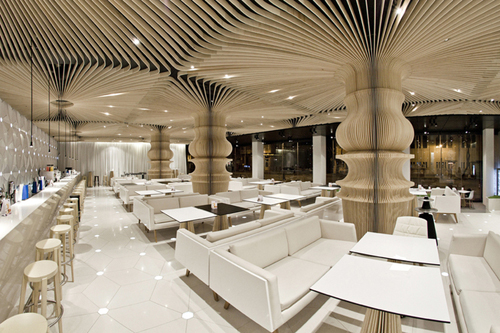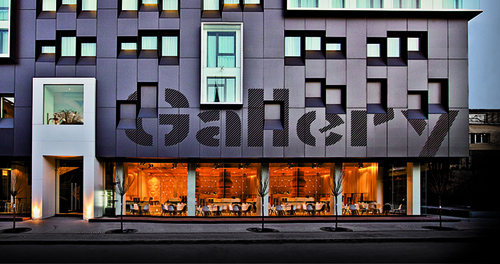 Photo source: RABDA blog