This (above) is Anna Niemierko, an award-winning graphic designer and illustrator and an avid collector of children's books from Warsaw, Poland. We had the great pleasure to chat with her about some of her favorite projects -including a book that explains the design to children, about the artistic freedom when designing and illustrating for kids, the challenges of post stamp design and why she likes to borrow books from a small library in her city. Moreover, Anna Niemierko, born and bred in Warsaw, revealed some of her favorite places around the Polish capital.
Can you briefly describe yourself and what you are doing?
I was born and I am living in Warsaw, Poland. I work as a graphic designer, freelance. I graduated from the Graphic Department at the Academy of Fine Arts in Warsaw (Book Design Studio) and specialized in a book and post stamp design. I'm, however, interested in many kinds of design.
When did you decide to become a graphic designer and illustrator?
I remember that I was always drawing and painting and used to go to art classes after my regular school. So since my early childhood, it was clear for me that I will do something artistic. I consciously decided probably when I was about 18. Choosing the Academy of Fine Arts was the first step. Next, also very important, was the admission to the Academy – after the first year I clearly realized, which part of graphic I love most.
What role does paper play in your work?
The final effect of every graphic project depends on the materials that were used. And paper is one of the most important materials, especially in book design. Paper also "talks" and makes an impression – the same way as other design elements such as typesetting, print ink – because it has its own features: texture, weight, colours. The same picture printed on two different substrates will have two different looks. For me a book is also an object and paper is its fundamental substance – like rock for a sculpture. The process of choosing the right paper for a project is not less exciting and not less important than creating the layout of the book. That's why sometimes the decision process can take some time.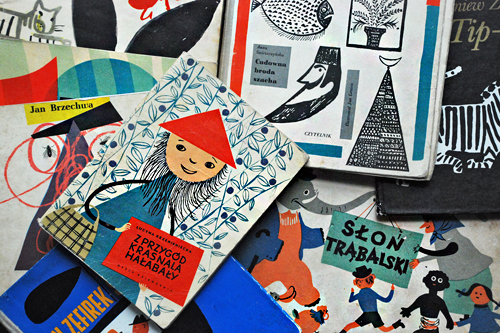 You illustrated several kid's books. What is special when illustrating and designing for kids?
I take all of my projects equally serious, whether for adults or for kids. Because first of all: it has to be done well! But of course, children books give you much more opportunities to use different techniques, to realize ideas and to enjoy your artistic freedom. The subjects and texts are usually more fantastic, unreal, crazy and there is always room for metaphors – even when you are illustrating non-fiction books.
Can you show us one of your projects you are particularly proud of?
My biggest book project was Ilustrowany elementarz dizajnu (Illustrated Spelling Book of Design), a book for children about design by Ewa Solarz. 25 illustrators created their visions of about 100 objects from the world of design (e.g. Coca Cola bottle, Vespa, Converse sneakers). I was asked to create the layout and also to take part in the illustration. It was quite a huge challenge, because of the little time and because the book's premiere was at the Łódź Design Festival 2012. This means the book was shown to a very wide public right on its first day.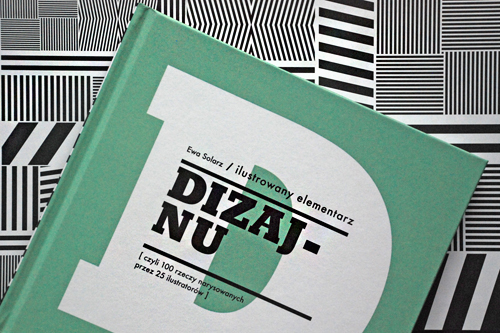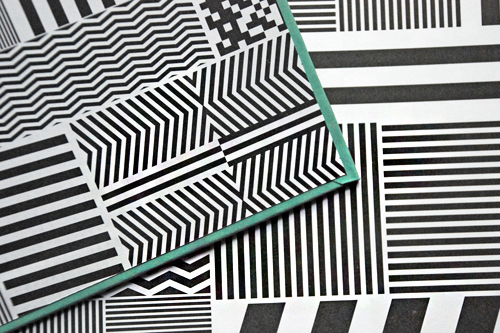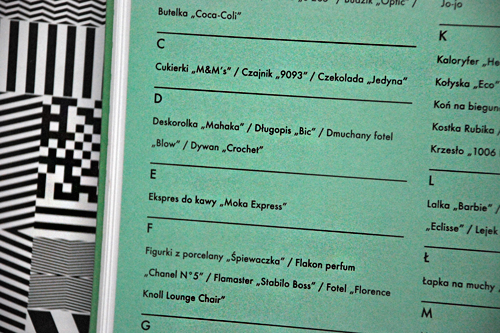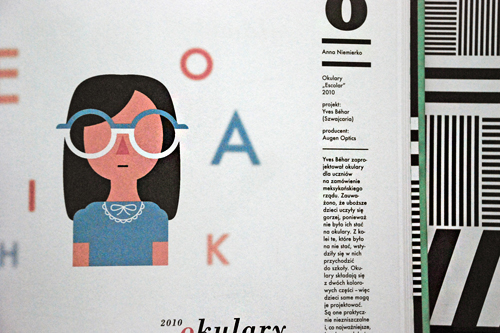 At the same time my first book for adults – a collection of short stories by Anna Onichimowska called Between (Pomiędzy) – was published. There are no illustrations, I created the layout and the cover. I like this publication very much as well.
The last project is an interactive book called I am (Jestem) with my text and graphic design, which I created for Readkid.eu, an app for iPad. This meant that I had to create a "book" based on quite different rules than before – a very new experience for me.
What kind of book do you dream to illustrate?
I am thinking more realistic now and trying to focus on real opportunities. My design needs are changing over time. Because I was very busy with layouts and collaborations with other artist in the last months, I now want to design and illustrate my own book. I deeply feel that I need to come back to work "only for myself".
Do you have any favorite illustrators?
Too many to write here! I adored many artists – from the past and present. They inspire me very much and give me energy for my own work. Illustration is getting much more popular these days – every day brings new discoveries, new interesting names.
Among other things you are specialized in the design of postage stamps. Two of them won an award – congratulations on that! What inspired you for the design of those stamps?
A stamp is a very small form, so there is no space for much latitude and narration. Every idea has to be thought about twice. With both awarded stamps I tried to find one clear symbol: For the first stamp I chose the recycling sign, which is international, and for the second stamp I chose aurochs in the forest, typical polish animals, which, in heraldry, indicate the strength of pure, wild nature.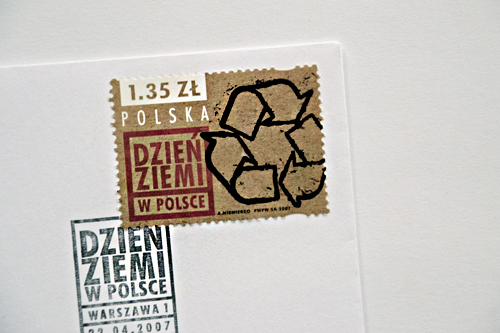 Usually, inspiration comes from many sources. The post stamp is a very old graphic form, this means it is very formal with specific rules. I always have to remember to restrict it and to skillfully mix it with contemporary graphic design.
Why should people still send post cards or letters with stamps instead of emails or facebook messages?
Because this old way is a very natural form of communication and more personal of course. For everyday communication emailing is great, but for special occasions it has special value when I receive a paper letter in my mailbox – and not only advertising and phone bills.  And fortunately – the more it becomes archaic, then more it becomes "cool".
How does your work place look like?
I am working at home. My desk is usually covered with papers, markers, crayons, calendars and bottles of nail polish. However, when the status of rubbish becomes extreme, I am cleaning it and then this process can started again. It is strange, because the rest of my flat is tidy and I am rather a "perfect housewife".
What are you currently reading?
A 1963 edition of Hemingway's novels. I like old books in general, because the background of reading is important to me. I  like to borrow books from a small library near my parent's house but on the other sideof Warsaw . Most of the books there are old – with matt, yellow pages and great covers. I particularly enjoy it when the postman brings me library reminders to return the books – they are forms printed many years ago and still in use. That's something special and I never throw them away.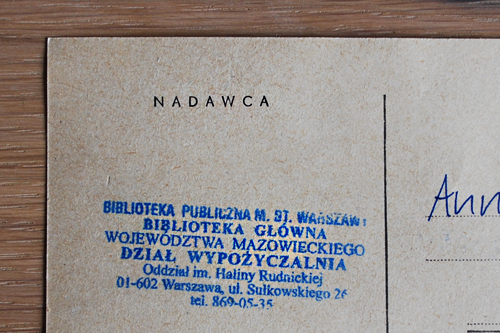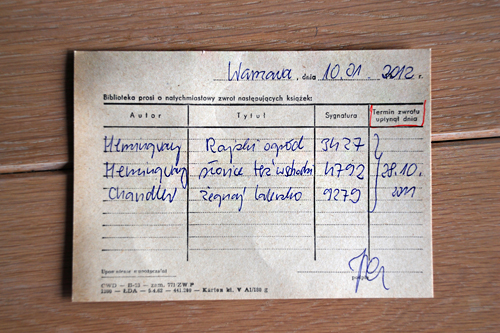 Do you collect anything?
Lately…scraps of papers, prints and labels with simple but unique graphics.
But my main collection is, of course, children books from all over the world and from all different times! I have a quite big collection of contemporary and as well as older children books. When I travel abroad, I always buy some as a souvenir for myself. In Warsaw I am looking for books illustrated by our master illustrators from the 50's, 60's and 70's in antique book stores. I have a few addresses where I always find rare treasures of book art. And I also love old posters, but it is hard to collect them because of their size. I solved this problem by buying posters for my close friends as gifts for special occasions. It makes me happy, too.
Can you recommend some of your favorite places in Warsaw to our readers?
Bookstores and exhibitions CSW (Jazdów St.), Zachęta (Pl. Małachowskiego), Muzeum Sztuki Nowoczesnej (Emilii Plater St.), and Jak Wam Się Podoba (Wilcza St.)– the also have an internet shop.
For eating and drinking coffee Beirut / Kraken (Poznańska St.), Sam (Lipowa St.)– there you can get amazing home made food and bakery products (also to go), Przegryź (Mokotowska St.) – everyday home food, Red Onion Cafe (Szpitalna St.)– a coffee house and contemporary multibrand shop located in a renovated old building, Lukullus (Francuska St.) and Słodki/Słony (Mokotowska St.) – they have the best sweets and cakes in Warsaw.
For Walking Francuska Street, old Żoliborz, Powsin Park (a park near Warsaw)
We want to thank Anna Niemierko for the great interview! If you are interested in buying some of her beautiful books, they are available at wytwornia.com and ezop.com.pl.
Photo courtesy of Anna Niemierko