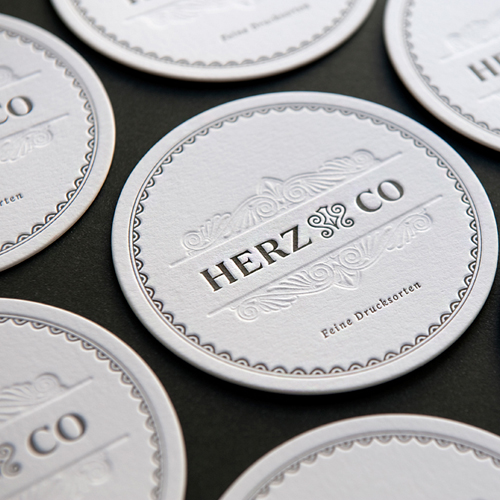 On a snowy Friday morning, we traveled to Nußdorf, a part of Vienna which lies far away from the noise of the city and in close proximity of Vienna's vineyards. There, where Beethoven composed his famous ninth symphony, we met Helga Herz (HH) and Franz Hochwarter (FH) of the design and letterpress studio Herz & Co. Within the walls of an old monastery they create exclusive hand-made stationary – from business and greeting cards to invitations and labels – with extraordinary haptics. Because they believe that "there is no second chance to make a first impression. If you want to touch people's heart, you need to stimulate all their senses."
Can you briefly describe Herz & Co?
HH & FH: We are a team of graphic designers, producers and printers, who try to combine the classic handicraft of printing with modern graphic design. As a design and letterpress studio we offer an all-in-one service from graphic design to the final print product. This is what makes Herz & Co so special! Of course, designers can also bring their own design and we will print it for them.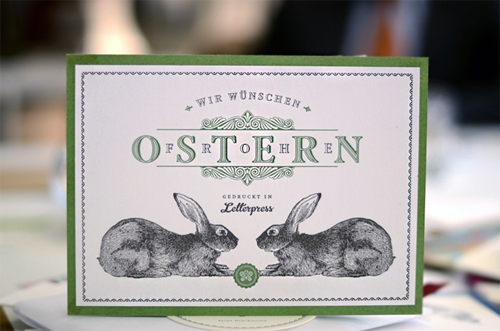 Where did you get the idea to found a letterpress studio in Vienna?
HH: I travelled around the world and I have always loved paper and collected old stamps. On my travels I discovered beautiful papeterie products, but here in Vienna you could not find any of these. Then, two years ago we founded Herz & Co. Everything began with an invitation card. A friend of mine had just become managing director of Cantinetta Antinori in Vienna and asked me to help her with a special invitation. I printed the card on Galaxy Metallic and people loved it so much that soon afterwards I got other requests. I always worked together with Franz – he is a graphic designer and we have known each other for years. At a certain point we decided to make a business out of this and that's how it all started.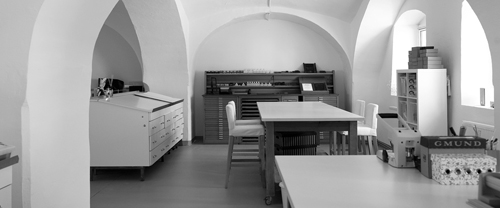 Why should people go for letterpress?
HH: Because it is haptic and you can feel it. People are no longer used to actually feel stuff, everything is flat nowadays! We love to see the excitement on our customers' faces when they see the final printed product. For me it is very important to keep individuality alive and deliver something unique. If I am getting married and decide to spend a good deal of money, I want to have a unique invitation and not see the same invitation at my neighbour's two months later.
FH: You can definitely set yourself apart with communication printed in letterpress. In Germany there is a vivid discussion going on about haptic communication. The question is how the communication industry will learn to use it.
Who are your customers?
FH: Hard to generalize. We do a lot of printing for private people who want something particular for their special events such as weddings or birthdays. Graphic designers are asking for exclusive business cards. And we also work for companies for whom we create invitations, Christmas cards, labels etc.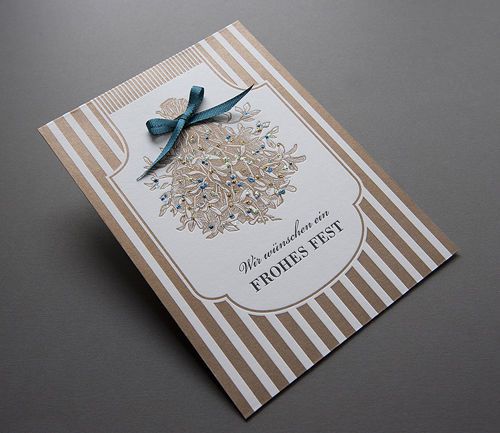 What kind of printing machines do you use?
FH: With the exception of our proof press, our machines are all Heidelbergs and all around 50 years or older. We use photopolymer printing plates which we do in-house. Of course, we also have an old movable type system, where you need to set each letter manually, but this is far too time consuming and only serves to explain to our customers the basics of letterpress. We are fortunate to have printers in our team, who have been working with this kind of printing machines for over 30 years and are extremely thorough and detail-oriented. Most professional schools and universities stopped teaching letterpress printing or even sold their equipment. There are still some people who want to learn letterpress printing, but you need to have the experience!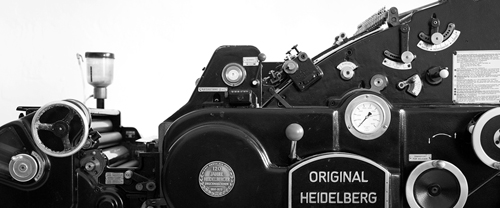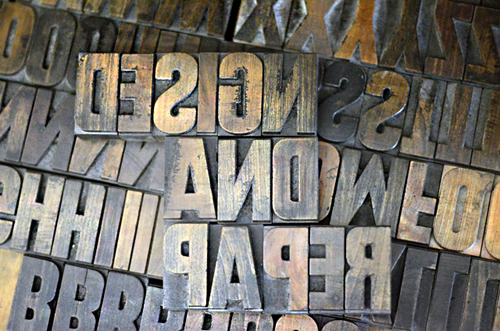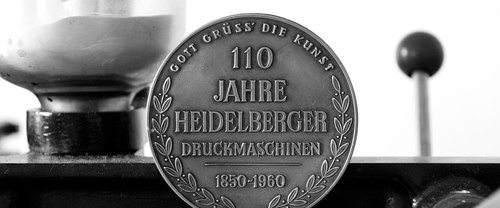 What characteristics does the perfect letterpress paper have?
FH: It needs to have volume, be soft and the fibres must not break under pressure! That is why cotton paper is very well suited for letterpress. However, from my experience, you don't know what is possible until you have tried it out!
In the US, letterpress is experiencing a renaissance. Do you also observe this development in Austria?
FH: Yes, we can already see this trend in Austria. People are searching on the internet and particularly wedding customers and designers of business cards see wedding invitations and cards printed in letterpress on American web pages and then start asking for them. Still, I think that letterpress will stay a niche because it is rather complex and costly. Moreover, only few agencies know how to design for letterpress.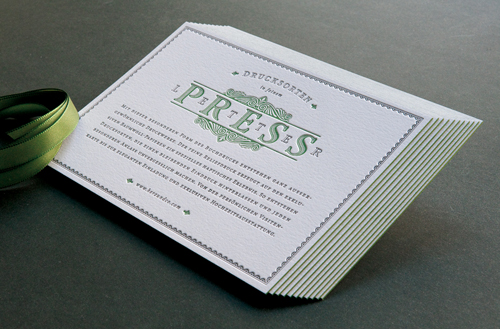 What inspires you as a designer?
HH: It's all in my head (laughs)! I have travelled a lot and seen many places around the world. From my grandparents I inherited an old library and a huge collection of old post cards and illustrations. Looking through these things I find inspiration. And, of course, we also get ideas when talking to our customers. When a couple comes to us to order wedding invitations, we have a short questionnaire for them, in which we, for instance, ask the couple what unites them. We will try to include this information in the card design.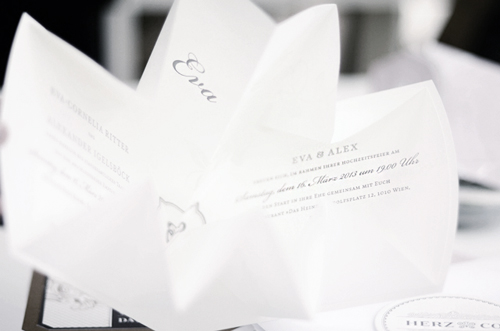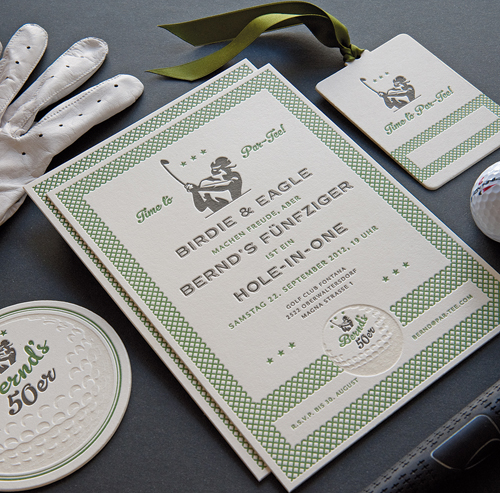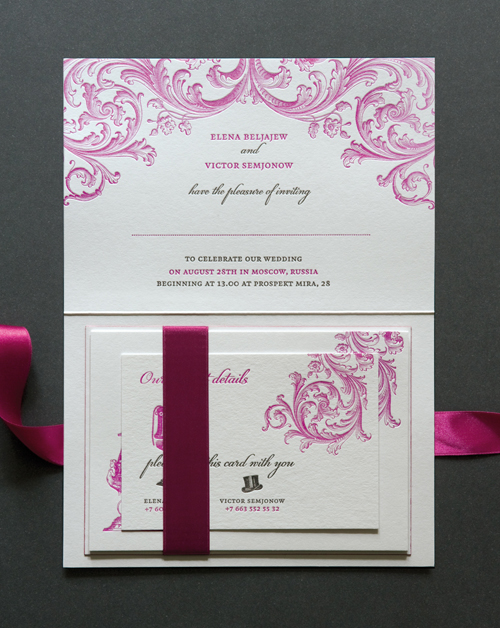 Do you have any favourite magazines? What do you like to read?
FH: I like to read PAGE, recently they also wrote about letterpress.
HH: And, of course, we are observing what is happening in the US. What they are doing over there, is absolutely fascinating.
FH: The US is also a huge market! Here in Vienna you have to fight much harder in order to convince your customers to go for something special rather than the standard folded card. People often lack the imagination. In order to sell it to them you have to be able to show it to them.
HH: Our business is based to a great extent on word-of-mouth.
FH: And I can say as much as this: We are working on some very exciting projects and collaborations this year!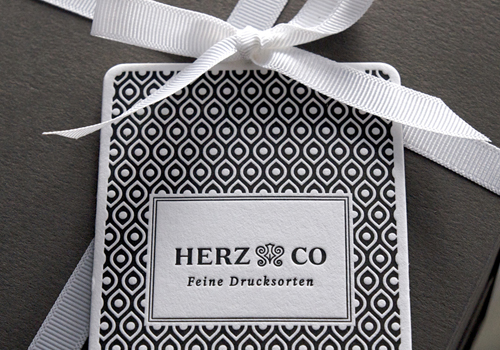 Who would be your dream client?
FH:I prefer to have many small clients rather than a few big ones. Lately, we have worked for lots of very nice bridal couples.
HH: I would love to work for Hermes! I admire what they are doing with paper and I find them very innovative!
Can you recommend some of your favorite places in Nußdorf to our readers?
FH: For traditionalists, I recommend Gasthaus Renner – an old-established restaurant in Nussdorf, which serves huge portions you will never be able to finish. If you like it more modern, I recommend you Dots im Brunnenhof, a sushi restaurant with beautiful interior décor and a very nice patio in the summertime.
HH: I like the little "Heurigen" here in the 19th district, where you can just sit on a bench and have a glass of wine. One of my favorites is Hajszan.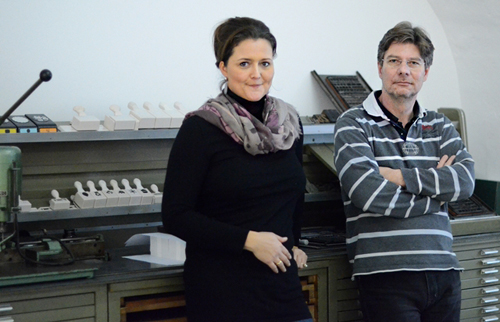 We want to thank Helga Herz and Franz Hochwarter for the inspiring interview, the tour through their studio and the nice coffee! We saw so many truly beautiful papers and designs that it was hard to leave…
Photo courtesy of Herz & Co and Anna Palige