I am sure you've noticed our featured blog of the month: We love handmade, a Do It Yourself blog and Austria's first DIY magazine. Founded in 2010 by Anna Heuberger, the blog has grown to a big DIY community with five constant contributors – Anna, Kerstin, Michaela, Petra and Teresa – and a network of guest bloggers. We talked with the five creative girls about what is important when you start a blog, current DIY and party trends, the issue of their next we love handmade MAG and, of course, paper.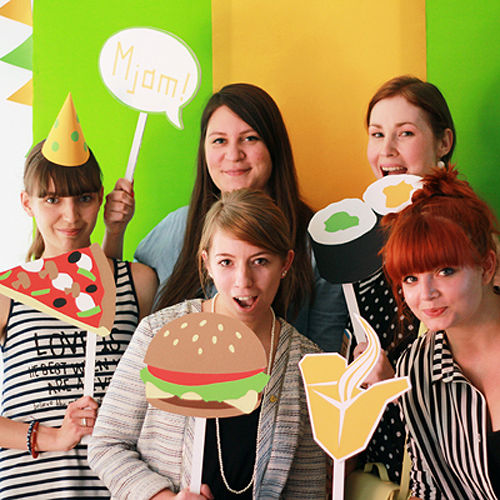 Can you briefly describe we love handmade and tell us about the people behind the blog?
welovehandmade.at is a DIY blog founded in 2010 by Anna Heuberger. We are now five girls blogging about DIY tutorials, news, recipes, shopping tipps and much more. We started the blog because we all love handmade products and wanted to share our love with a larger community. All five girls – Anna, Kerstin, Michaela, Petra and Teresa – already had their own fashion, diy or lifestyle blog before we teamed up and were coming from different backgrounds e.g. graphic design, fashion journalism or social media.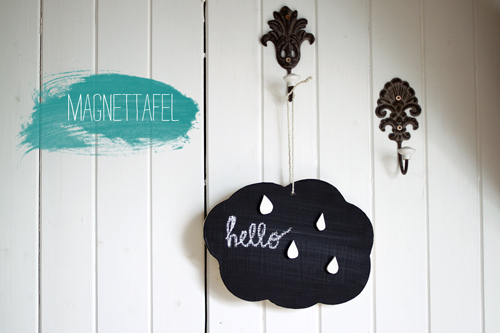 DIY magnetic cloud
Which advice can you give to designers, journalists and other creatives who want to open their own blog?
The most important thing and, in our opinion, the best advice you can give is: Just do it! Get in touch with other bloggers, ask about their experiences and try to figure out which kind of blog you want to have. Maybe you love fashion? Or you like to cook? Or your best friend is the sewing machine? So either a fashion, food or DIY blog is best for you. Look for a good name, start a blog and just write whatever you want. But don't forget about Social Media! Facebook, Pinterest and Twitter are, for example, a good way to let others know what you do. And there's one more advice: Keep on doing what you are doing, never give up, even if sometimes it can be really tough to be a blogger.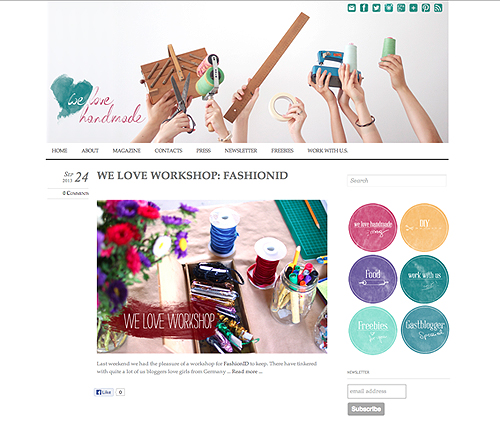 The blog welovehandmade.at
The DIYs on your blog are also published in the we love handmade MAG, Austria's first DIY online magazine. When will the next edition of the magazine be published and what can the readers expect? And did you ever think of publishing a print edition of the MAG?
We are currently working intensively on the third edition of the we love handmade MAG, which will be published on October 3, 2013. Fitting to the season, the next edition will be inspired by autumn and winter. Next to DIYs and the already known columns, the readers can also find recipes by some of our guest bloggers. The rest is still secret 😉
We would love to publish a print edition of the magazine. Since the blog is entirely privately financed by us, we would need the support of advertising customers or a publishing house for this project.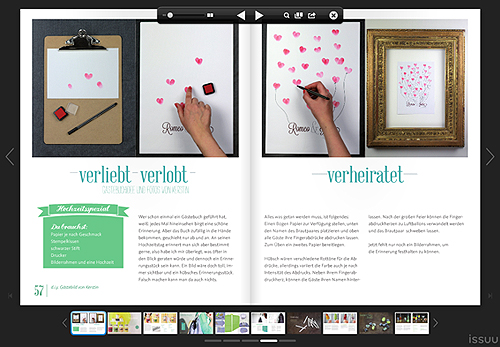 A snapshot of the last issue of the we love handmade MAG
In the past few years DIY has become a huge trend touching all different areas of our lives (weddings, parties, housing, cooking, fashion,…). Why do you think that people all over the world are starting to do things themselves again?
We think doing things yourself makes you different, because no one will ever have the exact same thing and it hast become very difficult to be different in our society. So I guess, that's why we like to do things ourselves. Plus it's a fun way to get out of your daily routine.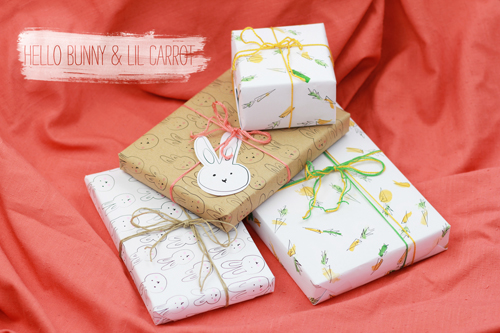 DIY wrapping paper, download the patterns here
What role does paper play in your work?
We love paper, when we go to a store to get the things for our next project we stay there way longer than we should, because we have to touch every paper and look at every different color. I think it's brilliant to have so many options with paper.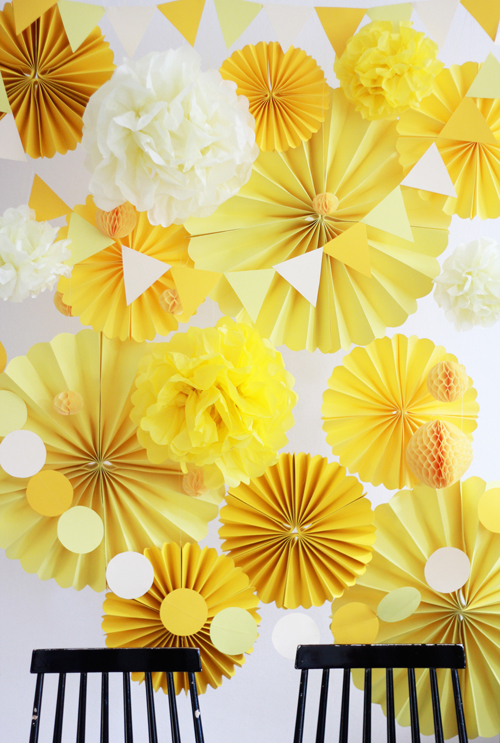 DIY Photo Booth background made of paper
What inspires you?
For us, working in the team is very inspiring. When we come together and talk about possible ideas for the blog, the magazine or the workshops, we complement each other's creativity perfectly: Someone brings up an idea and another person develops this idea further. Of course, we love to check out other DIY blogs as well, and spend a lot of time on Pinterest.
Next to the publishing you started doing decorations for all different kinds of events and parties. Are there any current trends in party decoration and planning?
During the last weeks we observed that the Photo Booth trend has arrived to Europe from America. We think that Photo Booths should be part of every party, no matter if it is a weeding, a corporate event or a birthday party.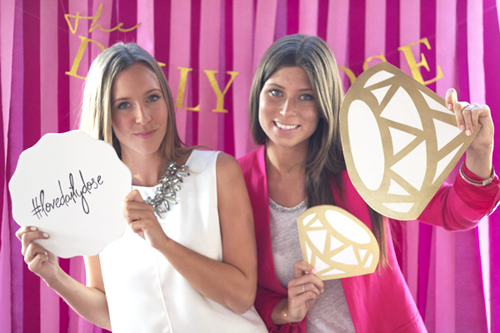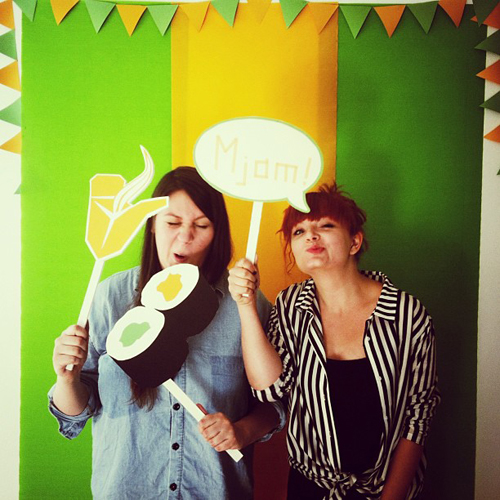 Photo Booths for The Daily Dose and Mjam
Food plays an important role on we love handmade as well. Would you share one of your favorite recipes with our readers?
One of our favoirte recipes are the moustache churros, which are a yummy and fun party snack.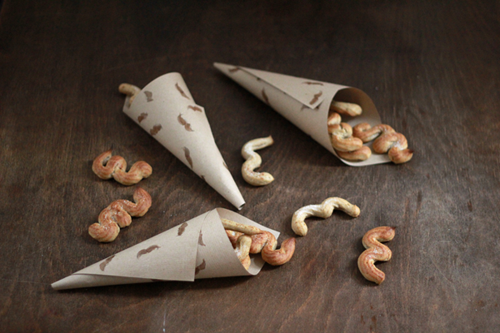 For the dough you need:
1/4 l water
1/2 tsp salt
100g butter
150g flour
3 eggs
Bring water to a boil and salt. As soon as it boils, take it from the stove. Add butter and let it melt in the hot water. Add the flour to the water and stir until it is one big clump. Blend the dough with the eggs in a bowl and knead the dough.
In the meantime you can pre-heat the oven to 200 degrees and cover the baking tray with baking paper. Pipe dough in the form of moustaches onto the baking paper using a pastry bag. Bake the little moustaces for about 20 minutes in the hot oven and sprinkle them with sugar and cinnamon afterwards.
We packed the moustache churros in a cone made of baking paper on which we printed little moustaches. It is best to iron the baking paper before you print it as it tends to be too wavy. You can download the moustache pattern here.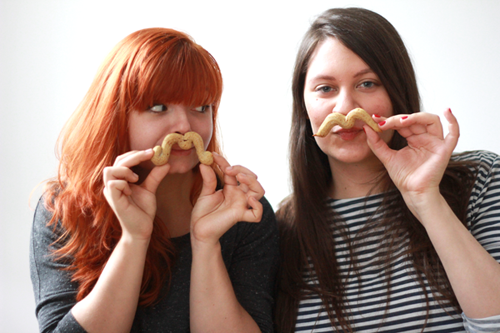 Girls, thank you very much for the great interview!
AND stay tuned for next week when we love handmade will show you how to create the elements for the DIY Photo Booth background made of paper!
Photo courtesy by we love handmade