A few weeks back, I traveled through Budapest and had a few spare hours to spend in the city. I thought hard and well about which place to visit and possibly showcase at Design & Paper. After a short research, I knew it had to be Printa. A local design concept store run by two local artists which I had heard nothing but praises about. Read about what I saw and heard on my visit and why I left with a smile on my face!
Being a newbie to Budapest with only the name of the street scribbled on a piece of paper and no map, I had a bit of a hard time finding the shop. But later on, I realized it's right in the city center, only a few minute walks from the central Deák Ferenc tér station. The second I stepped into Printa I knew I love the place. In a very compact space, they have managed to fit a shop, a gallery, a cafe and a studio for silkscreen printing. The time I spent there I seemed to be having a hard time focusing because there were so many amazing things around me. In the center of the shop, as a focal point is a large wooden-top counter which serves as the cashier point and as a cafe bar with stools for locals to pop in and to take a breather to enjoy a cappuccino (which was very tasty indeed). On the left, you can find a small gallery space and at the back of the shop, a see-through sliding door gives a sneak-a-peek into the large printing studio.  All the spaces, no matter how different their uses are, easily blend into each other, forming a homely and welcoming atmosphere.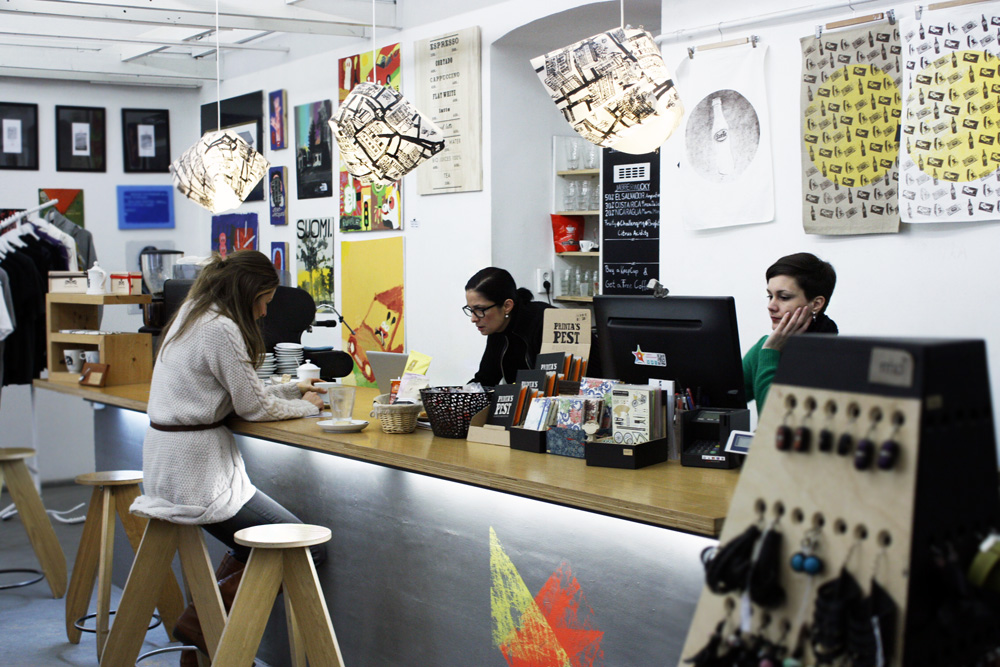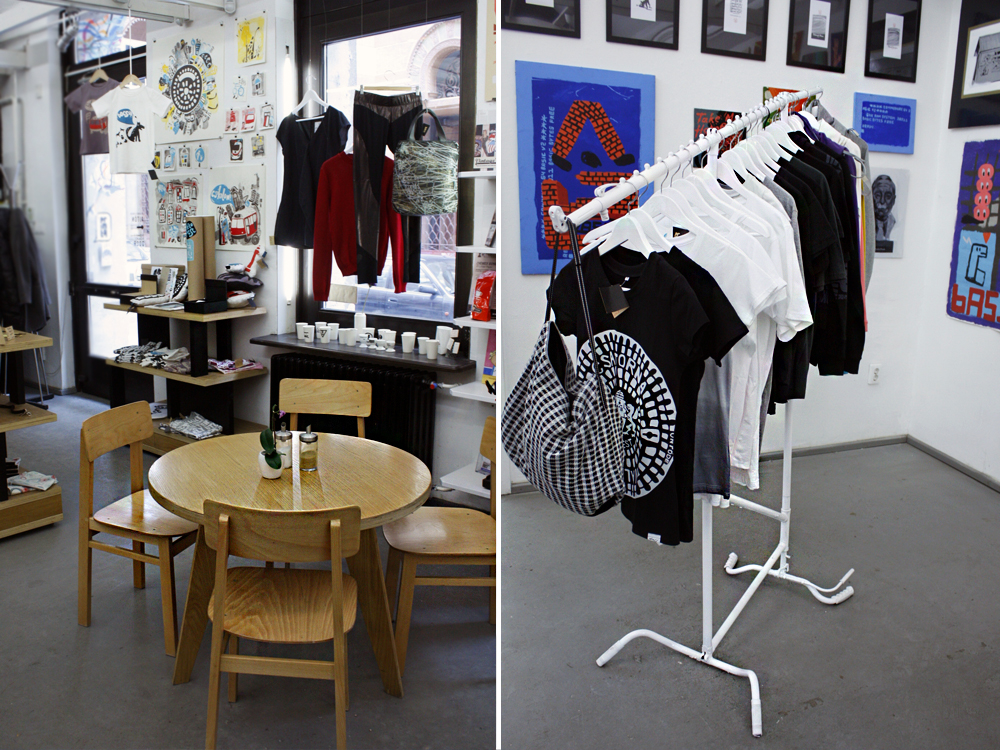 Printa is run by two local talents and entrepreneurs of the design field. You can see their passion for how they run their business and how they talk about it. They are proud of what they have achieved and they definitely should be. Claudia Martins is a professional photographer and Zita Majoros is a graphic designer, both successful in their own fields. They own and manage Printa only with the help from a few other professions, they have their own print-master and a few shop-assistants. But the real work falls on Martins' and Majoros' shoulders. They hand pick the design objects and clothing that is sold in the shop, they organize monthly printing workshops in their own back studio and they also work as the curators for the bimonthly exhibition they have in their gallery. They produce Printa's own Pest Collection and do their own design work on the side. On top of all this they organize residencies for artists and designers locally and from abroad. At the time of my visit they had the works of Lotta Nieminen hanging on their shop wall and an exhibition of Fodor János, a Berlin based artist in their gallery.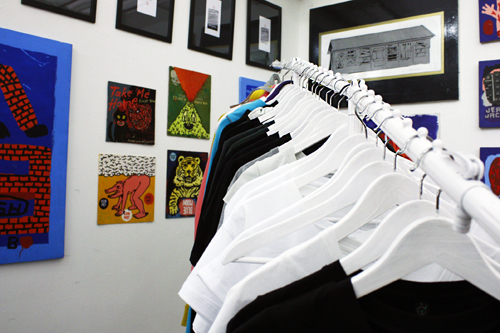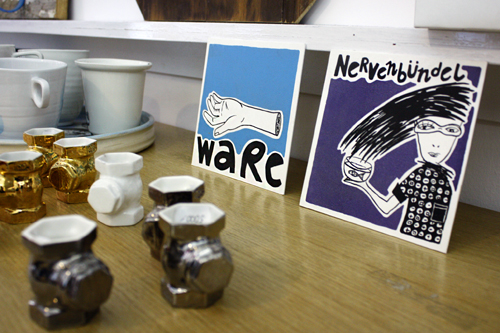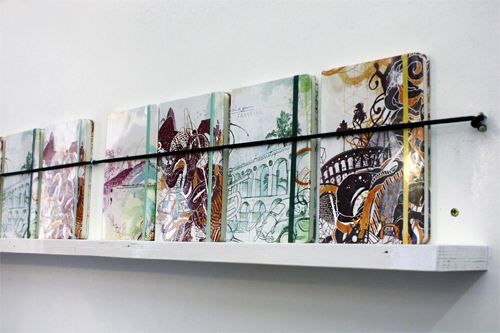 The main focus of Printa is to act as an outlet for local designers and artists, showcase their works and also introduce international artist to the local art scene. Focusing on hand printing and graphic design, but I also saw some amazing paintings there. Their last artist in residence was Lotta Nieminen, a finish graphic designer living and working in New York. As a native Finn myself I instantly recognized her scandinavian style and what I fond amazing was that Printa asked her personally to visit and showcase works based on some of the known landmarks of Budapest ie. the Andrássy Avenue. Read and see more of her work here!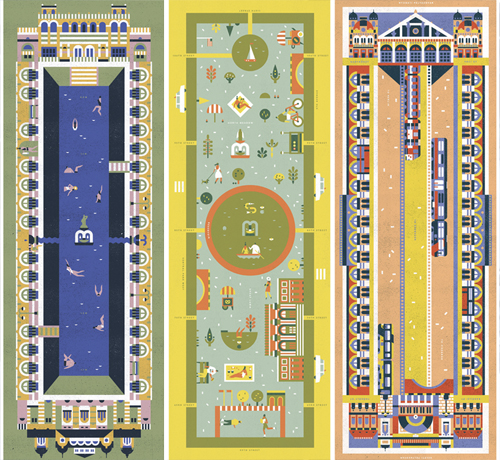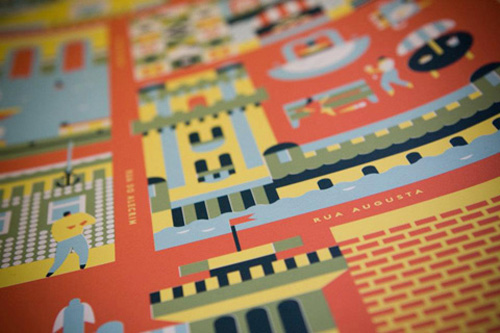 (photo courtesy of printa.hu)
At any given time Printa also has several works from local artists on sale in the shop. They aim to keep the prices to a limit that the locals can afford them as the main idea is to sell. Also all the works in the gallery are for sale at a reasonable price. Their current exhibition "Present Continuous" by Fodor János was chosen for its simplistic, graphic and classic style to wake the interest of a more mature and older potential clientele. The works of Fodor János show imaginary maps and visuals that remind of the star formations seen on the night sky or the maps of the old-world. The simple but strong visuals are interesting in their detail and diversity. Read and see more of his work here!
Printa has had artists from very different backgrounds and styles exhibitioning in the gallery. From classic graphics to street art and graffiti artists. The exhibitions change every second month.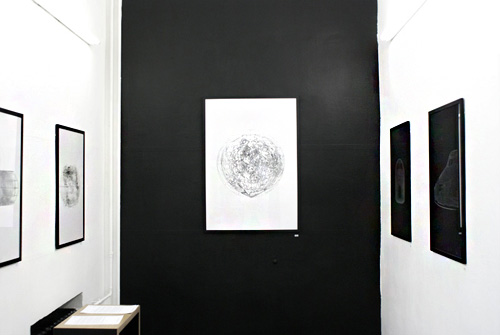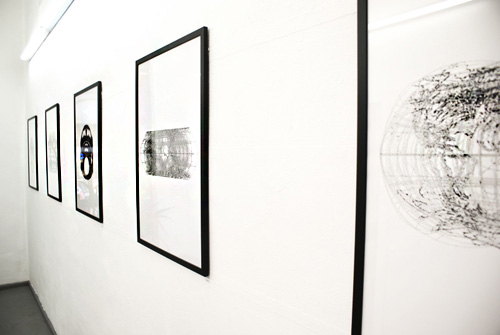 (photo courtesy of printa.hu)
As Design & Paper mostly is about paper related design, I wanted to find my own personal paper design favorite from the shop. Printa sells their own Printa's Pest collection, a unique guide that helps to discover the Pest side of the city of Budapest. It's a small booklet with a few postcards and a map inside. The postcards are perfect for design lovers to send to loved ones from holidays or just to have them for yourself. The Map inside the booklet opens and all the most important spots of Budapest are shown on it (including Printa!). The shops, galleries, museums, historical monuments, restaurants, cafes, anything a young design-minded person could look for. Two local graphic designers, Mimma Nosek and Fruzsina Koncz, has designed the graphics and the illustrations and it is produced on simple packing paper. It's printed in Printas own printing studio so the whole production is extremely ecological and made from the heart.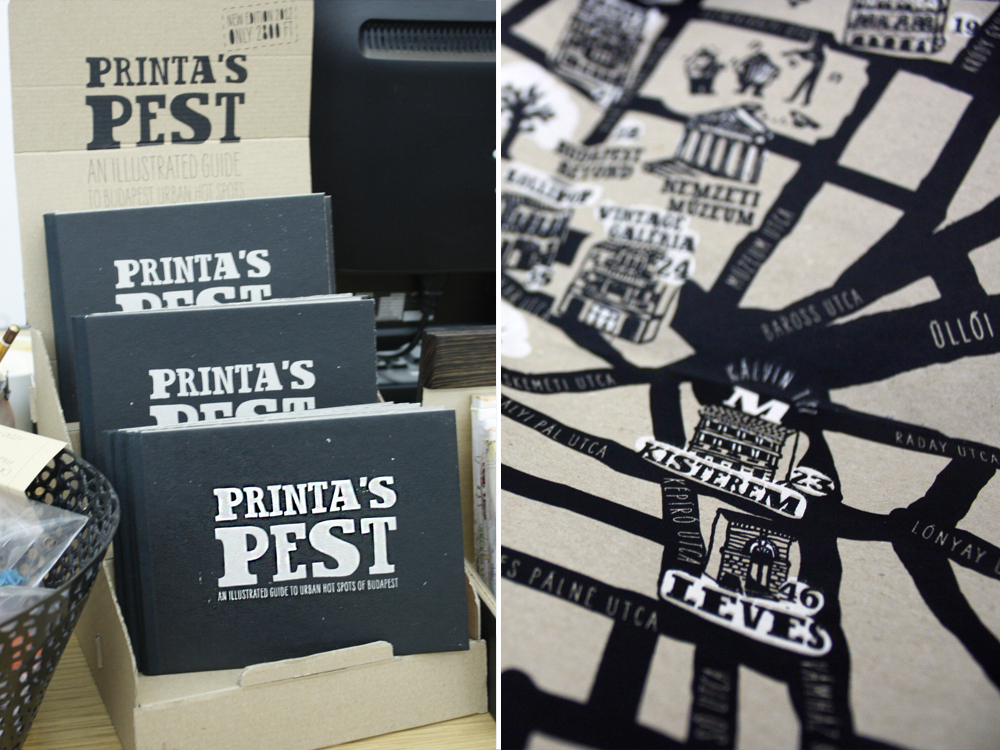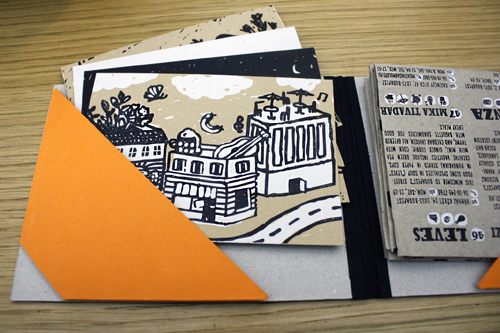 The printing studio, which is located at the back of the premises serves as a place for monthly silkscreen courses and is also rented out for local artists and designers. They have the equipment to print on paper and textiles, and the whole process is done with water-based methods to keep it safe and environmentally friendly. I believe this is something that separates Printa from the average design shop, they actually want to improve and offer more possibilities for local artists to do their designs.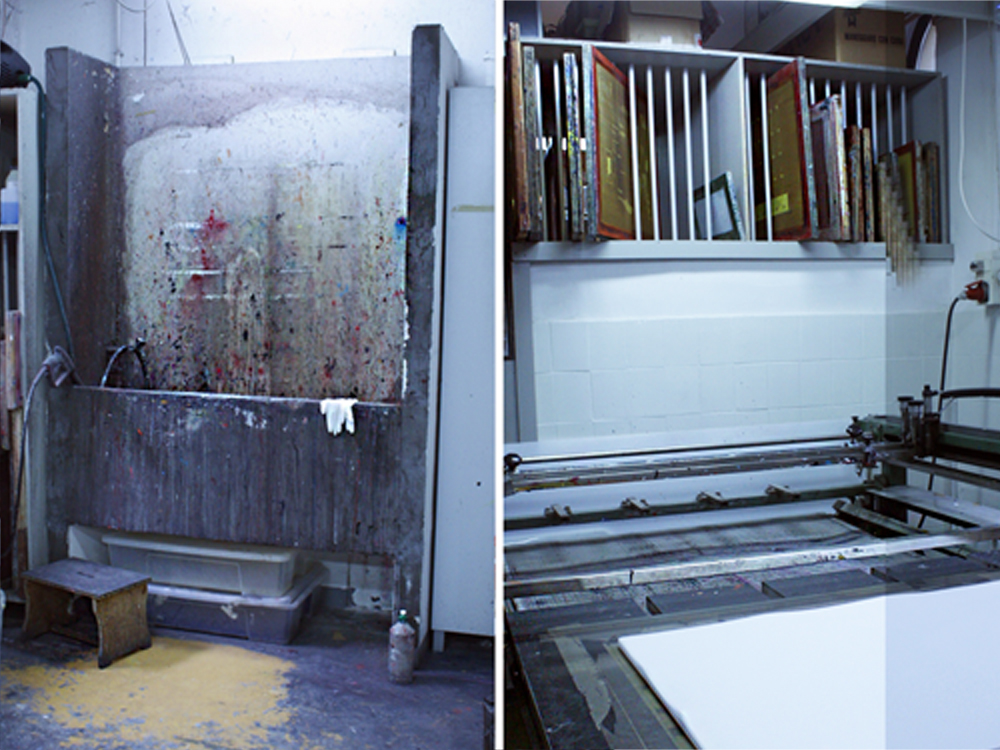 But what truly captivated my heart and interest was how passionately Martins and Majoros spoke about Printa and the design scene of Budapest. They honestly believe that there is a vast amount of talent in Hungary, and it just needs to be seen and heard. How they happily welcomed me and eagerly showed me around Printa got me excited in the local talents and designers. This is what every city needs, a few passionate souls to keep the scene alive! We will hear from these girls in the future, that's for sure!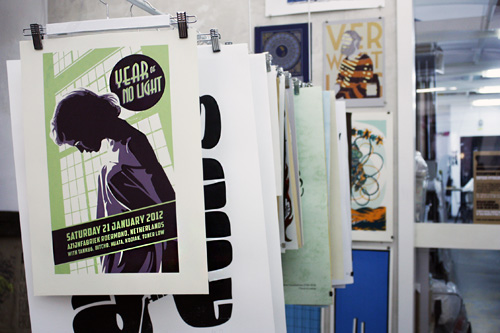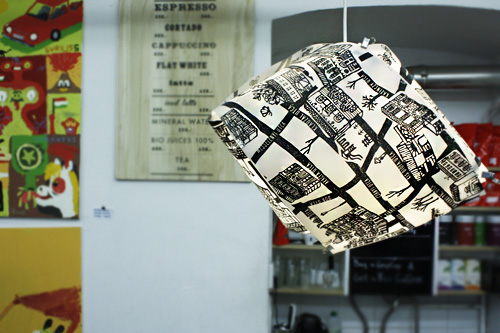 Printa
1075 Budapest,
Rumbach Sebesty 10
www.printa.hu
Printa in facebook