December 6th is known by children as the day when Saint Nicholas comes, a childhood figure connected with gift giving and compassion. Most of us have grown up knowing we have to shine our boots on December 5th, and expect nice present if we were good, or wickers if we weren't.  
Always trying to be glass half full, we've put together a carefully thought gift guide – some of the most beautiful children's books of this year – to inspire gifts for the children in your life, on Saint Nicholas Day or any special day in the Holiday Season. There is something in this collection for everyone, from small children, to teenage years, from fiction, to science books and cook books, and the designs and topics are simply stunning.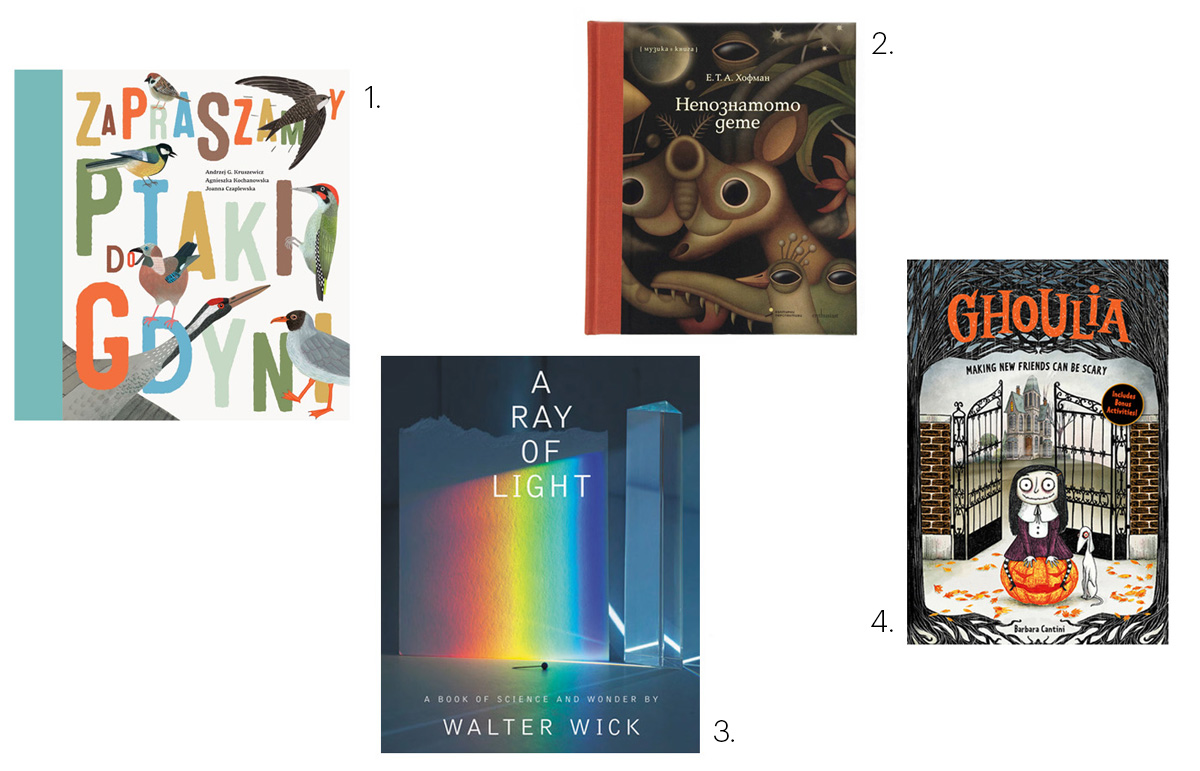 Welcome Birds in Gdynia
How to feed the birds correctly? How to build feeders and nesting boxes for our winged friends and where to place them? You can learn all this from the book "We invite birds to Gdynia." It arose out of love for birds and has just premiered. Young Gdynia residents were the first to receive it – winners of the 21st edition of the "We invite birds to Gdynia" competition. The award gala took place on Thursday, March 14, in the "Marszewo" Forest Botanical Garden. Available here.
The Unknown Child /  T. A. Hoffman
Inspired by ET Hoffman and his stories, Inna Kancheva develops a second project in the concept of Music in a Book – the work "The Unknown Child", which defends the freedom of fantasy against the limitation of conventionality. A poetic look at the subject of the material and the intangible, to have or to be, presented as an impression of the idea of human mortality and the eternity of nature. The illustrations for the publication are the work of the artist Katina Peeva and the translation is by Prof. Boris Parashkevov. The book's designer is Freedom Tsekova. Available here.
A Ray of Light
For your non-fiction lover, this new book from author and photographer Walter Wick is just the thing. In A Ray of Light, Wick's stunning images are combined with easy-to-understand text. Kids will learn all about the speed, color, the spectrum and all the other complex secrets to light. Available here.
Ghoulia (eng. Mortina) – a story to die of laughing
Mortina is a girl, but unlike the others – she is a zombie girl. She lives in Villa Decay with his aunt Calm and never parts from her friend Sorrowful, an albino dog. Martina is very anxious to have friends of her age to play with, but is forbidden to appear among others in order not to scare them away. One day, however, an appropriate occasion comes: the Halloween holiday! Mortina doesn't even need a suit …What happens when the children of the village discover that she is not masked? Available here.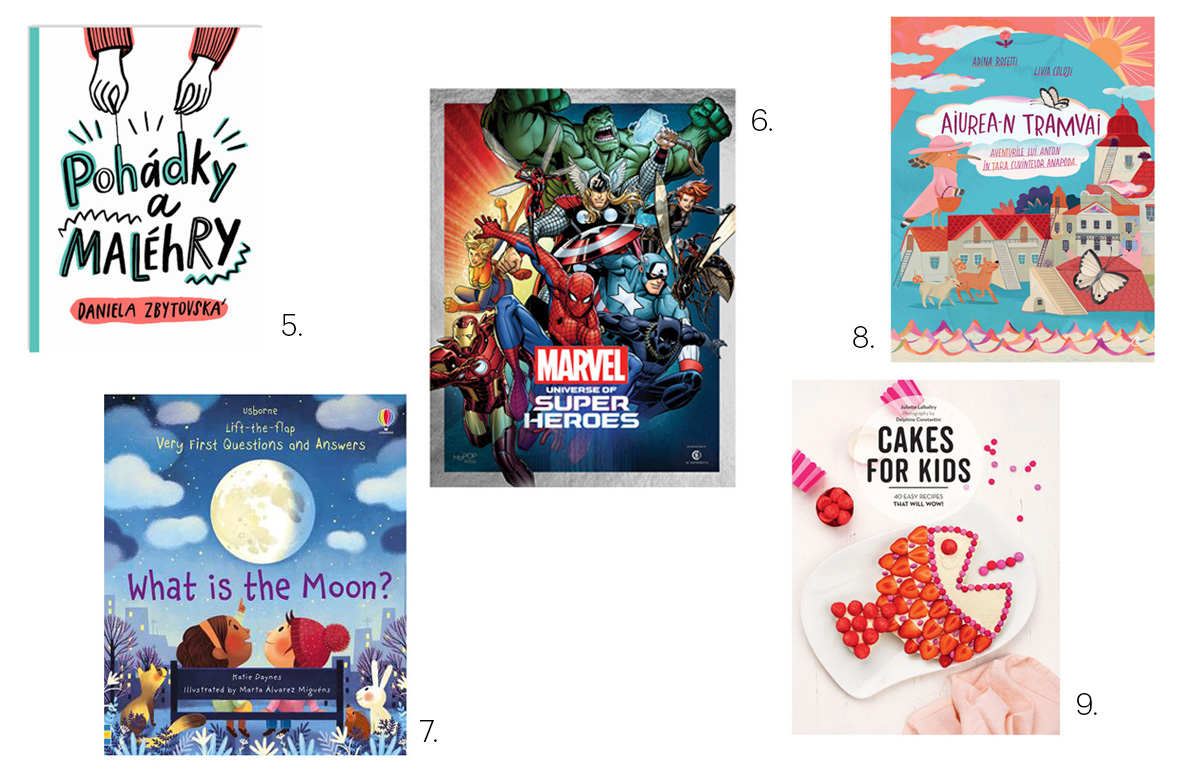 5. Pohádky a MALÉhRY
Pohádky a MALÉhRY is a children's book designed by graphic designer Tereza Šmídová and illustrator Karolína Stryková, which aims to inspire children to express their imagination by reading and playing. With a cardboard theatre and darling paper puppets which come as part of the book, children can play out their own fairy tales and most imaginative stories. Available here.
6. Marvel Universe of Super Heroes
Accompanying the exhibition with the same name, the 'Marvel: Universe of Super Heroes.' art book has been produced this year by Verlag für moderne Kunst, in cooperation with SC Exhibitions and published by Verlag für moderne Kunst. The book successfully brings together legendary comic creators, up-and-coming talent, editors, executives, artists, actors and show-runners, along with articles about the history and power of the Marvel fans, with stories that stretch our conceptions of heroes, whether through personal history, fandom or fashion. Available here.
7. What is the Moon?
Budding astronauts can find out all about the moon in this interactive, lift-the-flap board book. The book is simple and playful for the very young but touches on more complex ideas like orbits too, so it's perfect to share with siblings. Available here.
8. Cakes for Kids: 40 Easy Recipes That Will Wow!
Paris-based baker, food artist and cookbook author Juliette Lalbaltry's latest book starts with teaching kids (and their grown-ups) four basic cake recipes (lemon, yogurt, chocolate and rolled sponge).  From these four bases she offers dozens of ideas for clever, totally doable decorations that will guarantee you'll never need to order another party cake. Available here.
9. AIUREA-N TRAMVAI. Anton's Adventures in the Land of Pointless Words
Anton is permanently bickering with his elder sister and uses …unsuitable words. Until he finds himself into the world of pointless words, where everything he says loses its normal meaning, creating a chaotic reality in which all kind of weird things happen. Together with his new friends, Anton sets out to search for the leader of the Land of Pointless Words, a fellow as muddled as the rest of his compatriots, who is the only person who can help Anton find his way back home. The hero and his friends will have the most exciting adventures in a world where everything is upside-down, but very funny, and everything focusses on words. Available here.
Awards: Winner of Best Children's Book in "Ready to print" Competition in 2018.
Category: Shortlisted Best Book Design From Stiftung Kunstbuch's All Over The World, Category Children's and Young People's Books 2019