Our eastern neighbor Hungary and its lovely capital of Budapest can no more be overlooked when it comes to design. The vibrant city located just a short boat ride down Danube is bustling with new shops, restaurants and trendy designer hangouts. It was long overdue to list our favorite spots and reveal our secret must-visit design destinations when we're in town.
Budapest's Design District is located within District 5, in the triangle created by Astoria, Ferenciek tere and Kálvin tér. It's the place to find unique shops full of creations by young, emerging Hungarian designers. Király utca, is where you can find all the interior design spots, it's also known as Budapest's Design Street. You can find exclusive design stores along art galleries and design shops, which brings us to our first spot:
Printa – a concept store, gallery, print studio and cafe all in one.
One of my first design finds in Budapest: Printa is a design concept store run by two local artists who absolutely love and live design. In a very compact space they've managed to fit a shop, a gallery, a cafe and a studio for silkscreen printing. With its many spaces and uses, it all somehow works and the atmosphere is always welcoming. A great place to pick up some Hungarian design that doesn't break the bank, make sure to go and check out their impressive poster collection. If I'd have to choose only one stop to visit, it's here! Read more.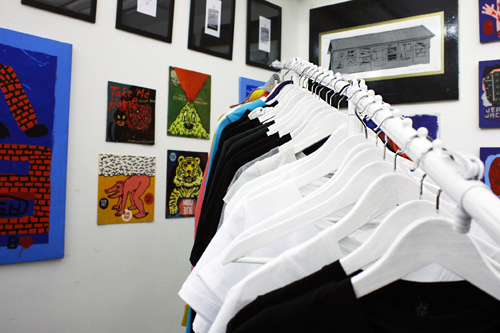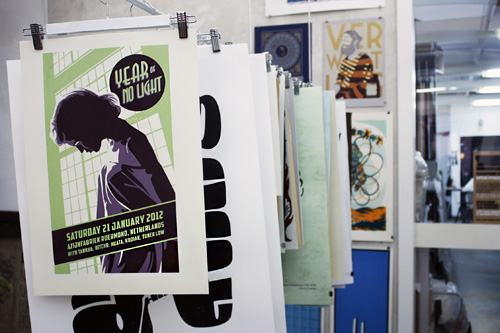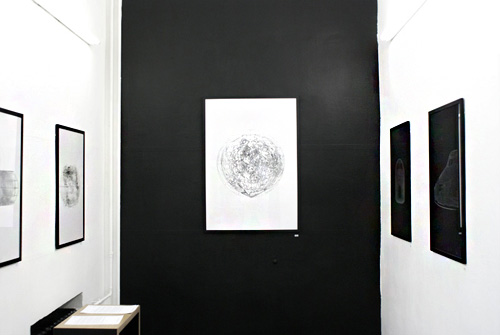 Printa – 1075 Budapest, Rumbach Sebesty 10
The second spot takes you on a journey to the past:
Bomo Art, a little stationery shop on Régiposta street
Entering the shop you'll immediately get the feeling of being ripped out from the present and taken back to the beginning of the 20th century. Surrounded by the scent of paper and leather, looking at the handmade diaries, calendars, post cards and wrapping papers with their unique designs evoking the times where handwritten letters were the most common way of communication. A great break from the fast-paced life we live, a place to find those hidden gems, a piece of timeless design you'll treasure for life. Read more here.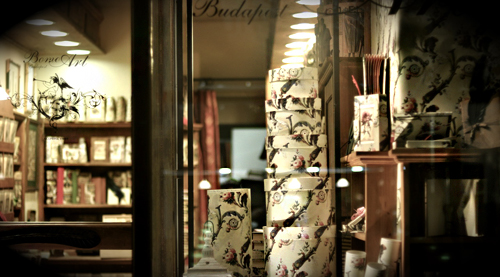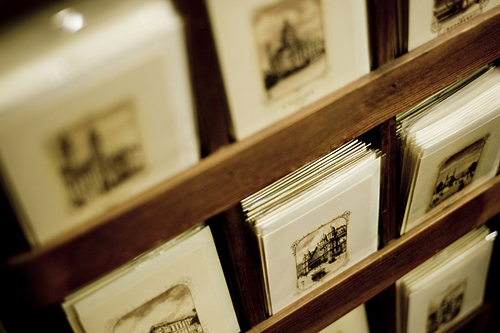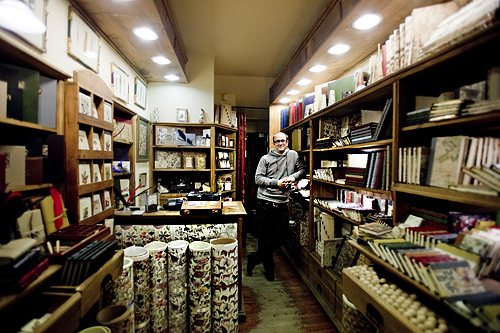 Bomo Art – 1052 Budapest, Régiposta utca 14.
Inbetween shopping it's good to take a breath and recharge. And I couldn't think of a better place than spot number three:
TOKIO BUDAPEST bar and sushi restaurant
Claimed to be the best sushi bar in town, you won't be disappointed by the food or the architecture! The bar's interior is the handy work of local Studio Arkitekter agency. Inspired by the diversity of Tokio, it's like a small piece of Japan in the middle of the great Easter European city of Budapest. Open from noon to late night, you can pop in for lunch or an after work drink, but make sure to make reservations if you are looking for a table at dinner time.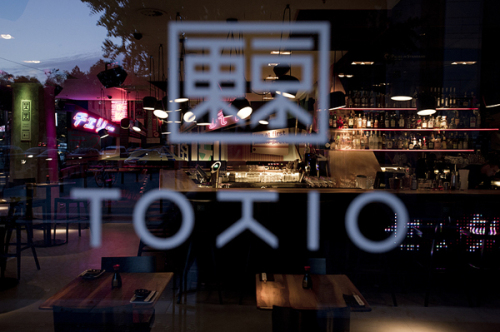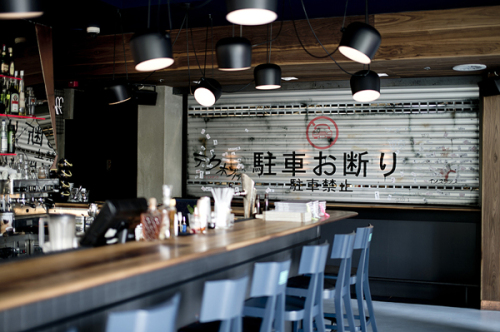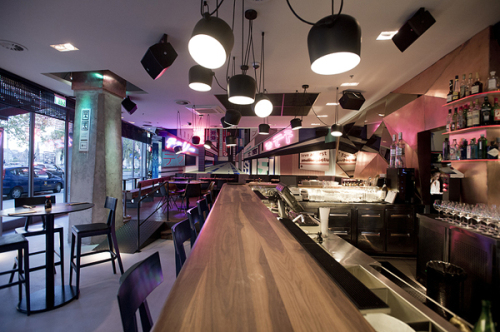 Tokio Budapest – 1051 Budapest, Széchenyi t 7-8
The fourth design spot only emerges once a month, but is definitely worth a visit: WAMP – Hungarian Design Market
The monthly design market features more than 100 designers who sell local clothing, furniture, books, stationery and accessories in the shade of a former bus station in the city's central square, Erzsebet tér. It's the perfect place to see everything and everyone in the Hungarian design scene, a place to meet the designers and for some people, to be seen. It has grown into the largest design event, beside the Fashion Week in April and Design Week in October. See when the next event takes place and start planning your trip!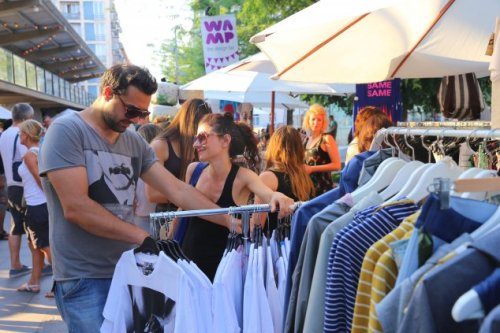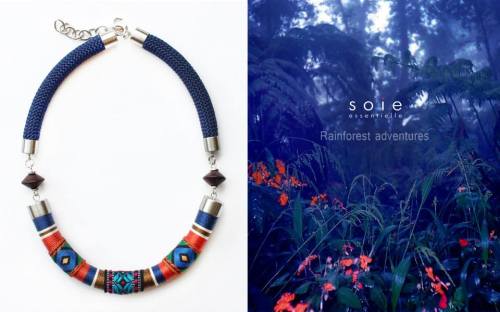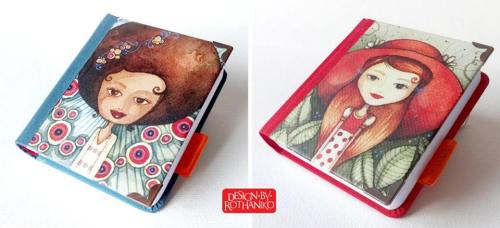 WAMP – 1051 Budapest, Erséber tér
Afterwards, is there a better way to finish off a great day in Budapest than spend it in a place that offers you everything you might want from a good night? No, and you don't have to go far, spot number five:
TERMINAL restaurant and bar
Right in the city center, next to the Erzsebet square, this new trendy culinary hot spot has taken over the former bus terminal, keeping in its design key elements. With a menu based on Hungarian dishes, the place transforms from lunch to the late hours of the night and has been praised by locals since its opening. With its unique interior, great service and food up to par, this is a favorite for years to come! The paper lovers in us fell in love with the stylish branding of the restaurant, designed by a local designer Eszter Laki.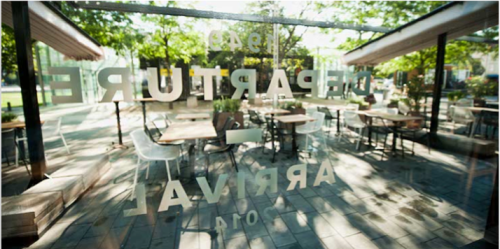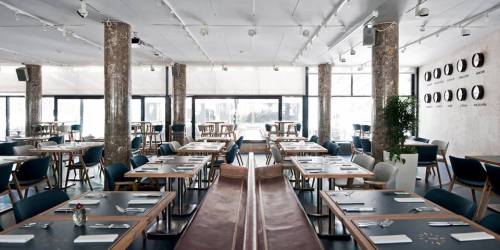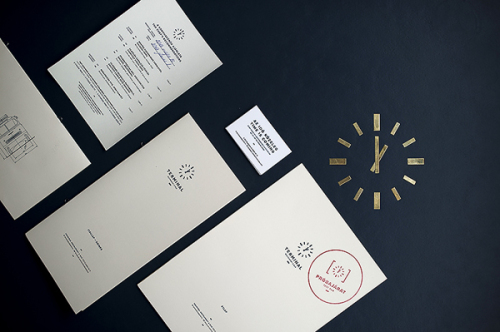 Terminal – 1051 Budapest, Erséber tér 11
If you follow us on social media you might already be aware of the open day for professionals that is happening tomorrow at the Absoloot studios in Budapest, where the Scandinavian Style Design Contest Award Ceremony will be held, along with different workshops. Also Budapest Design Week is just around the corner, 3.-12.October. There is no better time to plan your trip to Budapest, a city with an eventful and rich history, showing no signs of slowing down. The design scene is buzzing, and we're happy to go along!
Photos via Design&Paper, Tokio Budapest, WAMP, Terminal