Devi Chand, the founder, and artist behind Papermelon creates unique jewelry and home decor pieces from upcycled paper. At her home studio in Chennai, India, Chand hand-crafts pieces she designs herself by manipulating recycled paper. The designer obsessively collects all kinds of papers – newspapers, magazines, calendars, gift wraps, paper bags, and pamphlets to name a few. While a network of friends, neighbors, and well-wishers unconditionally pass on their own vibrant paper stash they collected for this offbeat artist. With sustainability as one of the designer's core values, eco-friendly solutions are at the center stage in each step of the design process.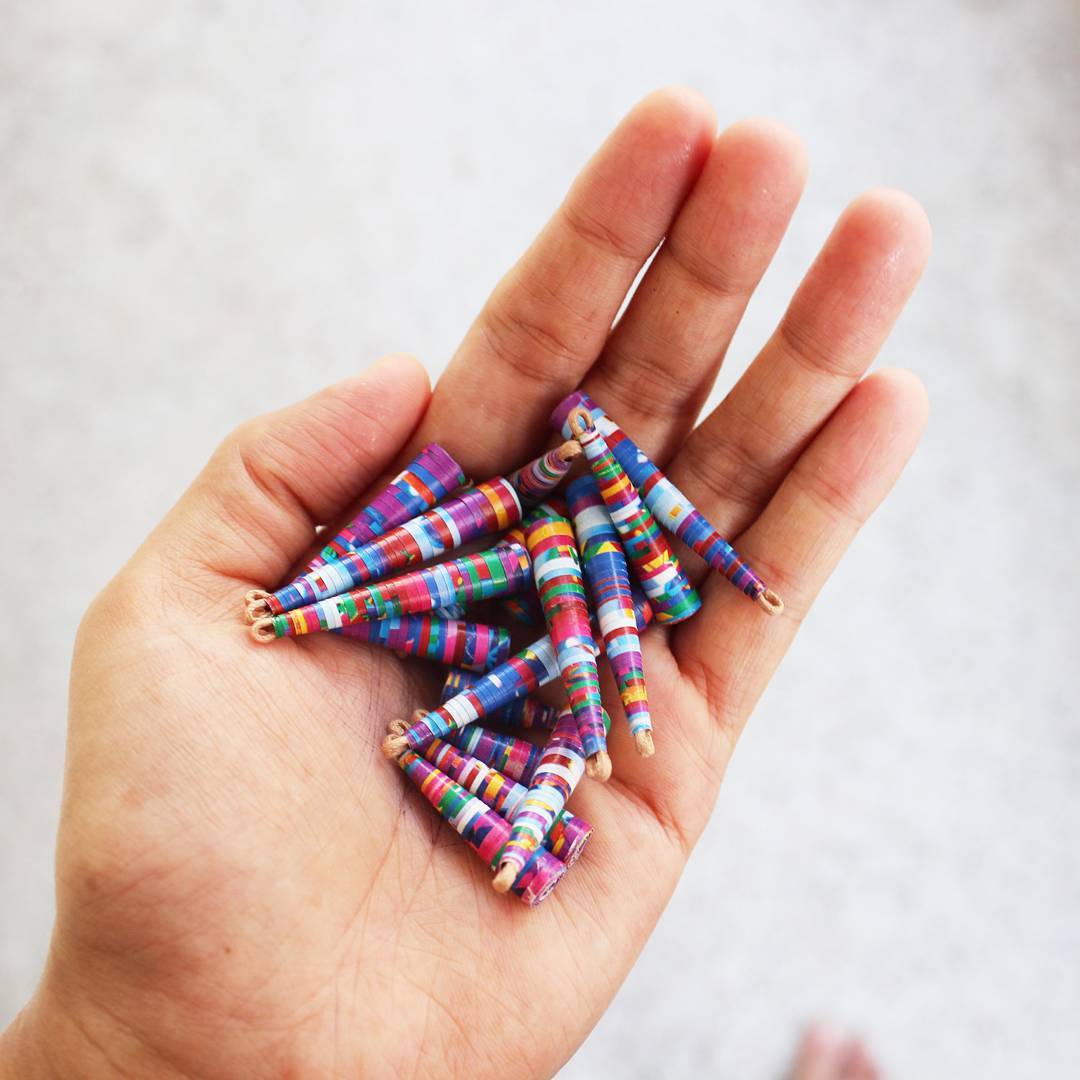 With creativity at heart, Devi Chand aka Papermelon loves and succeeds in making things with her hands
With a strong love and passion for making things since early childhood, Chand's family supported her creativity, which led her to study design at the NIFT. "College inspired me to dream, design, and make more things. As a side effect, I met my awesome husband here. After graduation, I worked in a design firm. I yawned most of the time there. It took me only nine months to say goodbye to corporate life. I started Papermelon in 2009, and have since been crafting nonstop", the designer tells.
Appreciating the suspense that comes with working with recycled paper, each Papermelon piece is unique and a surprise for the designer as well
With a design process that is incredibly time-consuming and tedious, lots of love is put into Papermelon designs, that always aim to bring joy and a smile to your face. Chand works mainly with papers that have irregular designs and colors, making it hard to predict the patterns the beads will have. So when she's finished rolling the papers, she's as surprised as anybody else of the outcome. An aspect she truly enjoys and treasures. using simple hand tools and no machinery in the production of the designs, Chand believes her hands are enough.
The paper is first cut into strips and then meticulously hand-rolled into perfectly shaped beads. The paper beads are also given a coat of eco-friendly sealant to make the products sturdy and water-resistant, so they can be cherished forever. The beads are then dried in the sun for extra strength – before they are assembled into jewelry and decor.
You can shop for your own Papermelon jewelry or home decor piece here, but also make sure to follow the designer on Instagram for more inspiration.