The stationery of a wedding is the first indication for the guest of what's ahead. The save-the-date card or invitation sets the mood and often ends up being the keep-sake people save to remember the event by. So the amount of thought and work that is put in them comes as no surprise.
When it comes to the style and design of wedding stationery, there are the classics that never go out of style; off-white, calligraphy, floral patterns, and lace cutouts, but each season we see new exciting trends emerging that speak to the current taste and style.
After an era of rich, deep colors, bold foliage and floral patterns and copper or rose gold details (we wrote about last year), the pendulum swings back, and we're seeing much more minimal designs taking over. Albeit the wedding stationery business is quick to adapt to major trends, the move from lush colors and abundance to light and delicate decor is significant.
Above all, our favorite current trend is the focus given on paper. As the actual design of the stationery becomes more minimal, the material and its quality come into the spotlight. We're seeing a re-occurring theme of organic, textured, and handcrafted paper, as a natural aesthetic seems to have become the aim. What combines the three major trends we see taking over the wedding stationery world in 2019, is not just the light color scheme but rigorous attention to detail on every level.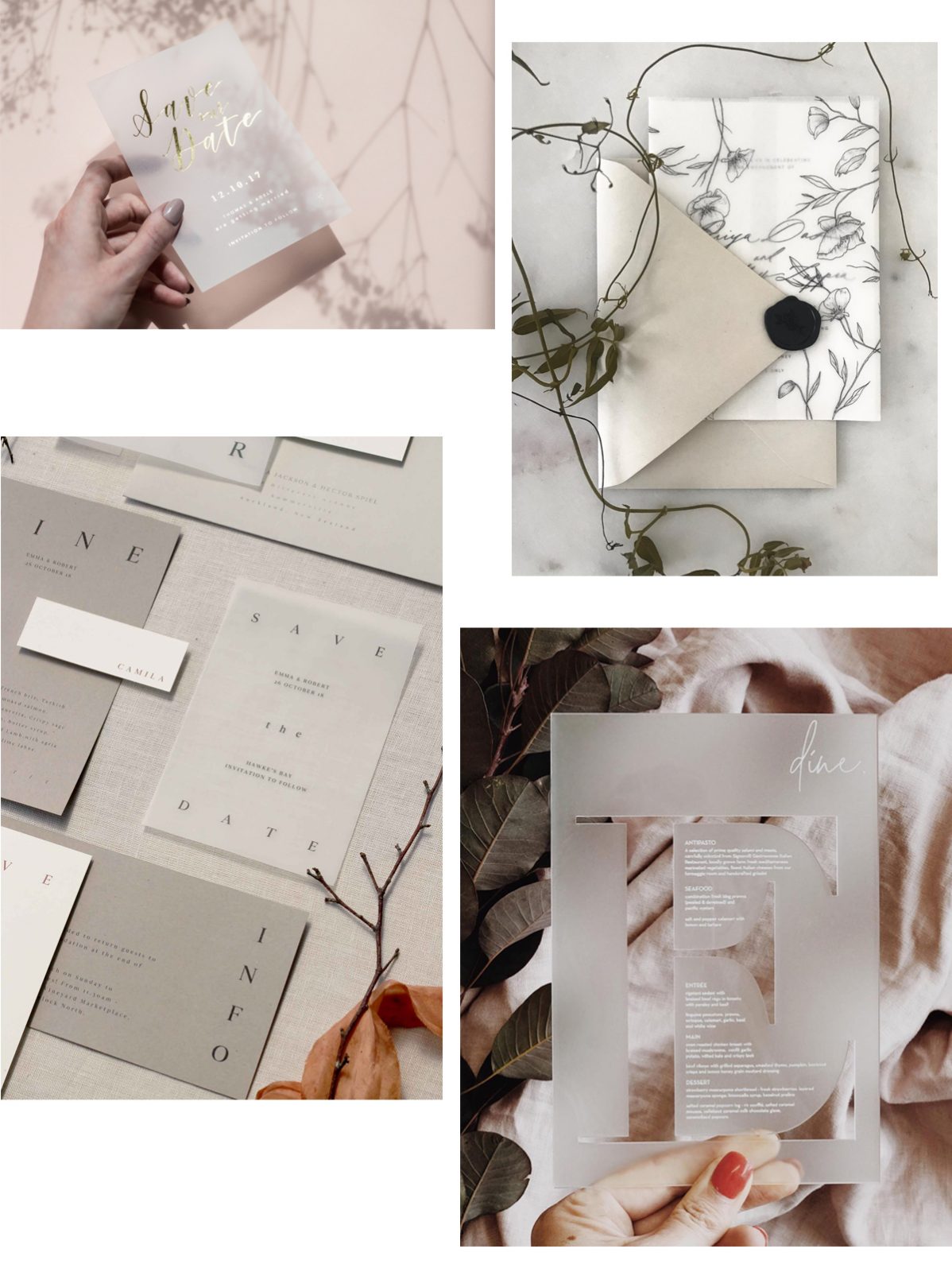 Translucency
The use of see-through, milky, and translucent paper is on the rise. It's often incorporated as a wrapping or an accent, but also as the main star of the design. It gives an elegant, light feel, and works well with many printing methods. Its translucent quality lets the light shine through, reminiscent of a stained glass window, or luminous ice cover of a lake. It's delicate, yet a powerful design element people always appreciate.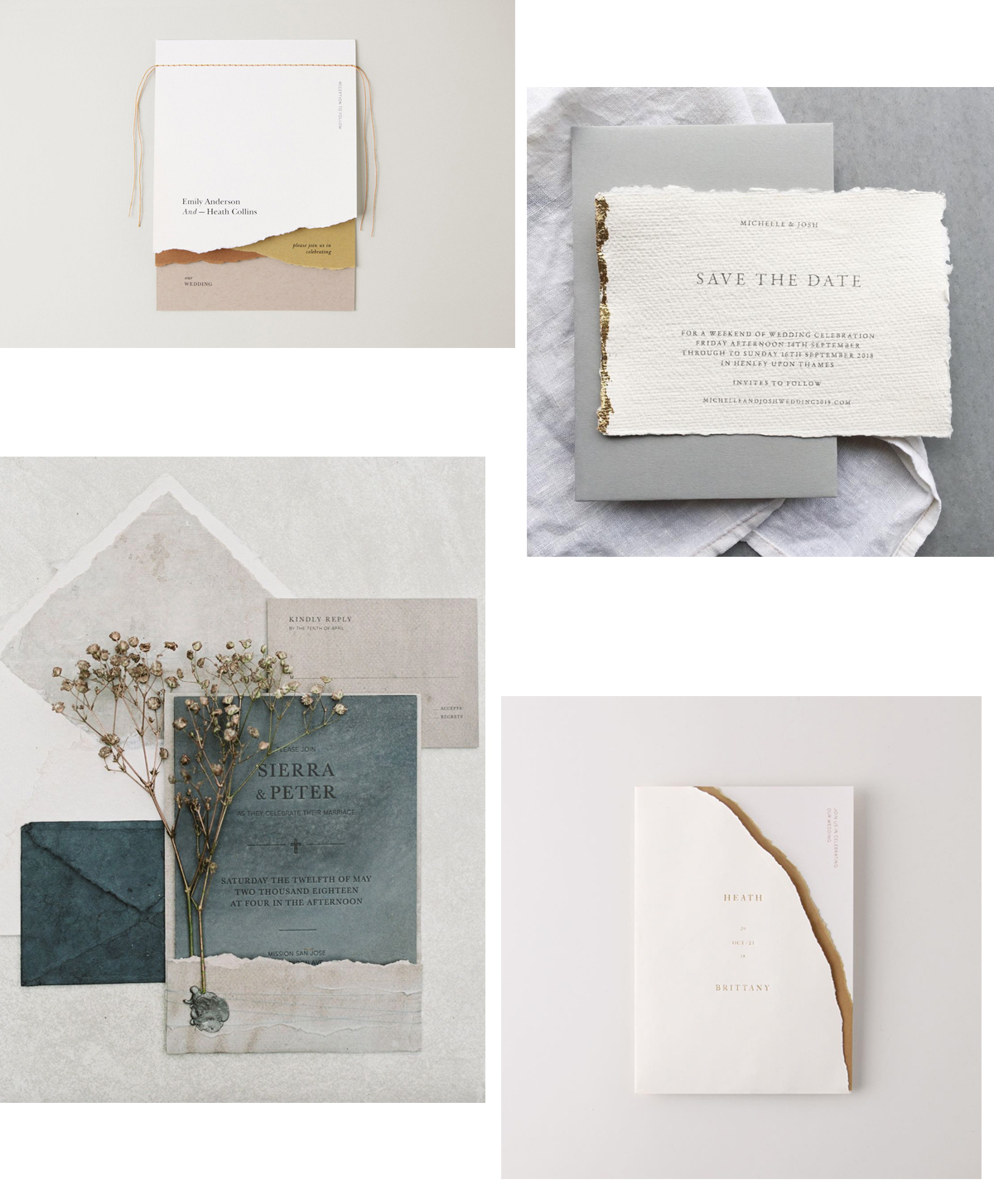 Torn edges
Torn paper is an age-old method of adding persona and character to a design. It's not to everyone's taste and can look rough and unfinished if executed haphazardly, but when done with thought and style, it can elevate a design to be absolutely stunning. When combined with minimal typography and colors, a torn edge can be enough of a focal point for a design. Done with layers or an accent color, torn paper gives a feel of authenticity and craftsmanship.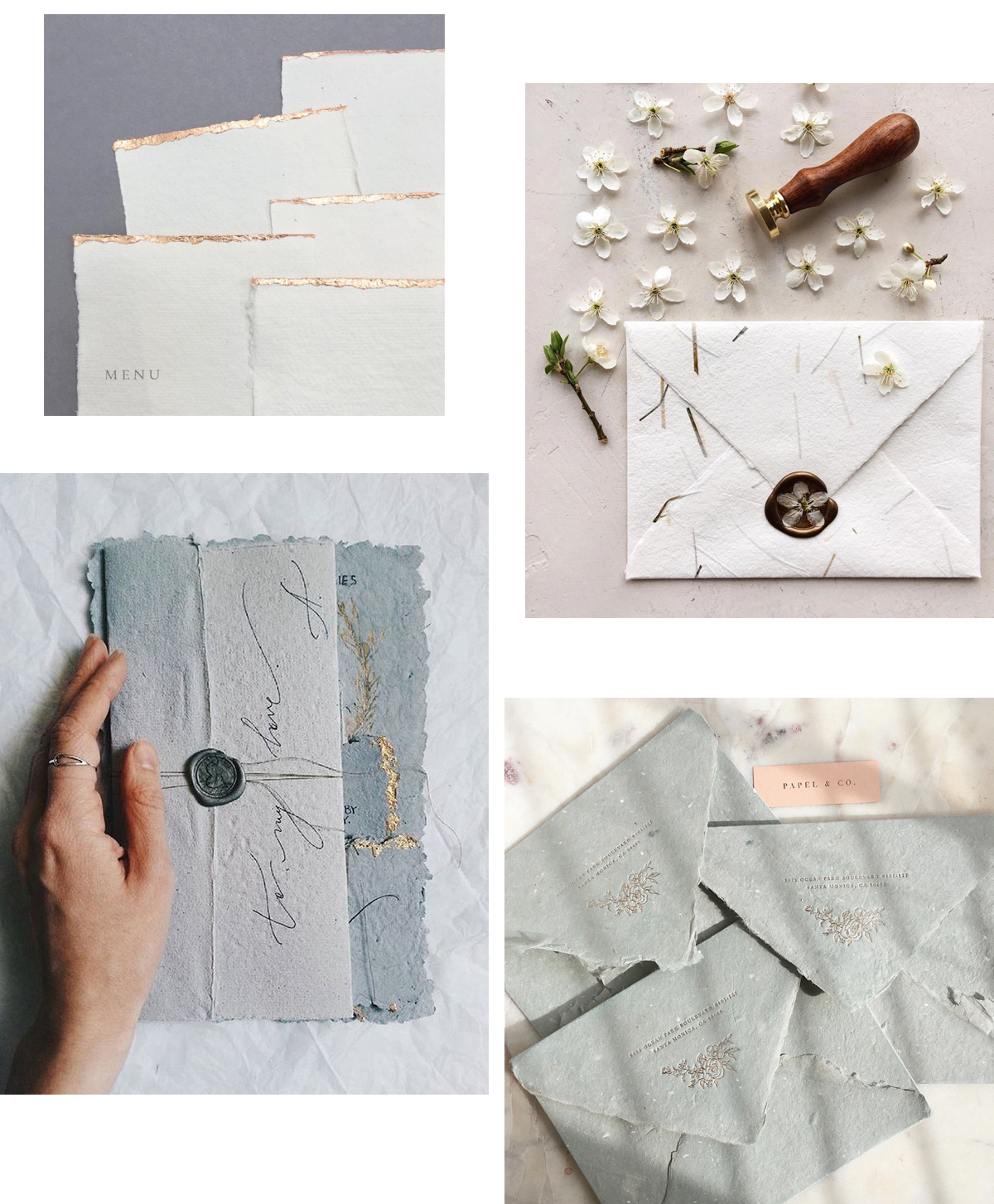 Handmade paper
Handmade paper is simultaneously rustic and elegant, a combination of many desire for their wedding. It's always unique and can even contain flower seeds or petals for an extra special look. With naturally deckled edges it echoes the torn edge trend, as a more earthy, eco-friendly option, popular in the modern day. The delightful texture and beautiful, soft feathery edges of the handmade paper bring depth and persona to the wedding stationery, making that special day exceptional.