Lukas Diemling
, an independent graphic designer and art director from Graz, Austria, strives to create expressive and ambitious visual concepts within the fields of branding, packaging, typography, still like photography, print design, and digital environments for both small and large brands. His distinct work feels fearless and confident, often depicting details and finishes that elevate the design to its full potential. Diemling's latest client,
Matthias Warnung is an Austrian winemaker in the second generation who farms 10 hectares of vines in the Kamptal region of Austria.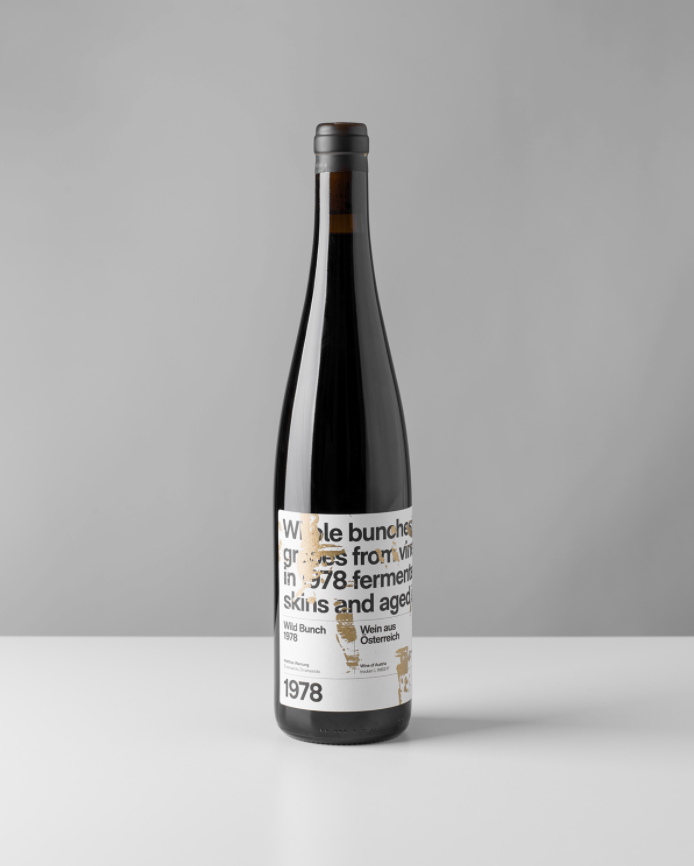 The work that happens in the vineyard should get into the bottle as unadulterated as possible. – Matthias Warnung, winemaker.
Warnung
is committed to non-conformity, he is not restricted by the wine law, any certifications, or the term natural wine. He ferments all the wines spontaneously and uses little to no sulfur. For him, there is only one way to make wine; "the work that happens in the vineyard should get into the bottle as unadulterated as possible."
Combining simple and classic, with spontaneous and experimental – and a touch of gold!
Warnung's latest release, a series of wines called Wild Bunch, is a reinterpretation of the process of winemaking. Traditional wines are produced with a different kind of process. The minimal wine labels designed by Diemling only display a very simple description of the process itself, as well as the needed legal information. As a contrast to the simple typographic design, a set of raw, spontaneous, and organic textures were overprinted in gold foil, splattering over the monochrome labels.
This combination of a classic layout and the experimental patterns perfectly resamples Warnung's mission for this wine series: reinterpreting the process of traditional winemaking with new a new and experimental approach. As a result, a stylish contemporary, and elegant packaging was born that personifies that unique wines and the love and labor that has gone into making them.