Wedding season is in full swing so it's time to look at the most compelling, striking, and imaginative trends of the time. While classic, timeless touches will never go out of style, up and coming trends and unique ideas are definitely worth your consideration. With a phenomenal – and somewhat frightening – amount of choice out there, I've gathered together 10 of the most inspiring, and memorable wedding stationery ideas for you to consider and adore over.
1 Vintage
Marine blue and light rose go hand-in-hand like a bride and a groom. It's light and romantic while being dramatic and impressive. Combined with gloss-photo style flower illustrations, it gives the right amount of retro and class.
2 Artsy
Artistic, fun, and memorable for the young at heart. You can go as crazy, or as minimal with this trend as you want, with using abstract patterns, paint splashes, or simple highlighting strokes. Get creative!
3 Laser-cut
Whether you want a lace design, snowflakes, flowers or treetops, using a laser-cut design for your wedding invitations is very on trend right now.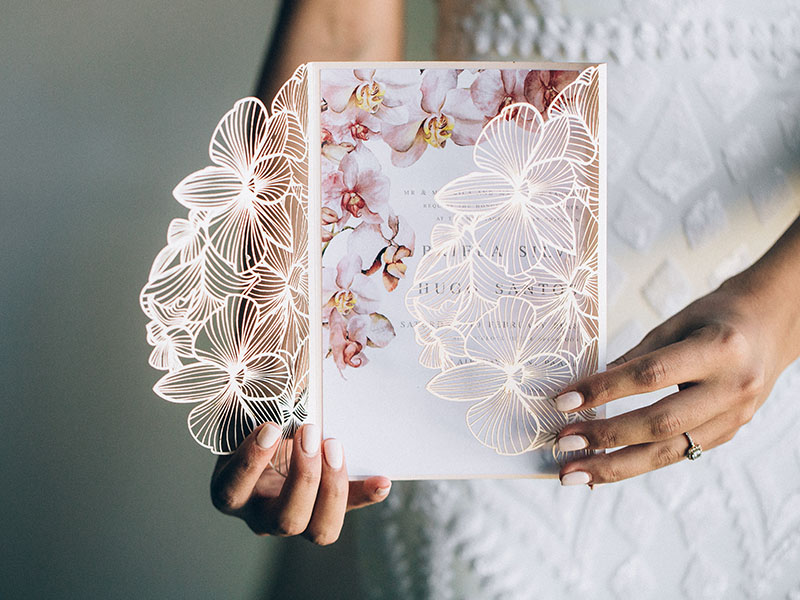 4 Sealed
A wax seal adds a distinguished, royal touch to the wedding invitations. There are so many lovely ways you can do this – from personal monogrammed stamps to a botanical motif.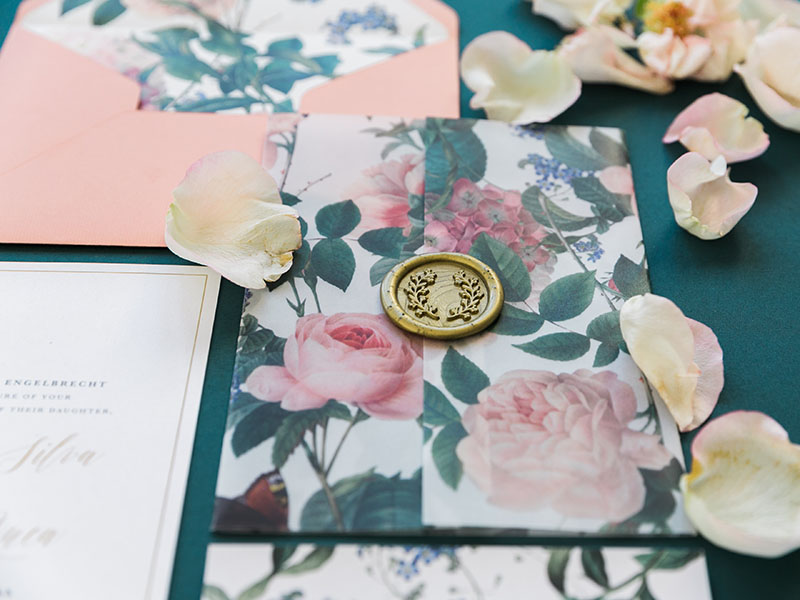 5 Watercolor
Graceful and elegant, while being fun and young. Watercolor wedding stationery designs are a great way to introduce a color scheme without resorting to a floral border or motif.
6 Blind embossing
Blind embossing creates an indelible impression on the paper – same as you might want to do with your wedding.  The results are attention-grabbing. This technique can be applied to everything from borders to the typography, there are so many original ideas to explore this trend.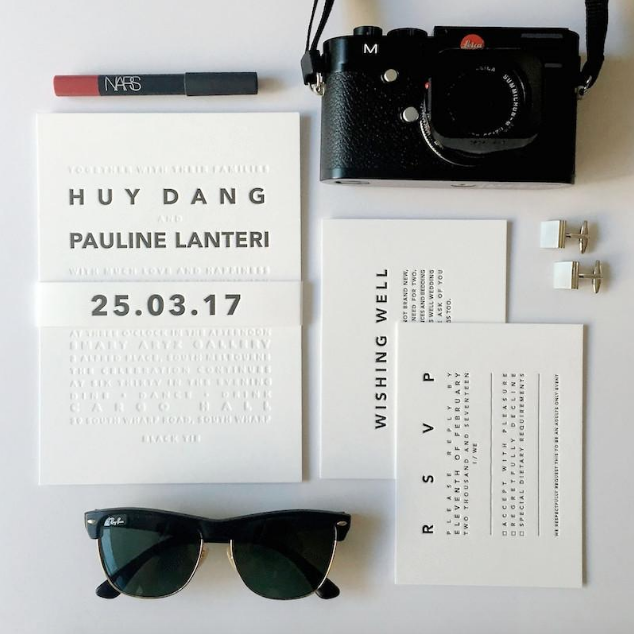 7 Translucent
Translucent or milk paper is a perfect modern choice for a bride who loves tradition with a twist. It gives a minimalist touch and is sure to get people excited about what to expect at your wedding.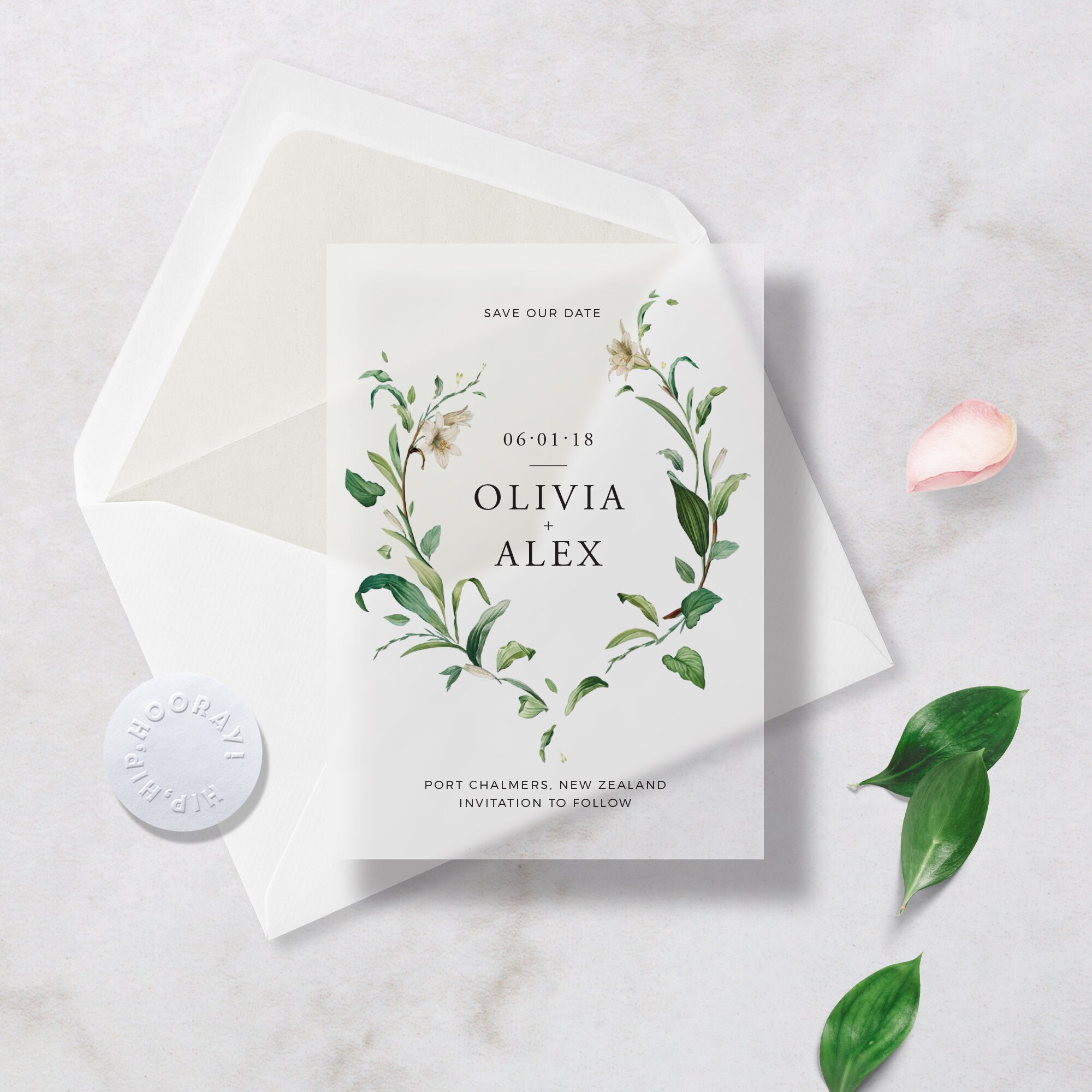 8 Surprising shapes
Not everything needs to be cookie cutter perfect, expected or traditional. Your invitations don't have to be square or rectangular, they can be any shape you like! Thinking outside the traditional format of wedding stationery is going to be a huge up-coming trend From circular to triangular to heart-shaped, the options are endless.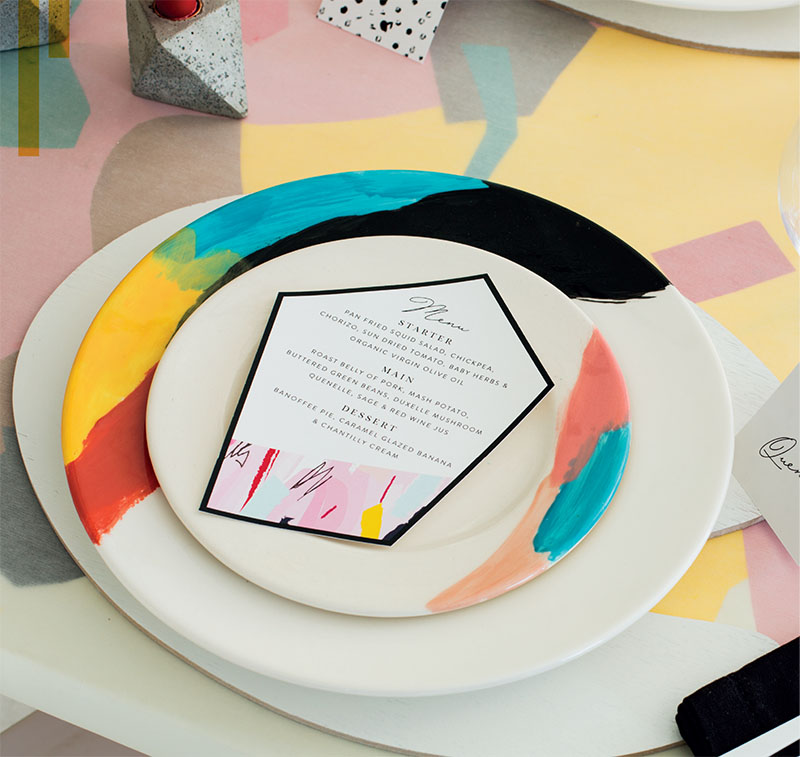 9 Mapped out
Destination weddings can make more of their unique location by using a map design as part of the invitation. This approach is really effective. Choose from ordnance survey style maps or hand illustrated ones that can add a personal touch.
10 Italian Marble
Marble has been the biggest trends of the last few years and it seems no signs of slowing down. But a new, beautiful option for the classic black&white marble is the Italian, multi-colored version. Luxurious, elegant and chic, it's the choice for a classic wedding with a hint of extravagance.