We've been seeing anchors, waves and ropes lately, with white, red and blue dominating the color charts. This can only mean one thing: the marine trend is here! It emerges almost every summer and it has become a classic in the stationery and wedding invitation designs, either done with a nostalgic feel or a fresh approach. We gathered together the best current designs inspired by the marine trend!
For a summer wedding by the sea, on a beach or just in the theme you can infuse your invitations with nautical motifs – anchors, stripes, compasses and knots! Colors like navy blue, natural browns, sand, white and copper help to keep the style glamorous and luxurious. If you like a more rustic feel you can print the invitations on mock-wood paper, or use brown string or twine to tie your envelopes as little parcels.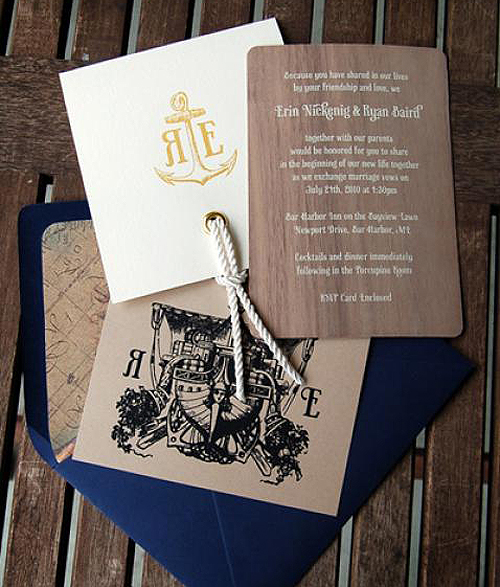 Nautical motifs, ropes and mock wood paper. Source: The Lane
If you want a more modern marine elegance you can use some small references while keeping the main look clean. Opt for traditional white invitations with gold font and add a hint of marine by using an envelope lined with blue and white stripes. Or use only small references to the theme, with a small anchor on the invite, a little seashell in the envelope or a piece of rope.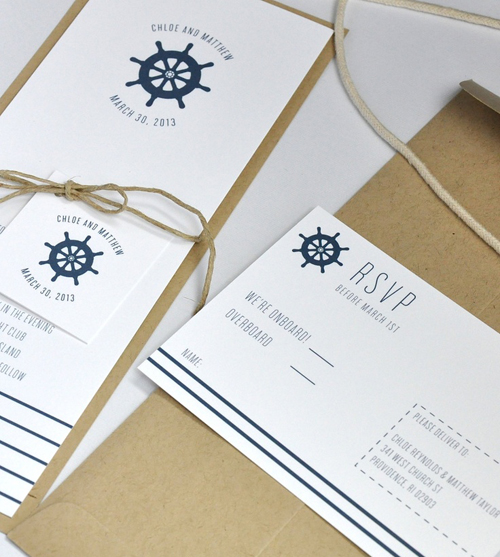 Simple, classic and modern. Source: Etsy.com
A cute idea is to make the map to the wedding venue in the style of the old marine maps! You could either look up an old map of the area, or do it yourself. Simple line map design on an old rustic looking paper or just paint the map with watercolors. Have some fun with it, and make it look hand made to have a more laid back mood!
For a beach wedding the invitations can be more surprising, try something new! Maybe the invitation could arrive rolled up in a bottle, as a message sent from a stranded island? Or written on the back of a starfish or a seashell? For a beach feel, more coral colors, mixed with white and navy blue hit the spot!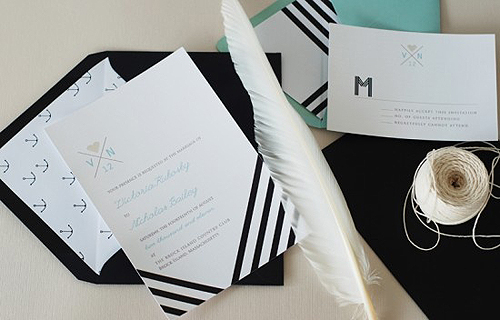 Modern nautical back & white themes invitation. Source: Oh so beautiful paper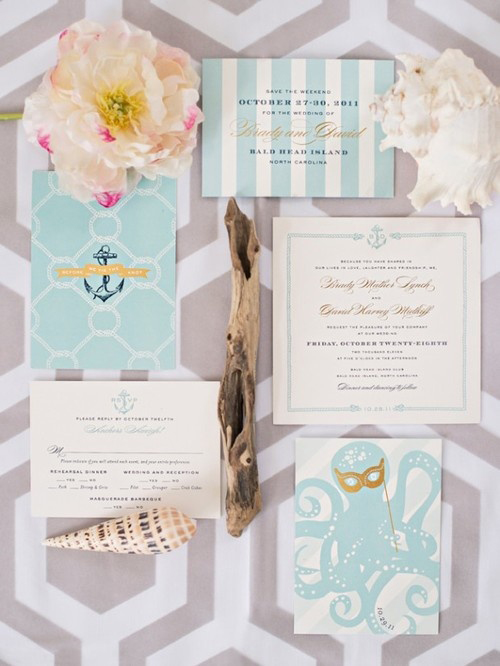 Stationery for a beach wedding. Source: I'd throw glitter in the air
Always remember the invitation is the first and only clue for the guest about the theme and style of the wedding, so keep it inline with the theme of the occasion, but remember to be imaginative! If in doubt always go with the classic style, simple design and basic colors. But if more daring, try out more colorful and humorous designs, clever delivering methods and remember to incorporate the theme in the design of the venue. The marine theme is easily shown in paper flags, ropes and other nautical motifs. Our editor is working on some new D.I.Y.s in the marine theme for you to try out, so stay tuned for it next week!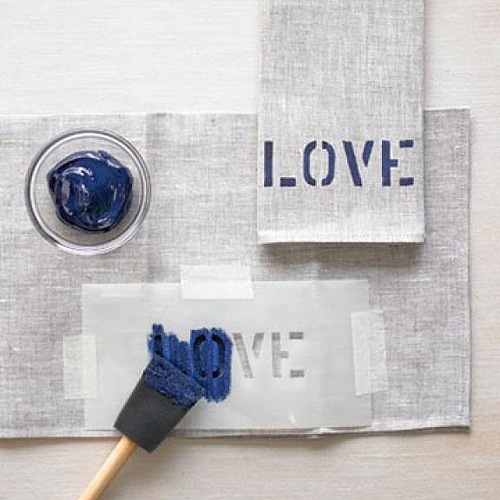 Brown and grey colored cotton fabrics and hand printed texts are in tune with the nautical theme. A Great D.I.Y. project! Source: The Lane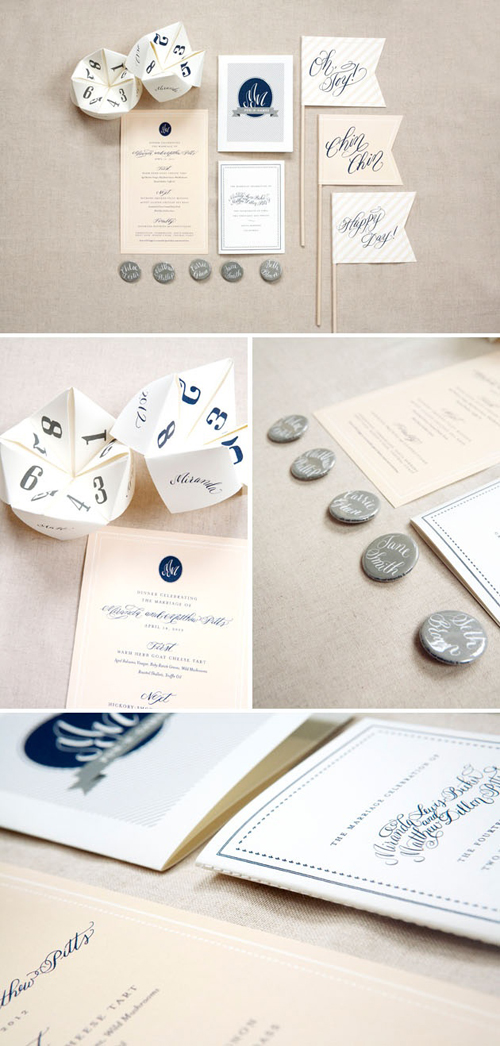 Nautical wedding invitations with fortune tellers and flags. Source: Pinterest