Thanks to Calle Libre, the largest festival for urban aesthetics in Central Europe, our home city of Vienna is full of colorful, bright street art. The festival brings together today's contemporary graffiti and street artists onto the walls of Vienna, creating one large outdoor urban gallery anyone can enjoy at any time.
Last August, for the fifth year in a row, local and international artist and creatives gathered to discuss urban art and it's relation to the public through workshops, exhibitions, panel discussions, and urban art tours. Each year a selected number of street artists are invited to take part in what they call "live painting" sessions in which each one is given a designated spot in the city, where they paint a mural within the duration of the festival, turning the city more colorful one wall at a time.
Since its creation, dozens of artist have taken part in Calle Libre by transforming the grey buildings facades of Vienna into something more inspiring, each in their own unique style. With the previous years focusing mainly on the 6th district of Mariahilf, this year the festival spread wider than before, as now new murals can be found in five new districts. If you are interested in getting to know a different and alternative side of Vienna, you can walk around and enjoy the outdoor urban gallery by following the Urban Art City Map which you can download at the Calle Libre website here.
Below some of our favorites, you should definitely add to the list!
Westbahnstraße 40, 1070 by Saddo
Brückengasse 1060, by The Weird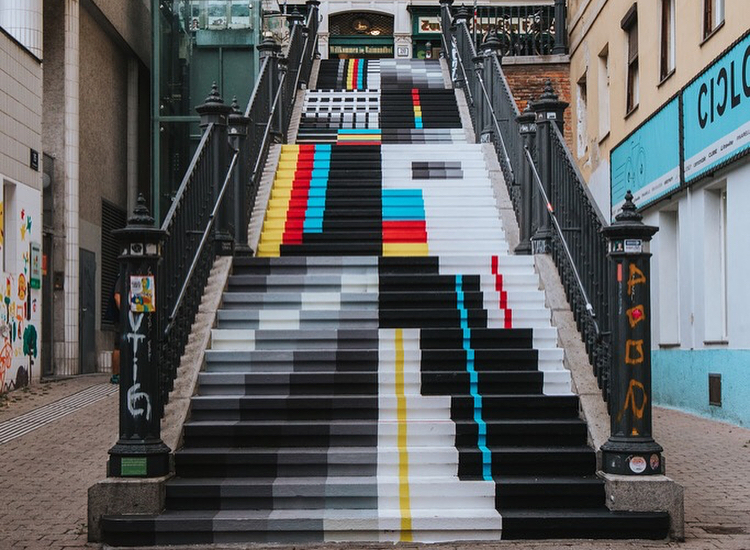 Amonstiege, 1060 by LOST OPTICS
Breitenseerstrasse 14, 1140 by Collectivo Licuado
Das Werk, 1090 by Knarf
Images © Jolly Schwarz / Calle Libre