Corporate identity is the answer to the question; what do you want your core audience to see when they envision your brand? It not only echoes the visual design of the brand, but its language, culture, and behavior. It's like meeting a person for the first time. Within seconds you can draw hundreds of conclusions about their physical being – their look, feel, sound, movement, and more. But while we can't necessarily control how others perceive us, we can define and design a controlled brand identity. And the first encounter – and impression – is the most valuable one.
There are no second chances for giving a lasting first impression. This is especially true for corporate design and brand identity. In order to make the best possible impression and to be best remembered by the customer, all company marketing materials must be carefully and thoughtfully coordinated with its corporate identity – in terms of look and feel. The core brand message should run like a red thread through all design elements and touchpoints: logos, colors, fonts, visual language, and design guidelines. The perfect interplay of all elements paves the way for brand management with high recognition value – both in the digital arena and in print.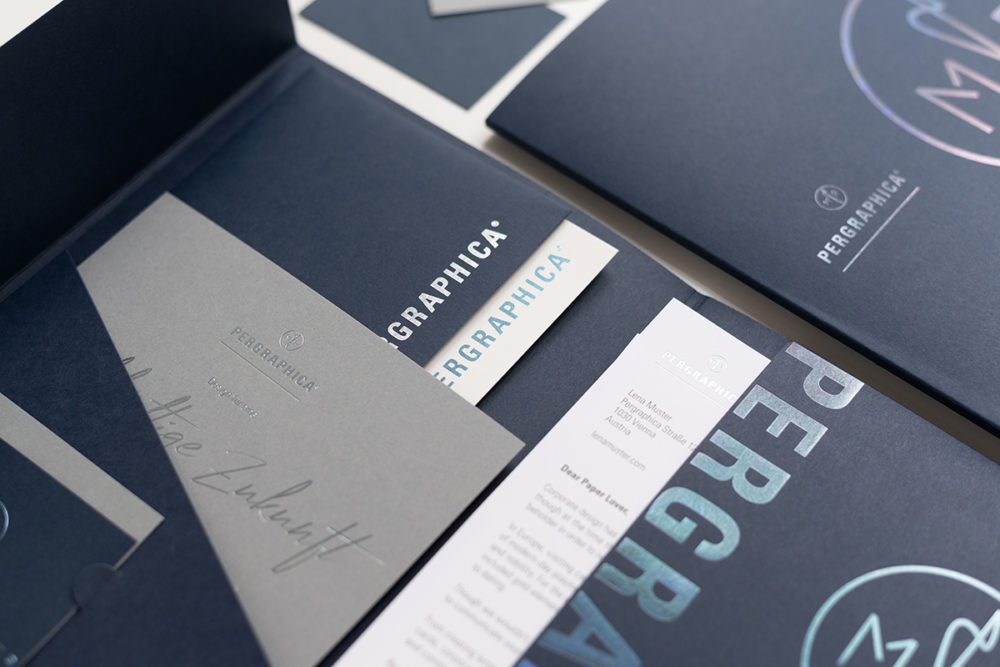 Paper represents the values of a brand!
For print materials, choosing the right paper is a crucial factor. To achieve the desired effect on the receiver, the paper must meet the highest quality standards. PERGRAPHICA® premium design papers are virtually designed to turn sophisticated corporate design projects into reality. Whether customer brochures, flyers, business cards, stationery, mailings, or high-quality envelopes – the PERGRAPHICA® range offers the right paper solution for every format. In this way, the brand identity can be consistently communicated to the target group with a high recognition value.
In order to better exemplify the versatility of PERGRAPHICA® for a lasting corporate design impression, Mondi has realized an eye-catching folder on PERGRAPHICA®  Mysterious Blue 400 g/m² as part of their campaign in the DACH region.  The folder beautifully showcases the Kurz Foils as a special finishing and outstanding effect.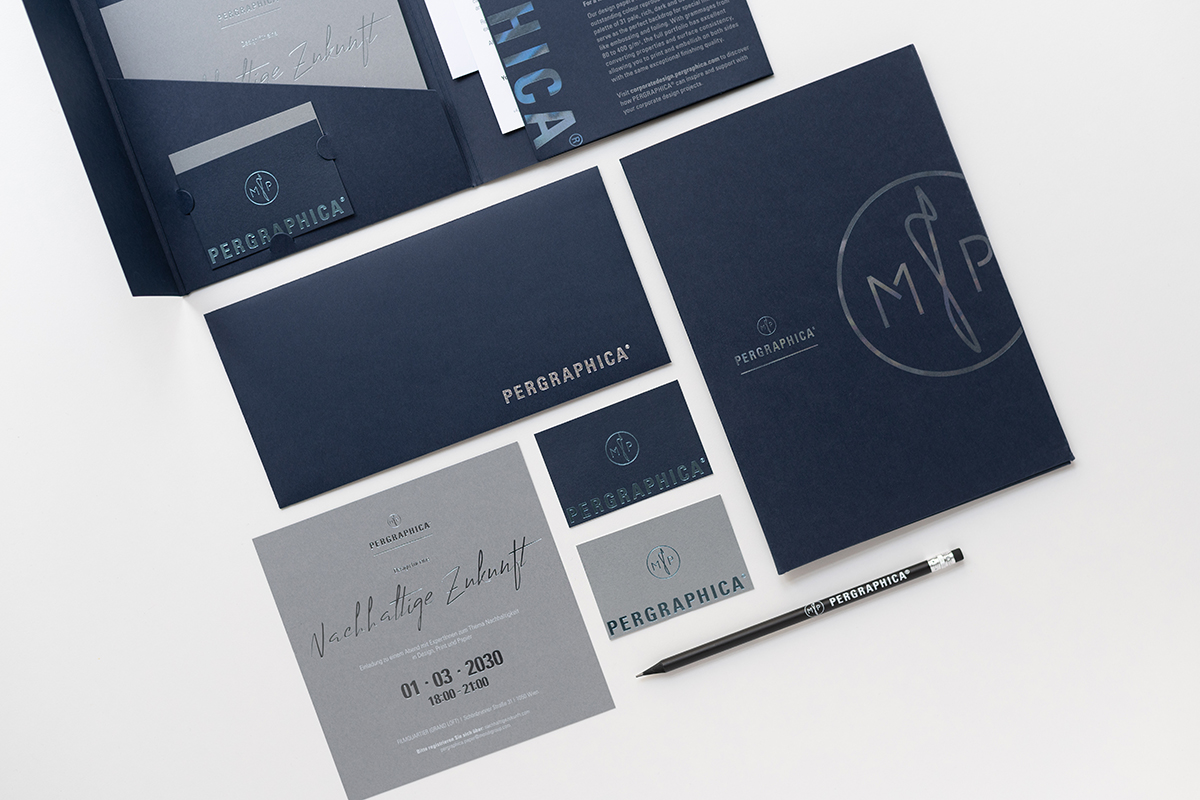 Details of all the containing elements of the PERGRAPHICA® Mysterious Blue folder
1st Business Card Bi-colour Laminated (490 g/m²

) – PERGRAPHICA®  Mysterious Blue 250 g/m²

& Classic Rough g/m²

 laminated 

2nd Business Card Bi-colour Laminated (490 g/m²

) – PERGRAPHICA®  Stormy Grey 250 g/m² & High White Smooth 240 g/m²

laminated

Invitation (330 g/m²

) – PERGRAPHICA®  Stormy Grey (smaller than 160 x 160 mm)

Compliment Card (300 g/m²

) – PERGRAPHICA®  Natural rough (smaller than 114 x 229 mm)

1st Envelope (120 g/m²

) – PERGRAPHICA®  Mysterious blue (114 x 229 mm)

2nd Envelope (120 g/m²

) – PERGRAPHICA®  Natural White or High White (160 x 160 mm)

Letterhead (150 g/m²

) – PERGRAPHICA®  Classic Smooth White (A5 format)
A wide range of colors and finishes
PERGRAPHICA® is available in three shades of white with outstanding color reproduction as well as in an extensive range of 30  intense and dark,  pale and rich colors as well as infinite black. These are the perfect basis for special finishes such as embossing and foiling. With grammages ranging from 90 to 400 g/m², the entire PERGRAPHICA® portfolio has first-class processing properties and uniform surface consistency. 
As a result, the papers can be printed and finished on both sides with the same high-quality finish. While a smooth surface conveys a sophisticated and elegant "look and feel", a rough surface texture provides a more appealing and natural appearance. Both design directions can be achieved by opting for PERGRAPHICA® Smooth or PERGRAPHICA® Rough, evoking the desired effect in recipients.
The whole PERGRAPHICA® range is exclusively available at Europapier Group. Get in touch with your local Europapier specialist today!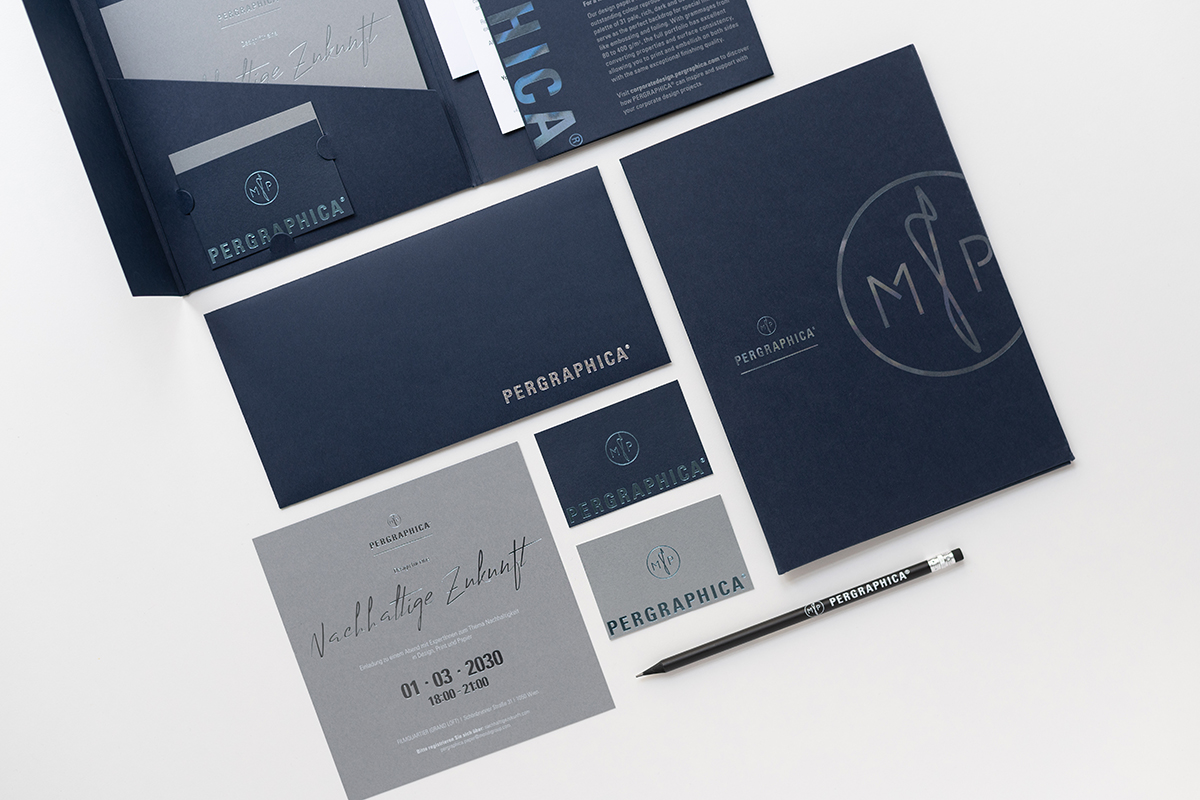 You can download these beautiful free PSD mockup templates for your own Corporate Design undertakings
Presenting print projects digitally is a well-known challenge to any designer. This is especially true for corporate design or brand identity, as nuances in the tones, structures, and feel of the selected paper make a big difference to the finished product. 
To ensure that these subtle details are shown to full advantage from the very first preview, Mondi has developed digital mockups for Adobe Photoshop specifically for PERGRAPHICA® and is generously making them available for download free of charge. The template consists of photographs of complete business stationery in various PERGRAPHICA® white tones, as well as in the popular colors Mysterious Blue and Stormy Grey, attractively arranged and layered. 
Designers can use these mockups to showcase their designs and create presentation-ready visualizations for clients and pitch meetings. Then, when it comes to the real feel in the next step, the designs can be printed on paper samples. So download the free mockup templates now – we're looking forward to seeing them in use in your own design projects!