Inspired by the shimmering sunshine and rising temperatures we've been lucky to enjoy the past week here in Vienna, and of for the official First Day of Spring that was yesterday, I came up with a lovely butterfly wall decal. Super easy to make and looks great, or what do you think?
Spring is my favorite time of the year. It's the season that I always wait for and it feels forever to start, but then, in a blink of an eye, it's over. It's that amazing time of "firsts" (of each year). The first time you hear a bird sing, the first green bud you see on the tree branch, the amazing smell of wet grass and the first little bumblebee or butterfly awaken after the long cold winter. And even though I can't wait for summer to start, now it's time to enjoy the road leading up to it. This is the time when nature is at it's best, just awakening, coming back into life. But before you head out to enjoy it all, why not build a piece of it inside!
I'm not one for girly and romantic things, most often opting for more minimal and visually simple designs, I was surprised how much I liked the end result. As butterflies are quite lovey-dovey so to say, using a monochromic color scheme of black and white, it managed to keep it still minimal. And as I spend most of my days at my desk staring at the computer I build the whole decal above it, where I can see it while working.
What you need:
Paper in your desired color palette, I used high-quality Munken Polar white in 200gsm and black photo carton in 120gsm to get a minimal look. Scissors for cutting and some double-sided tape or pins for sticking the butterflies to the wall.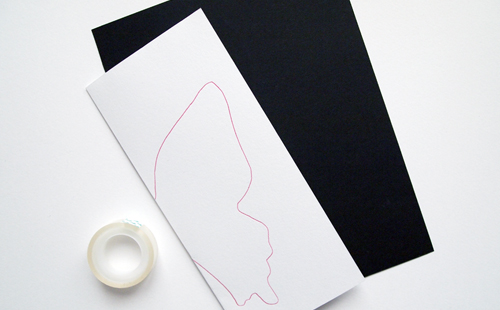 What you'll do:
1. You can either choose to trust your own artistic skills and draw the outlines of the butterflies (see above), or use any image you can find online. Whichever option you go for, make a 2 or 3 different sizes which you'll use as a pattern for the rest. By folding the paper in half and cutting both sides of the butterfly at once you'll get a nice even, mirror image. Make as many butterflies as you wish.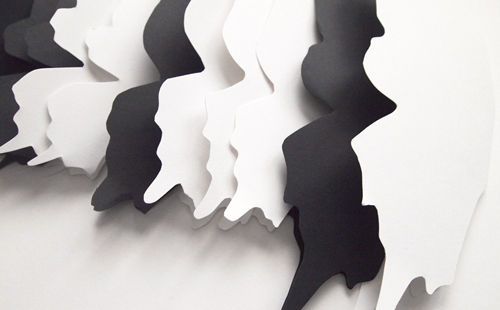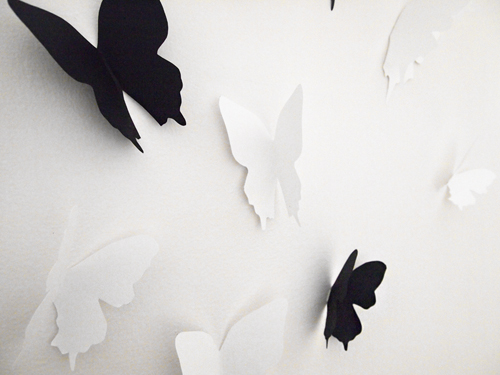 2. Stick the butterflies on the wall in a nice arrangement. Enjoy!
Ps. The butterflies would also work great as wedding or baby shower decorations!