For a preppy and edgy look, why not rock a paper bow tie at your next night out or make your colleagues jealous at the office. This DIY Origami Paper Bowtie by Fiber Lab means serious folding business. It's a challenging DIY, but will make a perfect gift for "that guy who has everything".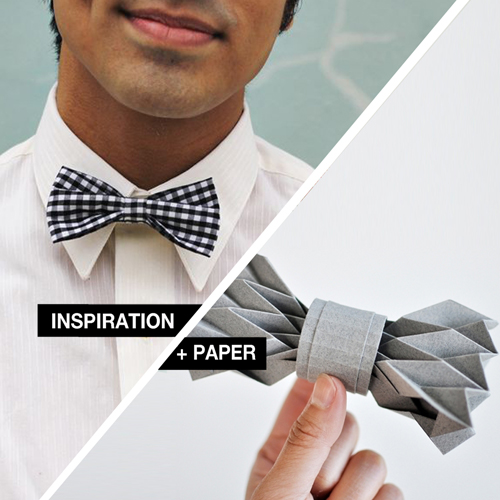 Fiber Lab is a one-woman business in Vancouver, Canada. Run and owned by Justina Yang, a passionate creator of beautiful things by the means of math and science. She combines her knowledge of science and technology to create incredible folded object for home and wear. Yang is most well known for her Bubble paper lampshade, but her latest design, the Origami Paper Bowtie is our favorite by far.
She created the Origami Paper Bowtie to be something unique and one-of-a-kind. Taking inspiration from the classic men's garment, the bow tie, she created a sophisticated design with a twist. We can totally see many hipsters, cool dads, fashionistas and paper and art lovers wearing this.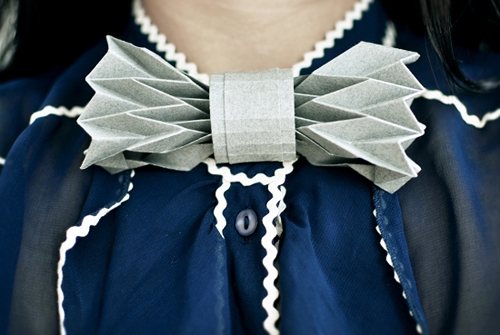 It is not the easiest DIY so we would recommend it only for the experienced ones. You have to understand how the folds work, and it will take a bit of time and effort to do. Our editor Sini gave it a go, and soon realized it's a DIY on another level. After several tries and torn papers, it took her over an hour to finish one! Make sure the paper is thick enough and doesn't tear easily, going though the folds once with the edge of a ruler also helps the folding in the end. We would recommend using paper with a minimum of 250 gsm, also embossed papers with a linen, laid or linear structure would give your bow tie a special touch.
So if you are looking for a perfect one, make sure to practice it several times, and if it still doesn't turn out as perfect as you wish, you can always order one from Fiber Lab's Etsy Shop.
If you want to try makign one of your own, you can download the pdf file here. Here's a tip: Remember to keep in mind, dot-dot line is a valley and dash-dot line is a mountain! Happy folding!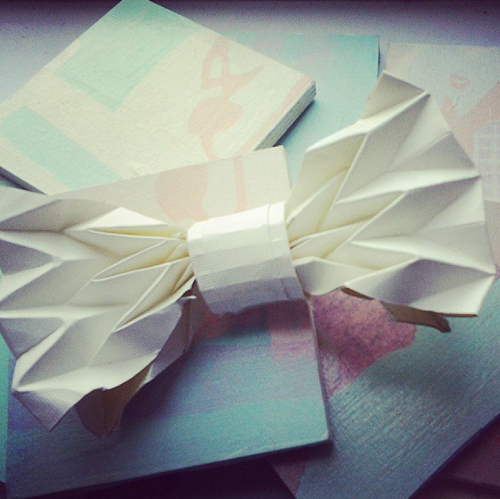 Our editors version of the Origami Paper Bowtie.
Follow us on Instagram!
Photo source: FiberLab