The season of bright colors, cool nights and incredibly tasty seasonal products is here. And along the fall comes the pumpkin season! The vegetable that comes in many forms, sizes, and colors, gives great inspiration in numerous ways. It can be used in decoration, patterns, packaging and of course has it's own cuisine.

The colorful pumpkin paper bag, produced by Europapier from G-Print, hits the season trend on the nose. You can pack it full of the freshest season products, use as a gift bag or save till Halloween and fill it up with candy. Whatever you wish to use it for, it will for sure get you in a festive seasonal mood!
And what would be more suitable for a cold autumn night than a traditional Austrian Pumpkin Soup. The hearty soup will keep you warm and makes the best out the incredibly tasty seasonal products. Find the recipe below: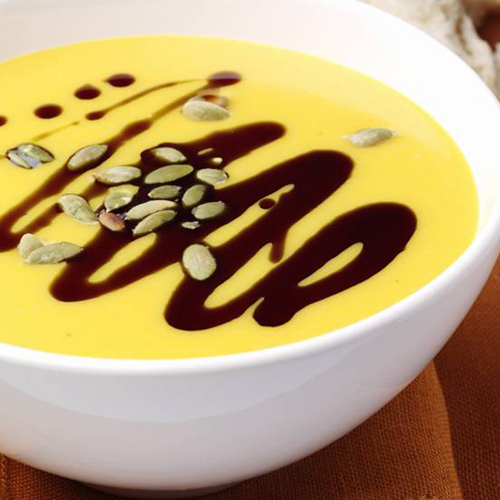 Tradition Austrian Pumpkin Soup (from austriantimes.at)
400 grams of pumpkin
1 small onion
125 mL of white wine (acidic, like Grüner Veltliner)
750 mL of vegetable bouillon
125 mL of cream
Salt, pepper, nutmeg, some roasted caraway
Butter, roasted pumpkin seeds and Styrian pumpkin seed oil
Boil the pumpkin, chopped into pieces, until soft and pour the water away. Chop the onion into small pieces and fry it in butter and add the boiled pumpkin. In the meantime, roast the pumpkin seeds in the oven. Mash the vegetables using a blender, add wine, cream and soup and the spices. The soup should ideally have a strongly yellow color.
Once on the plates, sprinkle some black Styrian pumpkin seed oil on it (gives a nice colour-contrast) and a few roasted pumpkin seeds. Enjoy with a nice glass of wine in great company!
photo source: Europapier, Austrian Times, Photostock