After years of success with the Multiloft® range, Europapier has decided to expand the assortment by introducing the revolutionary Multiloft® Cover Diamond Glitter – the world's very first line of printable, non-shedding glitter paper.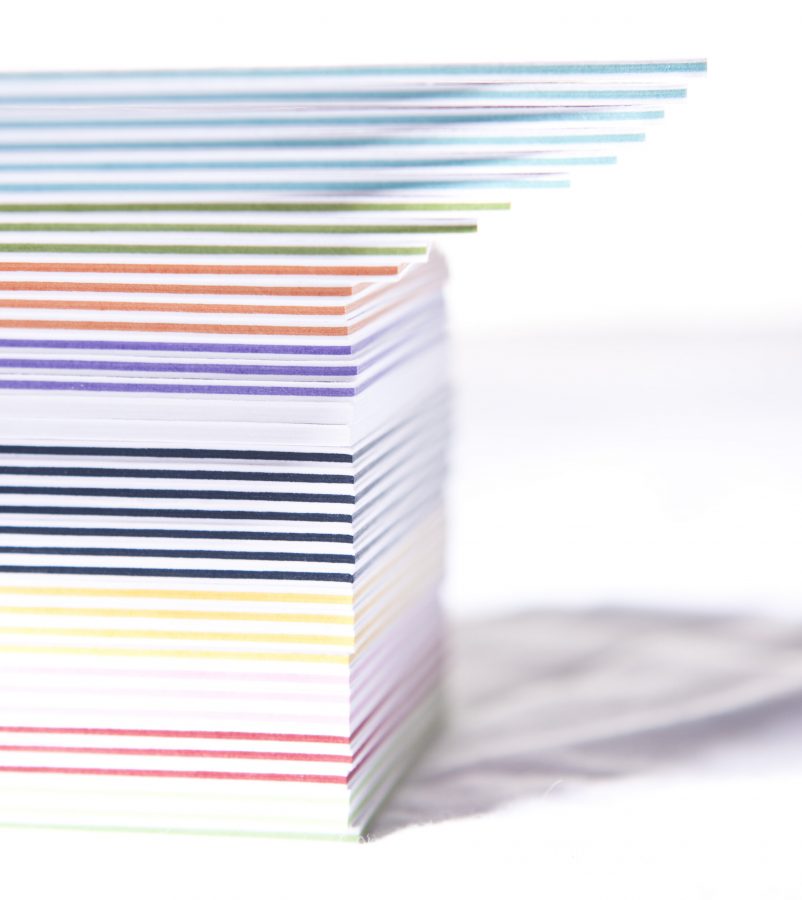 What is Multiloft®?
With the unique MultiLoft® papers, eye-catching print products can be created that consist of multiple layers. It can be compared to a sandwich paper for digital & offset printing, where you get to decide the ingredients and the amount of layers you create.
The results are simply stunning, Multiloft® being the ideal solution for any print project where luxury and impressive ultra-thick results are a must.
So how does it work exactly? The Multiloft® range consists of two different type of papers: cover papers and inserters. The cover papers can be printed on the front – in offset or digital printing – and have a pressure-sensitive adhesive on the back. The inserts, however, have pressure-sensitive adhesive on both sides. After the cover paper has been printed, the different layers can be stacked. The pressure of the press beam in the cutting machine then activates the adhesives and the individual layers are sealed together while being cut.
By combining several layers of paper, MultiLoft creates high-quality, luxurious and particularly thick cards, which can go up to 1300 g/m2. A classic application example for this technology are business cards with a colored core – which are an absolute eye-catcher and leave a lasting impression.
The existing range of five cover colors and 14 extensive inserter color options is completed by Multiloft® Cover Diamond Glitter. With both astonishing visual appearance and haptic, Multiloft® Cover Diamond Glitter will dazzle and impress, while adding a spark to your digital printing projects!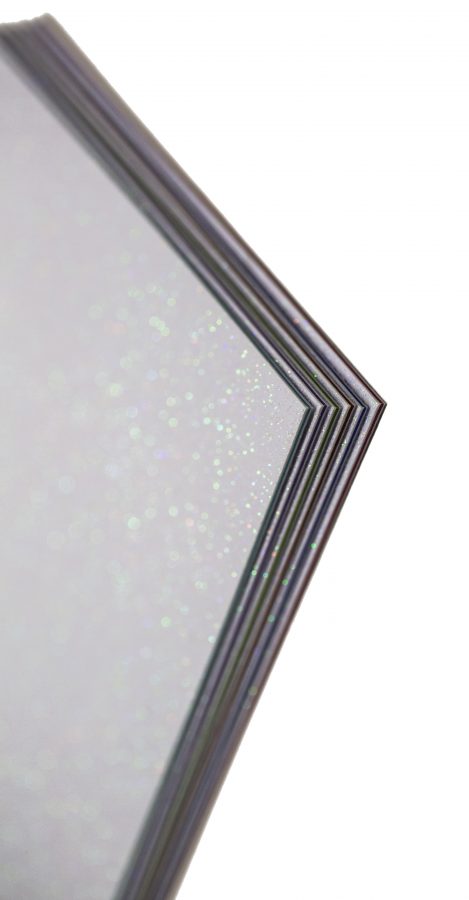 The first 100% non-shedding glitter on the market
Glitter may be eye-catching, but everyone is familiar with the hassle of shedding glitter. However, in this case the glitter is already on the paper prior printing. 
Until now only expensive and messy UV Spot Glitter could be add to the print product but only after printing as an UV coating, which would in many cases crack. A printer using UV glitter coating has to deal with significant clean up time, given  having to mix in loose glitter flakes, which even when handled carefully can get all over the place! Not to mention, because of limitations with the UV coating itself, there can only be so much glitter flakes added to the ink or coating, so the reflective shine is significantly less.
Multiloft® Cover Diamond Glitter is so unique, since it is the first glitter paper that can be printed -both in digital and offset. It promises a 100% shed-free surface even under extreme handling, with glitter effect on the full surface. Customers will absolutely love the shimmering, shed-free shine and printers will welcome the no-mess printing and handling.
Crack-free folding for outstanding results
Any professional will tell you that traditional glitter papers tend to crack and chip when folded, resulted in jagged edges, shedding and base sheet exposure. Unlike these, Multiloft® Cover Diamond Glitter delivers crack-free folded edges, making it ideal for any print product which requires perfect folding.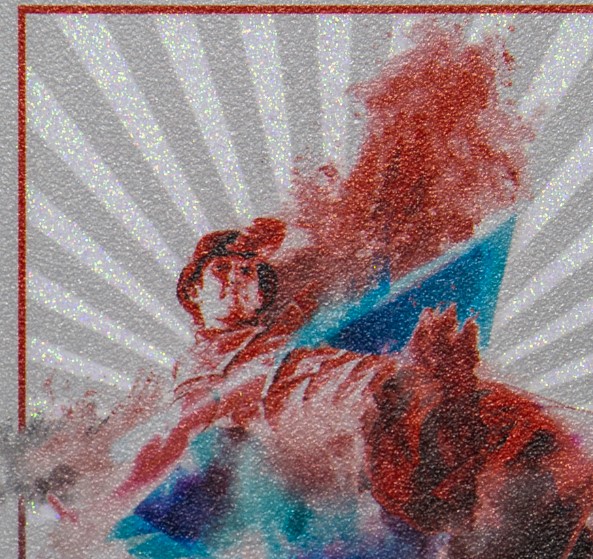 High quality printing and finishing: guaranteed
The special surface of Multiloft® Cover Diamond Glitter ensures photo-quality printing, with 100% ink adhesion that guarantees rich colors and crisp quality. These are of course highlighted by the patented Diamond Print Glitter flakes, which optically shift to complement the colors printed over them. And even though stunning on its own, Multiloft® Cover Diamond Glitter also works wonderfully with many popular finishing processes and speciality applications, for even more impressive results: foil stamping, die cutting, laser cutting, spot effects, embossing, lamination, UV varnishes – the sky is the limit!
Multiloft® Diamond Glitter – a friend to the environment
The distinctive characteristics of these papers never stop to astound: Multiloft® Diamond Glitter uses only water based, environmentally friendly glues. These special glues trap the glitter particles and non-recyclable material, which are easily removed. Afterwards, the remaining pulp can be fully recycled and reused in the future!
Get inspired with sparkling project application ideas!  
With its original 100% non-shedding surface, excellent folding capabilities and broad range of finishing possibilities, Multiloft® Diamond Glitter can WOW any projectsWe hope you are as dazzled as we are about the new Multiloft® Cover Diamond Glitter! The combination of the unique Multiloft® Technology and the patented Diamond Print Glitter Crystal White from Convertible Solutions brings possibilities into a new dimension – with extra thickness and sparkle to your projects!
Multiloft® is exclusively available at Europapier.
Get in touch with our Multiloft® professionals and plan your next sensational project!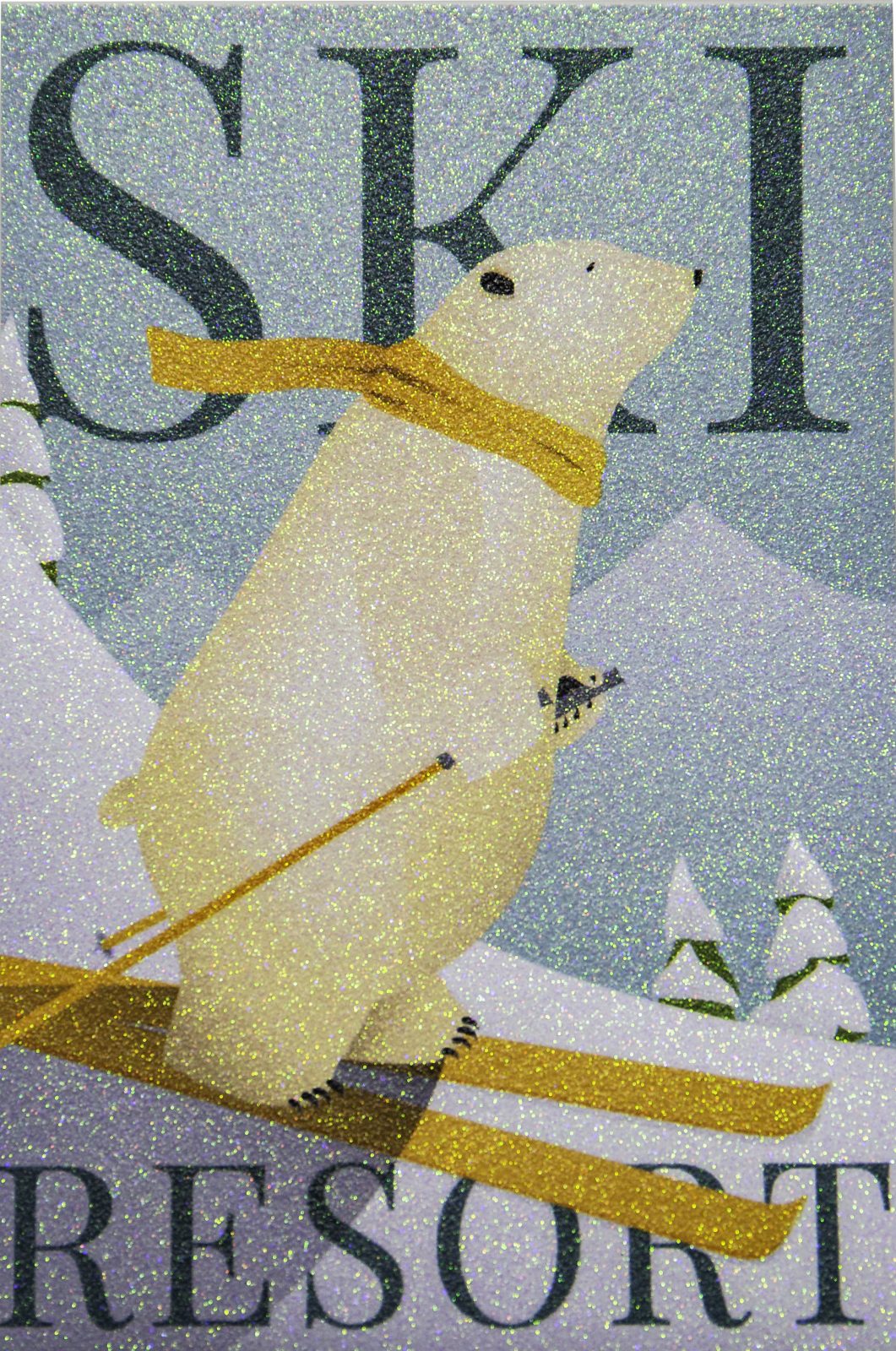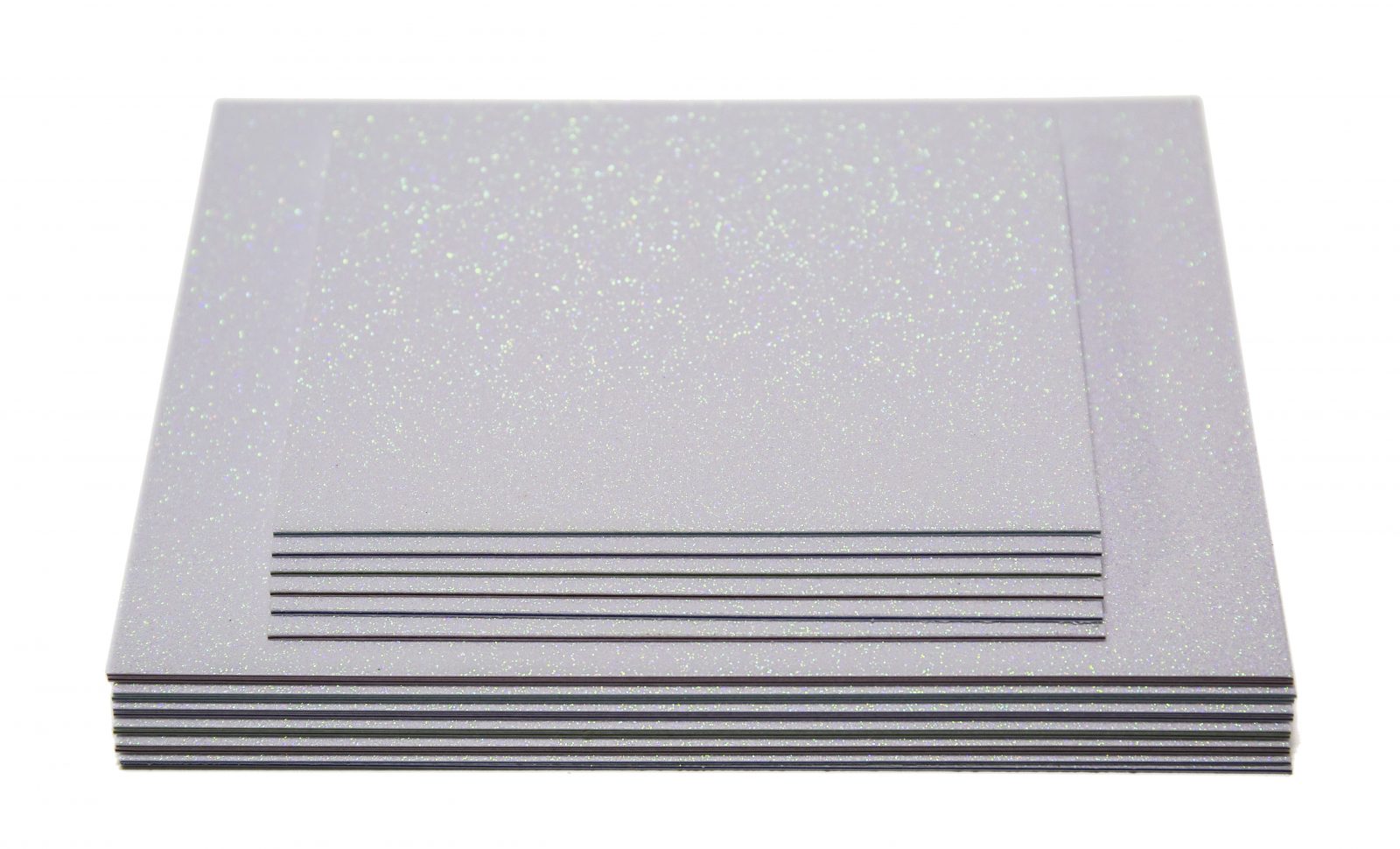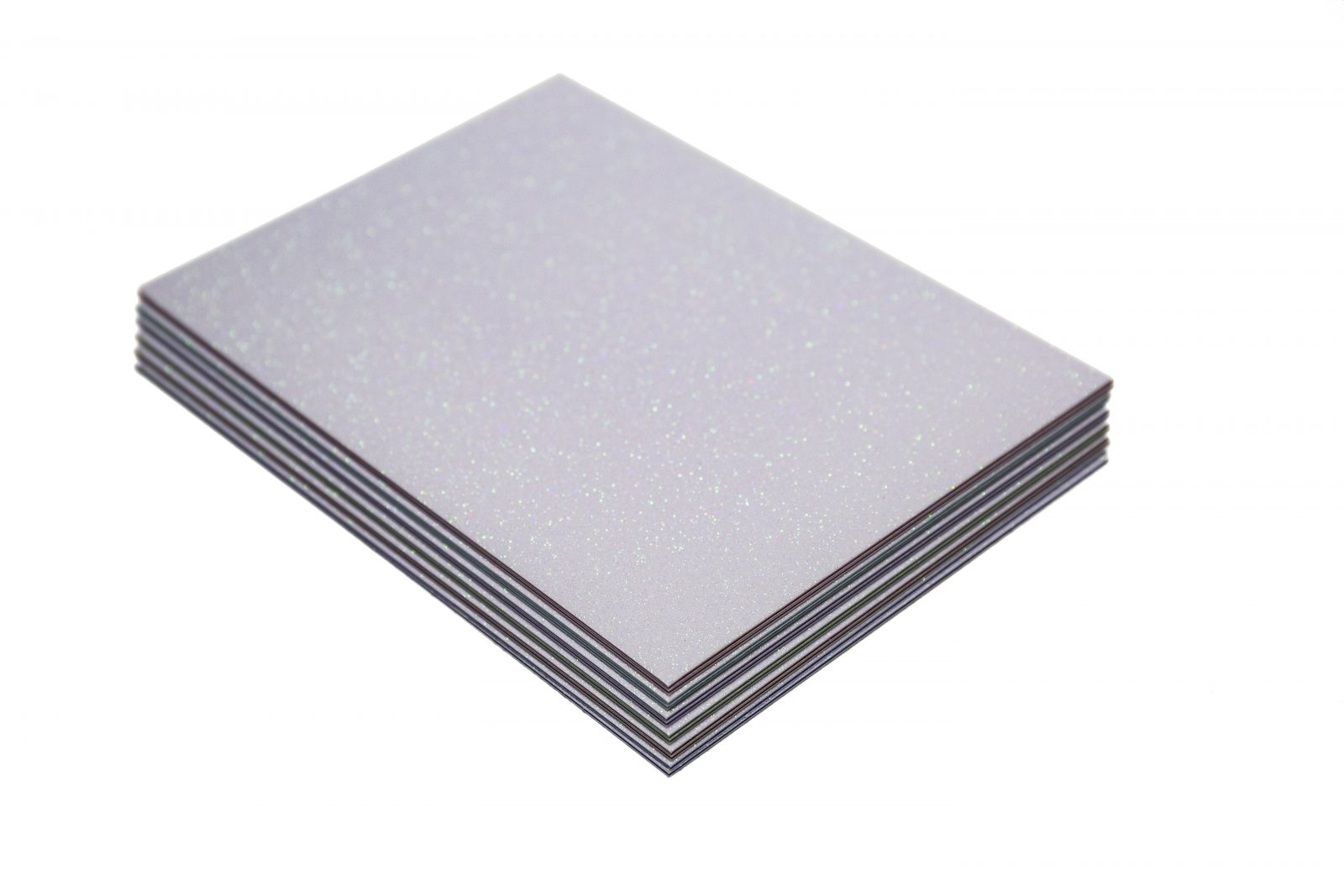 Images © Convertible Solutions