The Oscars are coming up this Sunday and we're getting excited! We at Design & Paper just love to go to the movies and we are very fond of the glamorous atmosphere that comes with the Oscars. This year watching the Oscars it going to be even more fun playing the Oscar Ballot & Bingo!
How About Orange has come up with the perfect game to play while watching the show. Whether you are by yourself or with a group of friends, it will be more fun to mark predictions on a ballot or try your luck at Oscar Bingo!
You will need to print out these ready-made Oscar Bingo game sheets and the ballot. You can try your luck with bingo or predict the winners and enjoy the show!
Need a bingo refresher? The first person to mark off five squares in a line – horizontal, vertical, or diagonal – wins. The center square is a freebie and considered automatically filled.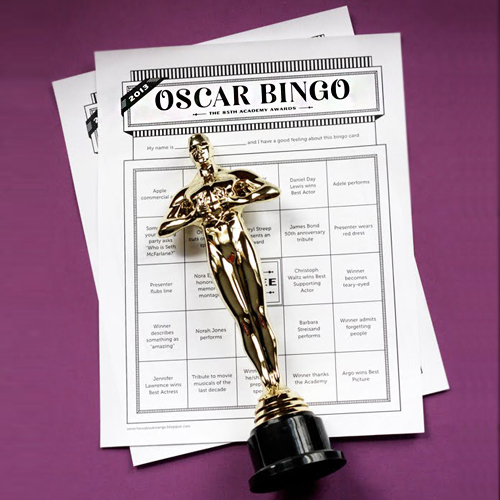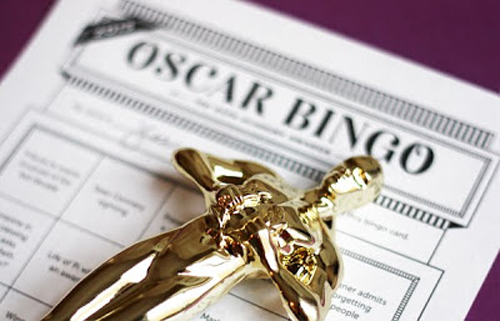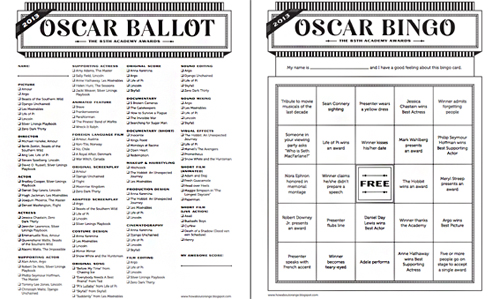 Original post by How About Orange.
To download:
Oscar Ballot sheet
Oscar Bingo game
For those among you who are more into the red carpet and the gossip that comes with the Oscars, we found another Oscar Bingo version designed by Marc Friedland for Evite Postmark which focuses on important questions such as who is dating who and what are they wearing?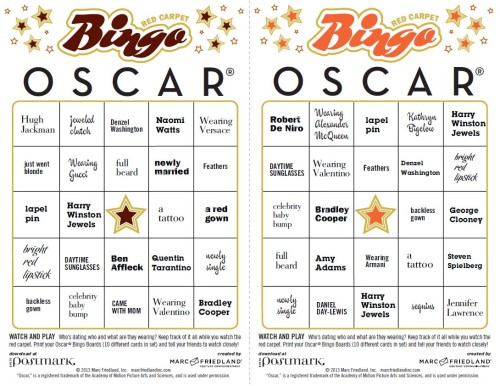 To download:
Oscar Bingo (red carpet version)
We at Design & Paper are keeping our fingers crossed for Christoph Waltz (aka Dr. King Schultz) – the Austrian nominee for Best Supporting Actor in Django Unchained directed by the great Quentin Tarantino.
For whom do you keep your fingers crossed this Sunday? 🙂