In the world of contemporary commerce, the significance of packaging design extends far beyond its conventional role as a protective shield for products. Beyond merely safeguarding the contents within, packaging has evolved into a powerful tool that can elevate a brand, captivate consumers, and turn the act of unpacking into a meaningful and memorable experience. In the era of high competition and market saturation, where products compete for attention on crowded shelves and online platforms – packaging has emerged as a pivotal player in shaping consumer perceptions.
Especially within the luxury market arena, packaging serves as a pivotal step in the customer experience, as it can be used as a canvas for storytelling, allowing companies to communicate their values, ethos, and personality, while also engaging multiple senses, immersing customers in a holistic, sensory experience that goes beyond the product itself.
Especially within the luxury market arena, packaging serves as a pivotal step in the customer experience, as it can be used as a canvas for storytelling, allowing companies to communicate their values, ethos, and personality, while also engaging multiple senses, immersing customers in a holistic, sensory experience that goes beyond the product itself.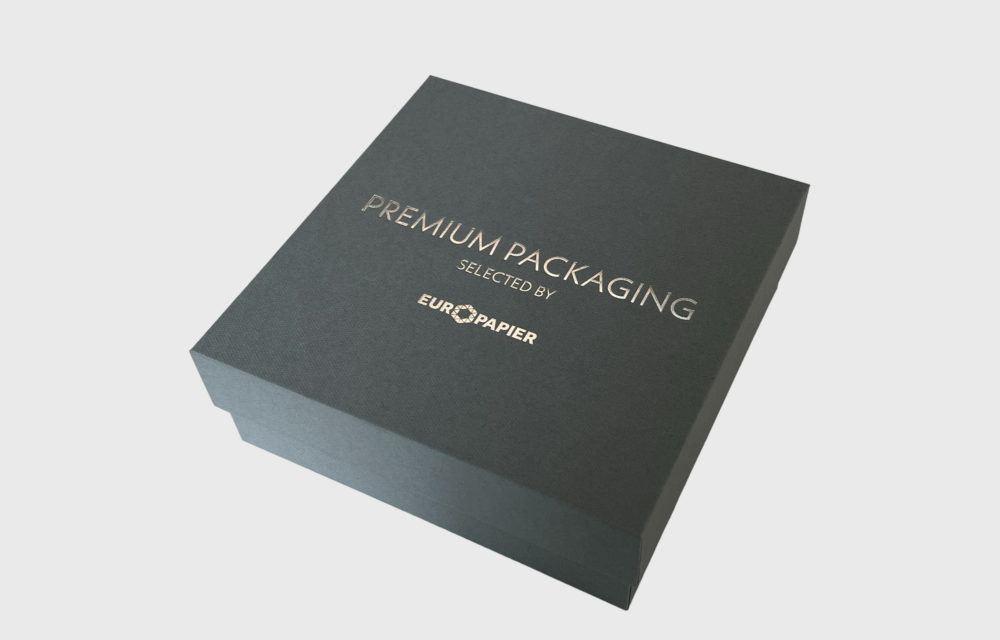 Packaging is more than a practical necessity.
It's a key player in the narrative of a brand.
From the moment a customer lays eyes on a product, the packaging communicates a brand's promise and sets the mood for the experience. Companies investing in true luxury, understand the importance of crafting an unboxing experience that resonates with the customer on an emotional level. Moreover, as consumers become increasingly conscientious about their purchases, luxury and sustainability truly have to learn to walk hand in hand. And this is what Europapier's new Premium Packaging Box was designed to do.
An experience on its own, the Premium Packaging Box is here to showcase the power material, printing, and finishing can hold when creating a premium packaging experience. Explore the nuances and details of it all, and pay special attention to how packaging can be the silent yet influential partner in ensuring your product or brand not only stands out – but leaves a lasting impression in the minds of consumers.
Europapier has a wide range of design papers and boards, and we realized that we needed a specific tool to showcase packaging and premium packaging possibilities to inspire creatives and brand owners about our carefully selected materials. Therefore, the idea of a

Premium Packaging Box

came to life. 
The Premium Packaging Box showcases 15 ready-made boxes, all ready to spark inspiration to our customers. A limited edition has been produced and are meant for a personal presentation during customer visits. 
The main box contains several compartments for the smaller boxes. The idea was that the paper should be the focus, in order to underline that using a beautiful design paper, without any special or only a little finishing, will automatically look luxurious. With this kind of packaging, any kind of product inside will be enhanced.
Only a selection of design papers and boards for packaging have been carefully chosen from our wide Design Papers assortment, keeping in mind the most relevant applications for premium packaging: fashion & jewelry, confectionery & premium food, beauty & personal care.
Most of the boxes presented are folding boxes, with two rigid box exceptions to showcase variety.
The large outer box, as well as the small rigid box inside, are built of Luxline grey board and laminated with Classy Covers. Showcasing both of the embossing options, Millennium MN and Telato TT. This structured design paper is our preferred cover material, which is very popular for laminating rigid boxes as it meets the high demands of foldability and scuff resistance, has excellent light fastness, and is available in several colors.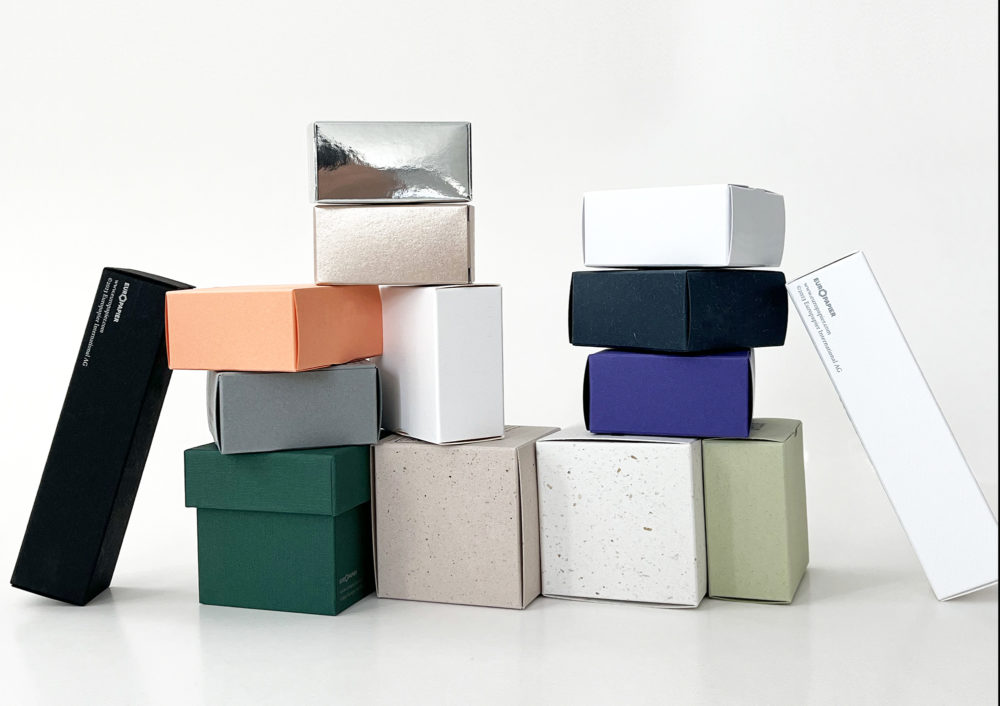 Black shades are a must for luxury packaging. With Koehler Eco® Black, which is made from 100% recycled fibers, we have a sustainable solution in a beautiful rich deep black. It was specially developed for the exclusive packaging sector.
From the wide color palette of PERGRAPHICA® Deep & Dark Colours we have finally landed on two, stormy grey and precious purple. The range is Cradle to Cradle Certified® Bronze and has excellent folding and converting properties.
The vibrant coral box is produced on Color STYLE Fresh, one of the most exceptional, dyed high-quality virgin fiber paperboards, that comes in a wide color range and has excellent light fastness and converting properties.
Choosing sustainable paper for your packaging does not need to mean grey or brown recycled paper, but up-cycling qualities like the Crush range, are very much in fashion. Crush is an eco-friendly paper range produced according to the principles of the circular economy, by replacing up to 15% of virgin tree pulp with process residues of organic products. Two Crush shades made their way into the tool: the timeless Crush Kiwi and the newer addition: Crush Cocoa. Both are biodegradable, carbon neutral, and produced with EKOenegry.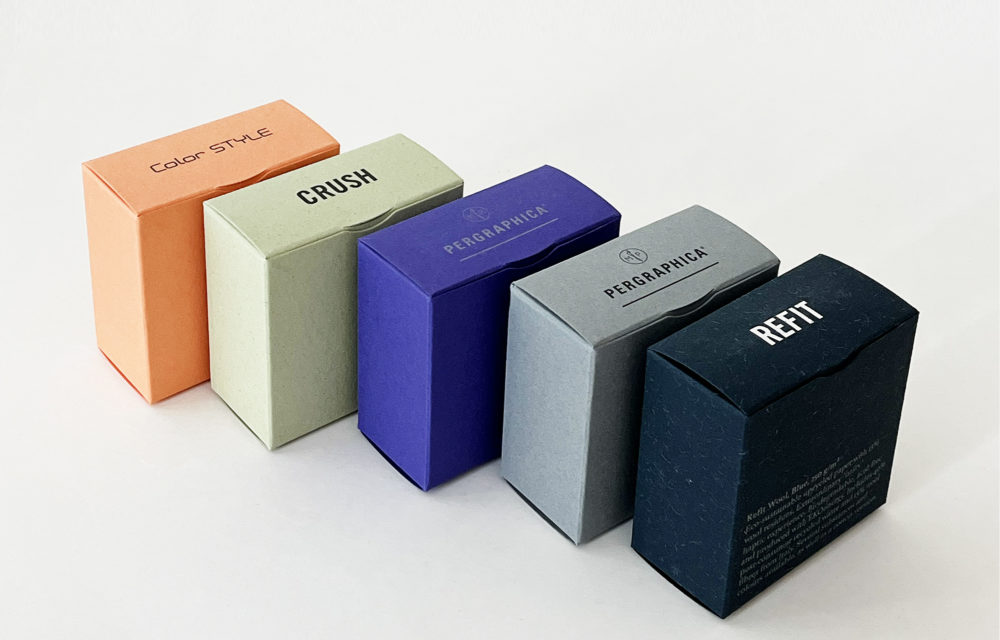 Another up-cycling quality in this tool for luxury packaging is the Reflex® Coffee Paper, a sustainable recycled paper with a spectacular pattern, thanks to the coffee residues used in its making.
From here, our eyes slide over to the blue Refit Wool box, which is so hairy that it feels like no other paper. It uses textile industry by-products of traceable Italian origin, from carding, spinning, and weaving processes.
The beloved trend of hemp fiber is present in our Premium Packaging Box courtesy of Mohawk Renewal Hemp. A fast-growing, renewable plant whose fibers are energy-saving when converted into pulp. Besides the superior foldability and rigidity, it is also produced with electricity matched with Green-E Certified wind-power projects.
Next up, are the all-white options. Each is unique and special in its own way, like the Munken Polar Rough box. A crisp white premium uncoated fine paper with an extra tactile surface. Furthermore, it is Cradle to Cradle Certified® at Bronze level, biodegradable and compostable, and approved for food contact.
Via Felt is also pure white, but an embossed paper with a timeless hammered surface texture. It has excellent folding properties and all electricity used in its manufacture is offset against Green-e certified wind-power projects.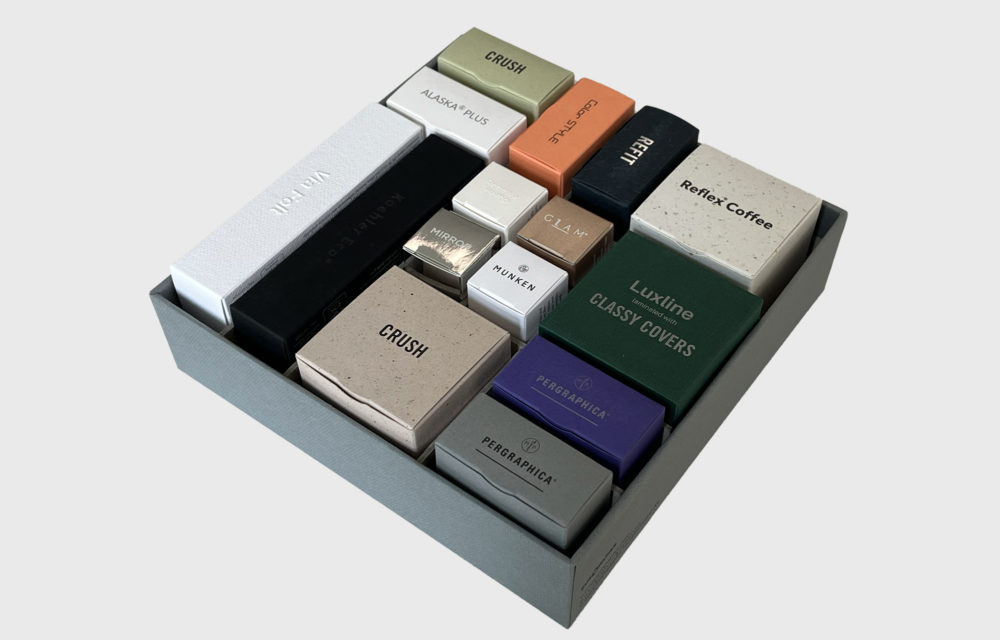 We also incorporated a packaging grade in this collection, a consistently high-quality folding boxboard. Alaska Plus is a GC2 board with superior die-cutting, creasing, and folding properties – and by adding the holographic hot-foil, it also looks luxurious. It is recyclable and direct food contact approved.
The metallics are represented by Mirror and GLAM. Mirror Silver Gloss, a laminated board for statement packaging. Unbeatable when it comes to the impeccably smooth mirror finish. GLAM (previously here) is our sophisticated pearlescent paper range with a subtle shimmer effect. From the pure color range, we chose to highlight Blush, which can be used for minimalistic, powerful, colorful, elegant, or playful design directions. It convinces the most demanding client with excellent folding, printing, and finishing properties.
To wrap up all these packaging highlights and sustainability features, as well as make them readily accessible at the fingertips of our customers, an envelope folder made out of Refit Cotton is the finishing touch in the Premium Packaging Box. Inside it, each chosen paper quality is presented in a clear and structured manner, on individual cards printed on Munken Polar Rough.
What is your favorite box out of the 15?
Let us know your preferred option below!
Our producer couldn't decide on their favorite paper quality, as while they had a chance to try all of the beautiful papers, yet liked one after the other – they reported smooh sailing and zero problems with any of them during the printing, finishing, or finalization process.
If you are located in one of the countries where Europapier Group operates and would like to see the Premium Packaging Box presented in person, get in touch with our specialists here.