If there is something we at Design & Paper love as much as paper, it's photography. It comes to no surprise that VIDDY, a DIY pinhole camera made of recycled cardboard, caught our attention. This clever device is not only a great way to understand and experience first hand how photography works, but also looks extremely stylish and actually makes pretty cool photos.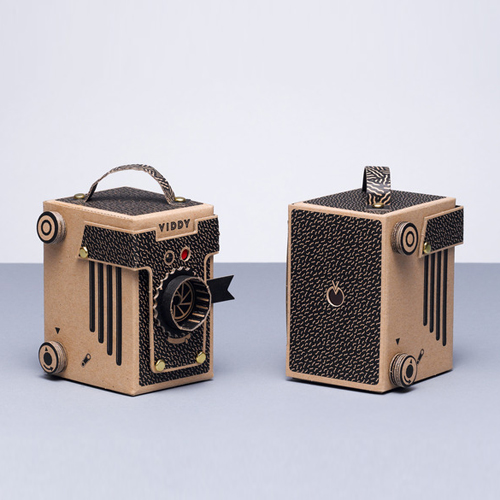 When I was in school our arts teacher showed us a pinhole camera in order to explain the concept of photography. I can still remember that we could not believe that such a simple device could actually produce photos. For all among you who are not familiar with pinhole cameras, here's a short explanation: "A pinhole camera is a simple camera that uses a single small aperture – a pinhole – instead of a lens. As light passes through this hole, an image is exposed onto the film loaded inside the camera. As exposure times are typically longer – from a few seconds to a couple of hours – than with a normal lens camera, the shutter is usually manually operated."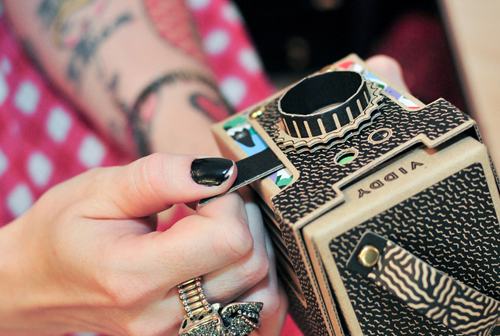 Kelly Angood, designer and pinhole photography aficionado, crafted her first pinhole camera in 2010 while attending university. Her design soon gained popularity online and people where asking to buy it. Inspired by this, Kelly developed the camera into a downloadable DIY version, which was downloaded by over 60.000 (!) people who soon began sharing their pinhole photographs online. That's when Kelly decided to create a DIY kit and launched her first Kickstarter campaign to fund it. VIDDY is the further development of this first DIY kit.
The screen printed DIY pinhole camera kit is made of tough, durable recycled cardboard and is available in 4 colours: green, black, blue or red. The kit comes in a flat pack and contains everything you need. You just pop out the die-cut pieces and assemble the camera with the help of stickers, split pins and just a drop of glue. According to the inventor this should only take you about 30 minutes. If you don't believe it, just have a look at the video below.
VIDDY is certainly a great tool for kids but also for adults as its design is very appealing. The camera has a distinct retro look as it was inspired by cameras from the 40ies and 50ies. The kit is screenprinted and die-cut by hand in the UK, which adds to the vintage look. The camera works with both medium format & 35mm film and there is even a VIDDY app which shows exactly how long to keep the shutter open for perfectly exposed pictures.
Want to have one? In this case I recommend swinging by VIDDY's Kickstarter page. For a pledge of only 30 £ you will get one of the cute pinhole cameras and thereby support the production of more pinhole cameras. If you want to find out more about inventor Kelly Angood and her story, swing by her company's webpage.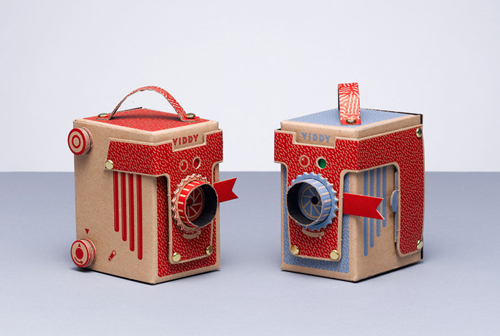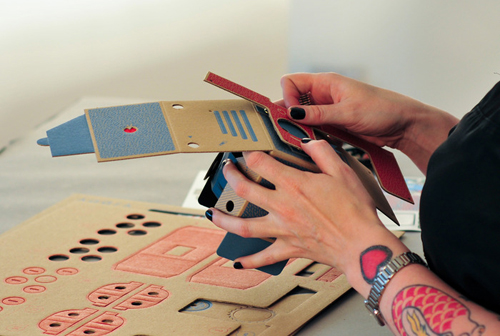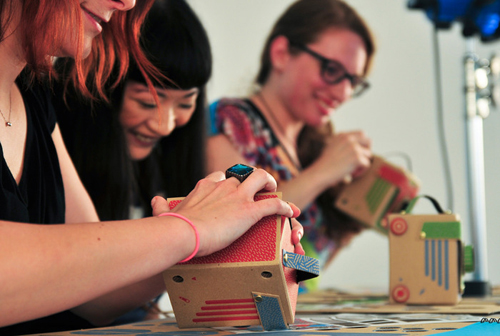 Photos via Viddy Kickstarter