If you're a frequent visitor to DESIGN&PAPER, chances are you have already read about or even worked with Crush, the conscious eco-friendly paper that has been given a distinctive texture and appearance by replacing 15% of tree cellulose with residues from fruits and nuts.
Last year, Favini has introduced Crush Cocoa, a sweet shade which is fascinating anyone from chocolate producers, packaging producers, creatives or brand owners. This year, the latest addition joins the Crush Family: Crush Coconut, a luxurious and sustainable black paper, suitable for packaging and publishing.
The luxurious and sustainable Crush Coconut is made using two elements of coconut – the coir and the shell. The very dark, almost black colour derives from the shell itself.
Coconut coir (the residue left from coconut after it is used in food, cosmetic or other industries) is recovered,  micronized and added to paper, replacing 15% valued virgin cellulose. 
However, what is special to Crush Coconut in comparison to other Crush shades is that the very dark, almost black colour of the paper is given specifically by the coconut shell, the second element which is being recovered. 
This undergoes an emission-free combustion process, which produces organic charcoal by sequestrating CO2 from the atmosphere. Then, the biochar is added into the paper, conveying its very special shade.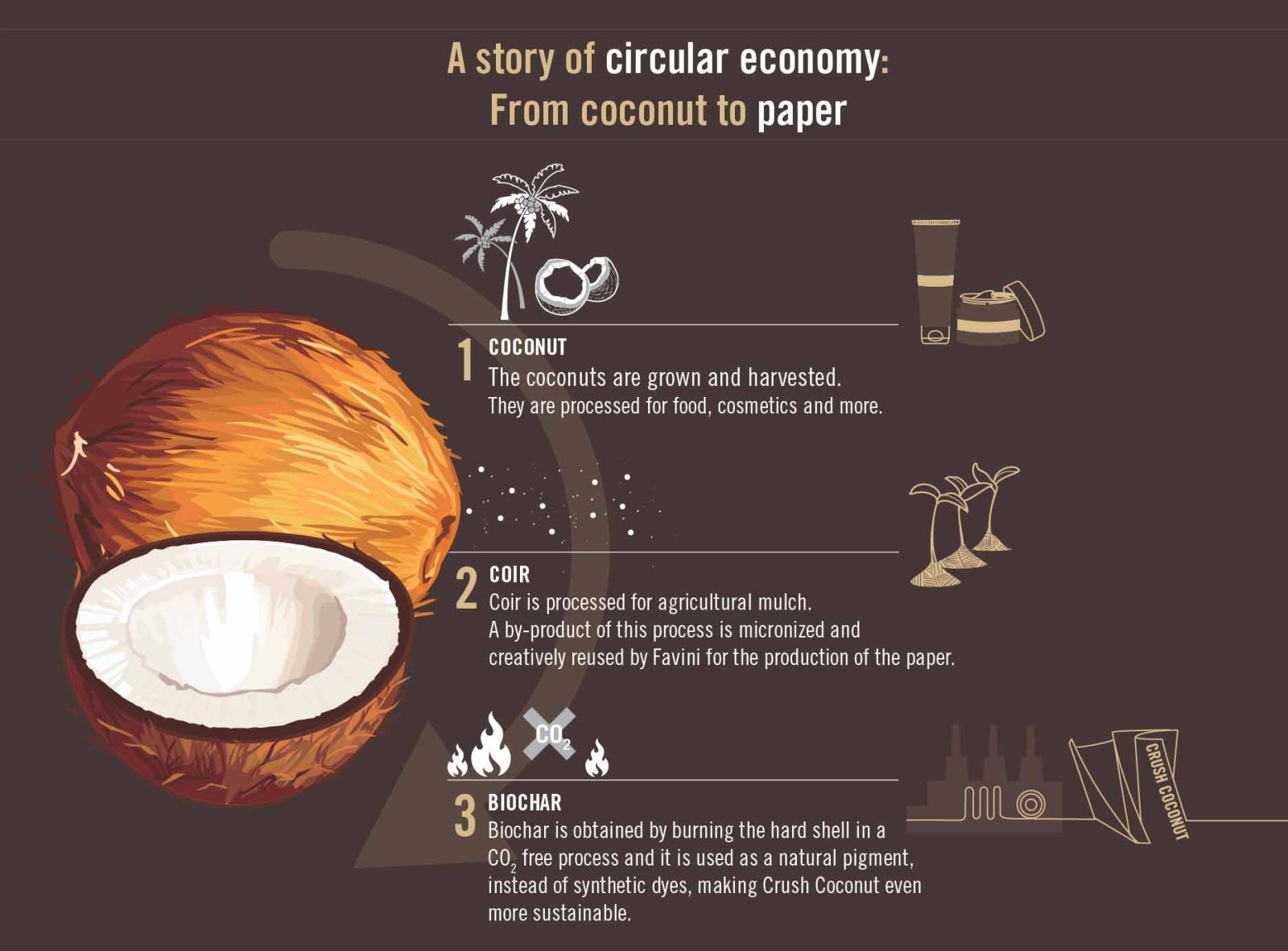 The success story of Crush: 10 years of celebrating upcycling and sustainable papers
Launched in 2012, after 20 years of study in market trends and trials in Favini's R&D lab, Crush featured agricultural residues from corn, citrus, kiwi, olive, almond, hazelnut, coffee, lavender, cherry, and grape. The assortment dazzled and inspired so many creatives, designers and brand owners, including so many which have been celebrated here on DESIGN&PAPER. Crush has also been awarded in the paper industry, starting with the Luxepack in Green 2012 Award – given for the most innovative green new product at the show, in the year of its launch – but followed by many others ever since. 
In 2021 Crush has been included in range of ecological papers which is called "Paper from our Echosystem", the best-in-class brands by Favini: Alga Carta, Crush, Remake, Refit, Shiro Echo and Tree Free. These contain at least 40% post-consumer waste, upcycled materials for creative use or alternative fibers to tree pulp, such as bamboo. All brands are FSC™ certified and biodegradable.
Furthermore, the CO2 emissions generated by producing all brands from Paper from our Echosystem are fully offset thanks to Carbon Credits acquired by Favini through partners, to finance activities which can absorb the CO2 in the atmosphere. Finally, Paper from the Echosystem is produced with electrical energy from 100% renewable sources: Favini takes advantage of a waterway close to the Crusiallo facility with the help of hydroelectric plants.
The Crush paper assortment retraces the life of agricultural products, passes through numerous processes, and successfully uses the by-products from a circular economy perspective. Celebrated by many industry professionals, including us here at Europapier, it is a true example of how a high-end, beautiful design paper can be kind to the environment.
Crush is exclusively available at Europapier Group. Would you like to touch&feel a sample of the new Crush Coconut? Get in touch with your local Europapier specialist.
Do you have your very own success story using Crush papers? Feel free to submit your project, for a chance to be featured on DESIGN&PAPER.