Continuing our Valentine's themed week, let us introduce you to our latest designer crush, Ana Zaja Petrak. The Croatian designer with an impressive resume creates colourful, culinary themed illustrations that make your stomach rumble. In our interview with her we talked about design, paper and food.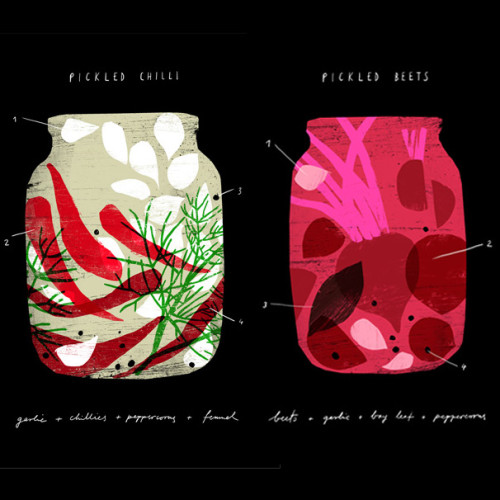 Chilli is hot, beet is sexy! Both are aphrodisiacs by the way.
Can you briefly introduce yourself and describe what you do?
My name is Ana, I'm a graphic designer and illustrator, working and living in Zagreb, Croatia. I worked for many years in graphic design field, then few years ago I returned completely to drawing which has always been my first love. Since then I'm working on various illustration projects for clients all over the world, and I run my Etsy shop where I sell my art prints. Some of my clients are: Carluccio's, Jamie's Magazine, Whole Foods Market, Fairtrade Foundation UK, IKEA, Conde Nast, Penguin Random House, BBC, Pams, Paris Baguette…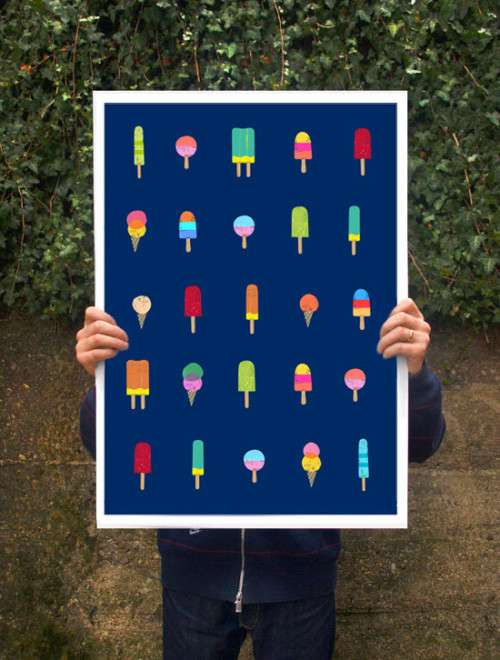 Ice cream is happiness condensed – poster. Available here. 
How would you describe your style, what inspires you?
I tend to simplify things as much a possible, to show more with less, and to be absolutely honest with my work. My style is graphic, simple and colourful.
I'm quite obsessed with colours, all of them. There is no existing colour that I don't like. I'm always amazed by life and all its wonders, by small, everyday things and situations, food in particular. People who are life enthusiasts inspire me a lot. I guess my "passion for life" is a thing that drives me too.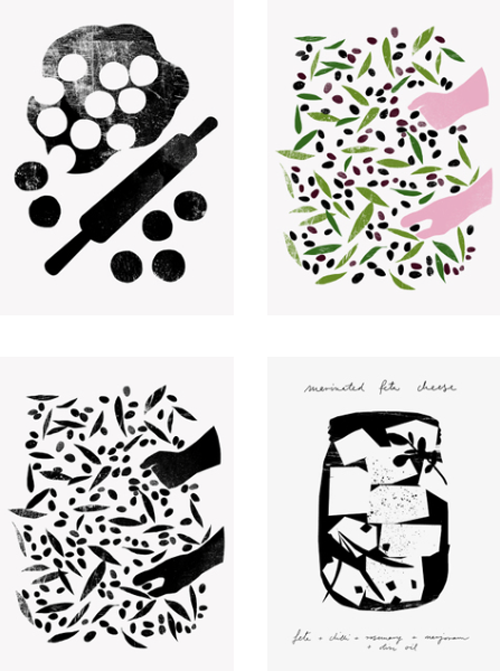 Limited edition prints. Available here.

What role does paper play in your work? 
Choosing the right paper for my printed work is extremely important to me. Paper is a crucial part of the overall experience, it tells about the feeling and quality of the printed artwork. I prefer matte, uncoated paper. I like it's rough, natural feel.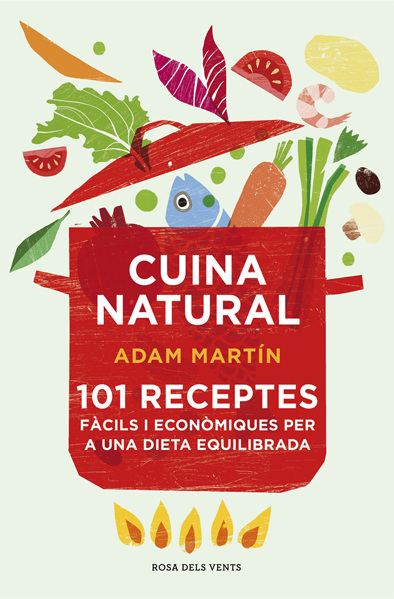 Cuina Natural, book cover illustration
Which are your favourite printing and finishing techniques?
I love screen printing, lithography and linocut and would like to use these techniques more often in my work.
I love your Indigo Pomegranate print. Do you have a favourite one? 
Each work represents some moment in my life and therefore I love all my works, but if I need to choose one, that would probably be "Limoncello".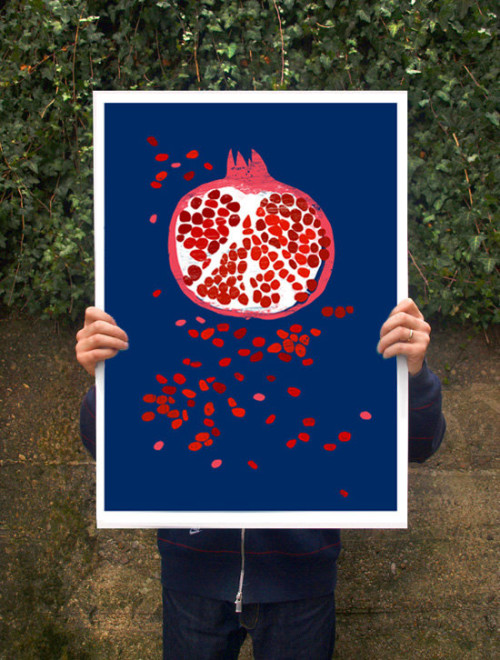 Indigo Pomegranate poster. Available here.
You recently created the visual identity and illustration work for Pantarul, a restaurant in Dubrovnik. Are there any other places where we can find your illustrations?
ASK, an Italian restaurant chain in the UK, exhibits lots of my works in their interiors, and I look forward to start working on a visual identity for one lovely restaurant in Athens, Greece, very soon.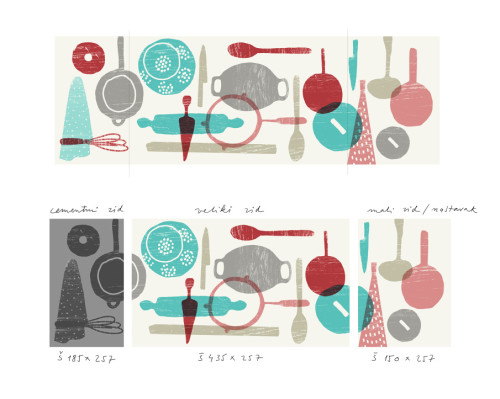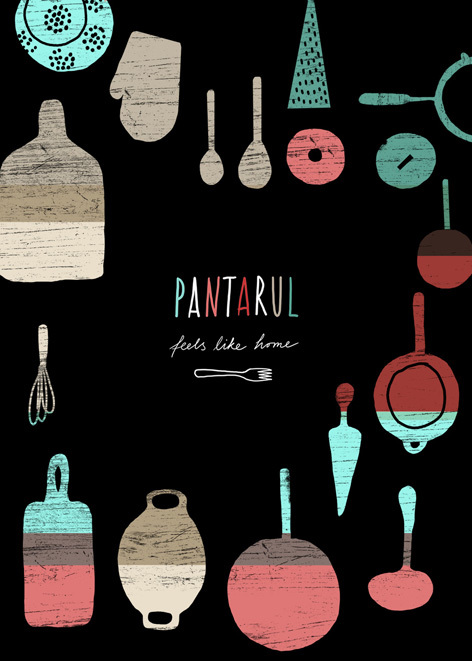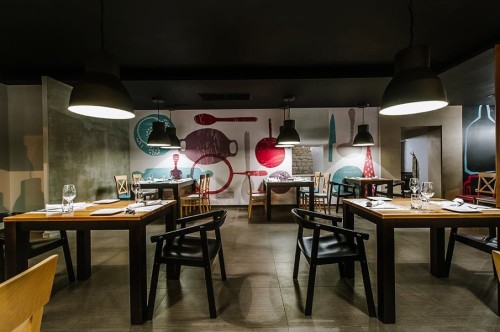 Visual identity and illustration mural for Pantarul
Most of your illustrations revolve around food. Are you a big chef yourself? And can you share one of your favourite recipes with our readers?
I'm not a big chef but I'm a pretty good cook, I think! My favourite recipes are all very simple so here is the one called "Ana's favourite evening snack".
Ana's Favourite Evening Snack:
Put 2 dried tomatoes and one salty anchovy
on the top of a warm, grilled slice of bread.
Sprinkle with salt, pepper and few drops of olive oil,
and indulge yourself.
Glass of red wine is highly recommended with this!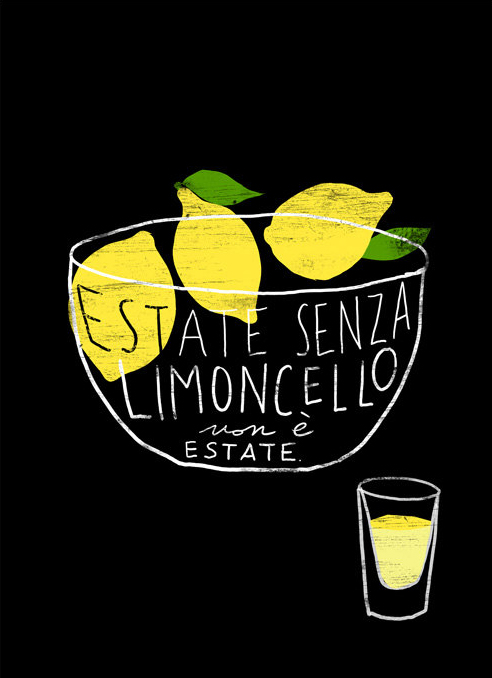 Limoncello illustration
Plans, hopes and dreams for the future?
Hope to continue to work on interesting and creatively challenging projects, to experiment more in different techniques, to make paintings, to travel more, to continue to be happy as I am in this moment.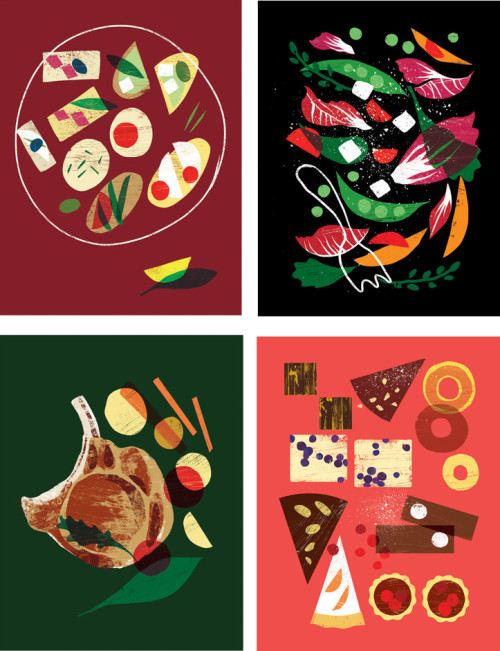 Illustrations for Epicurious Crowd Pleasers. A special food issue that includes recipes from Bon Apetit and Gourmet, published by Conde Nast.
Feeling hungry for illustration? If you are looking to buy some of Ana's beautiful designs, you definitely should check out her Etsy shop and her lovely blog aneklife. I for my part can already see the Pomegranate hanging in my kitchen!
Photo courtesy Ana Zaja Petrak