If you are into lush illustrations and playful design, you will love the work of our latest interview partner: advertsing agency dasuno from Vienna. We met Nora Sri Jascha, one of the agency's founding members, and chatted with her about dasuno's distinct style, some of their award-winning projects, their 2013 Christmas Collection for Huber & Lerner and Nora revealed her favorite Christmas market in Vienna.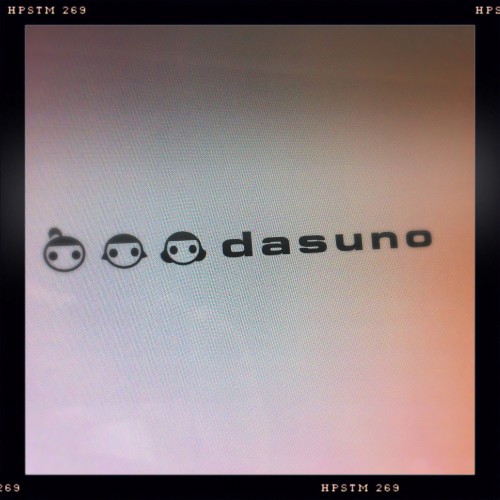 Who is dasuno?
dasuno is an advertising agency that was founded in 1999, by graphic designers. Our strength is the conception and realisation of communication with a high executional standard. We strive for strategically grounded work that produces exceptional solutions based on a strong and relevant idea. Clients like Manner, Palmers, Wien Museum, Huber&Lerner, Hrachowina, Christian Dior, Sony and many others value this know-how.
By complementing our small core team with freelance personnel we can adapt to any client size and offer custom-made solutions for small local as well as big international companies.
Does dasuno have any special meaning?
dasuno may sound mystical and strangely foreign, but it is simply made up of the first names of the three founders: DAgmar, SUsi and NOra. That's the secret behind our name.
How would you describe the dasuno style?
Meticulous, passionate and surprising. It is our philosophy to always dedicate ourselves to any project with a great love for detail and an innovative approach.
What role does paper play in your work? As we love Illustration, beautiful paper is the perfect way to bring them to life.
Can you show us one of your projects you are particularly proud of?
A project from our archives. It is 10 years old and I still love it. The task was any designer's dream: concept, idea and layout for a paper samples book of metallic papers. Our job was to demonstrate all sorts of finishes. The book had to be practical for the sales force and at the same time should tell a story. Wonderful!
We developed a paper theater with pull-out stage settings made of cardboard, each showcasing a different kind of paper with a different finish. The illustrations were completely up to us. Really a dream project…This job won us several national and international design awards.
One of your many projects is the annual dasuno for Huber & Lerner Christmas Collection, for which you have won several CCA awards. What was the inspiration for this year's collection?
This year we created an entire world out of paper for Huber & Lerner. We composed a design made of thousands of fine laser cut illustrations which we arranged by hand to create this fantasy world. Then we took a photo of the layout and printed it onto the fine paper. In addition to this paper we designed a Christmas Card which is actually laser cut and complements this year's edition.
What do awards mean to you?
To me awards are a kind of valuation of the work we do. As we really have fun doing illustrations and executions of extraordinary concepts it is nice to be feel that someone else likes them, too.
In your work you often play with illustration. Do you have any favorite illustrators?
There are so many great artists around, I could not pick any single one. But I do love the vintage styles of old toys and packaging which are also great sources of inspiration for me.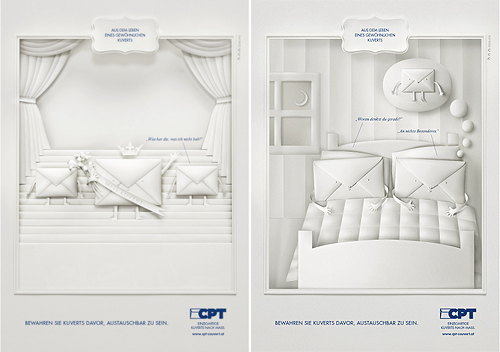 Humorous advertisements for envelope producer CPT
The mulled wine and punch season has already started in Vienna. Can you recommend any of your favorite Christmas markets in town? 
I really like the atmosphere of the crowded inner city during Christmas time. I love the ballroom lights on the Graben and the new Christmas market next to Stephansplatz designed by KIM+HEEP. It is inspired by the gothic style of the cathedral, its pointed arches and rose windows. Beautiful! You should definitely go.
What is on your wish list for this year's Christmas?
I hope to spend some nice and quiet days with my family. The atmosphere around Christmas is very special. Even if it is a little stressful just before Christmas, it its a lot calmer on the holidays just after … A great time to recover and draw new energy for the upcoming year!
Thank you very much for the great interview, Nora!
Photo courtesy of dasuno