The trademark Huber & Lerner stands for exquisite print forms, steel engraving and exclusive stationery as well as providing an individual customer service. They have been accompanying the most important occasions in their customers' lives with their distinguished products for over 100 years. We met the owners of Huber & Lerner, Johannes Huber-Pock and Pia Fischer, for an interview and talked with them about how it all began, some of their most prestigious clients, their beautiful shop in Vienna's 1st district and the timeless magic of stationary and hand-written letters.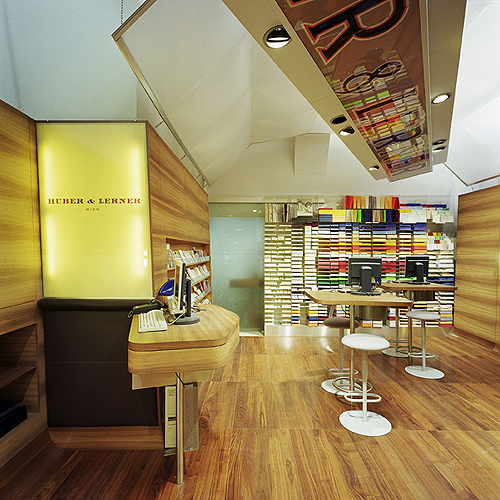 Can you briefly describe Huber & Lerner?
The company was founded in 1901 by Franz Huber and Peter Lerner. They got to know each other while working for the well-known Theyer & Hardtmuth in Vienna's Kärntnerstraße, where they were both sales assistants. They became friends and decided to open a small shop in Rotenturmstraße. A few months later they moved to a bigger store on Kohlmarkt, where the firm resided for 100 years.
In 2006, we took over the company continuing the family business in the 4th generation. We offer a complete product, which includes consulting services for all our customers' questions from the choice of wording to etiquette up to layout and design. It is our extensive selection of exquisite papers, printing and embossing methods, that ensures the exceptional quality of all our printed products. Our selection of paper consists of standard commercial quality paper to our own in-house stationery-collection and the finest hand made paper.
Since 2002 we have moved from Kohlmarkt into our current shop in Weihburggasse 4 in the first district of Vienna. After moving to this new location we have added modern design and lifestyle products to our selection. In addition to this our assortment includes a wide range of the finest leather goods such as business card cases, guest-books, photo-albums, notebooks, laptop bags, writing cases and much more.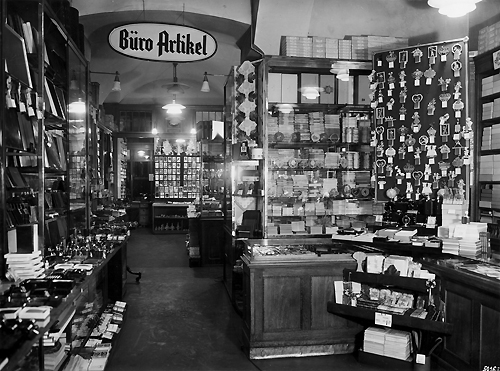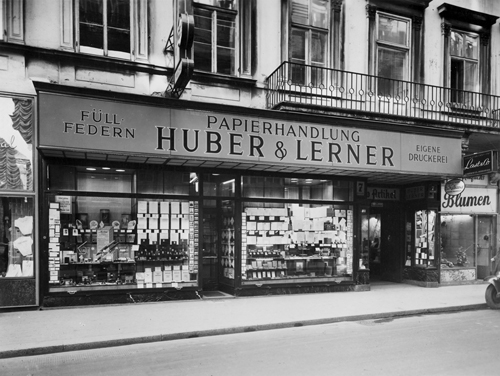 The old shop at Kohlmarkt, source: Huber & Lerner
Who are your clients? Can you reveal some of your most famous customers and some of your most prestigious projects? What was the most expensive business card you ever made?
Aristocrats, government offices, renowned companies, public figures of the economic and artistic world and notable families have placed their trust in Huber & Lerner's services for generations. Since the 1950ies we are printing all governmental invitations for all state visits in Austria.
We produced the Emperor Franz Josef's embossed stationery or for example we printed a gift wrapping paper for Prince Karim Aga Khan and a lot of printed matters for the King of Jordan. Among many others Arthur Schnitzler, Oskar Werner,  Herbert von Karajan, Thomas Hampson and Michael Haneke ordered their stationery at Huber & Lerner.
We can not really select one single expensive business card, but in general embossed cards and stationeries represent the very luxury in printing.
Do you have any dream client? Anybody you are dying to work for?
As a company whose values are based on tradition, we view ourselves as a house of service in every sense. We do have no dream client as such, but we'd say every client is our dream client.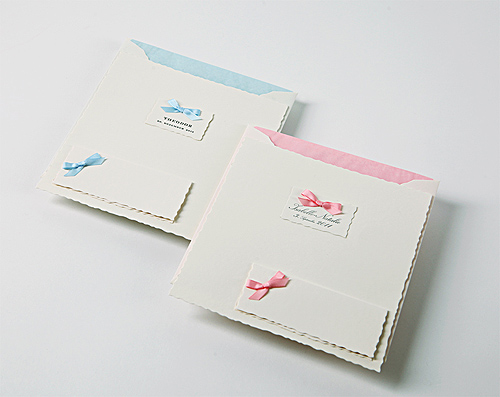 Birth announcements by Huber & Lerner, source: Huber & Lerner
Paper obviously plays an important role in your work, so lets talk about printing techniques. Any favorite technique? Why?
Steel engraving as such is a very delicate form of printing itself, it is also a form of applied art. This tradition goes back to the time when the Imperial Family were patrons of our services. The engraver, who applies the engraving onto the steel-die has to be a real artist and needs years of practice to learn this craft. This technique offers a variety of stunning effects. First of all is the haptic experience, which is generated by the stamping process. You can also get stunning effects from blind embossing or the possibility of using a color within this technique. Especially gold-embossing or gold-foil embossing are exquisite examples of this craft. We also consider the letterpress technique as very charming, because of its haptic experience and long tradition at Huber & Lerner.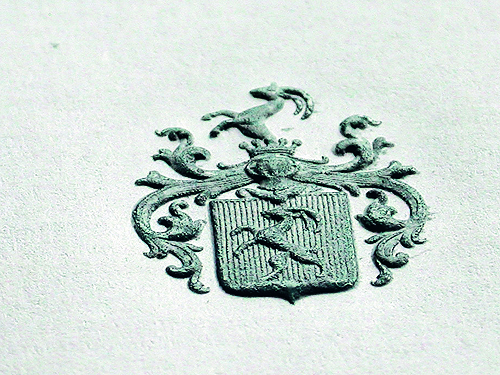 Steel engraving, source: Huber & Lerner
I am sure, many designers approach you asking you to sell their products at Huber & Lerner. What are the selection criteria for products you sell at your shop?
The selection criteria above all is the quality, concerning the material as well as the craftsmanship. At the same time the design is of high importance since we talk about life-style products. Ideally the item should display a timeless design with a touch of current trends.
Any favorite paper item?
It's hard to choose one favourite paper–item, because there are so many we love…First of all there is our own Huber & Lerner stationery collection Burg Bütten und Premiere Vienne, available in three colours. Very popular as well is our in-house collection for all kinds of printed invitations, birth announcements or stationery. It also features envelopes with colored padding.
Huber & Lerner stationery collection Burg Bütten, source: Huber & Lerner
Then there is a variety of hand made paper with deckled edges and watermark (one of them is the same stock as the pope is using for his personal stationery). And there is a variety of very special gift wrapping papers from the far east with stunning colours and designs.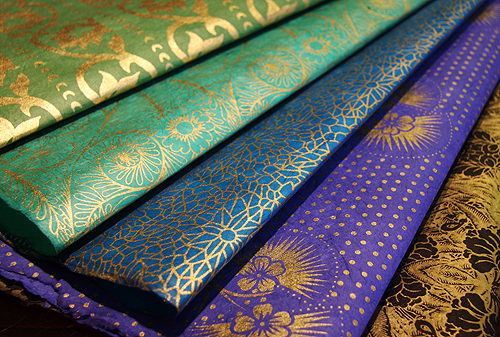 Colorful gift wrapping papers, source: Huber & Lerner
Congratulations on the CCA award for the Huber & Lerner Christmas Collection designed by dasuno! What do such awards mean to you?
We are very excited about the award, because this is a distinct acknowledgement of our policy of connecting tradition and innovation. Since we first started in 2006, this collection turned out to be a very good and successful collaboration between us and the young innovators at dasuno.
Soon the dasuno for Huber & Lerner collection has become a label on its own and a very important element in our contemporary assortment. Every year our customers start asking for the Christmas Collection long time before it is available in our shop.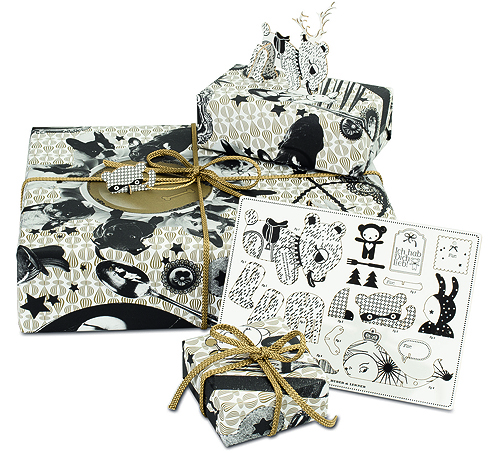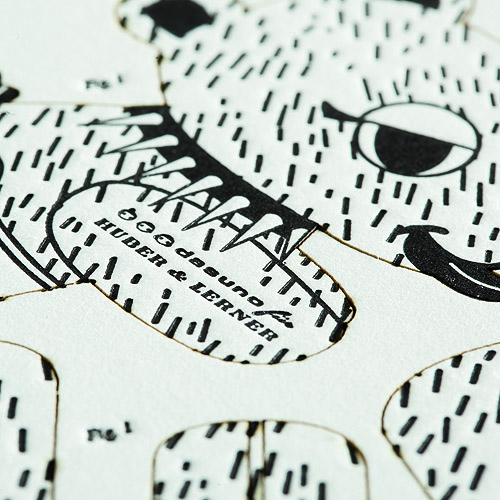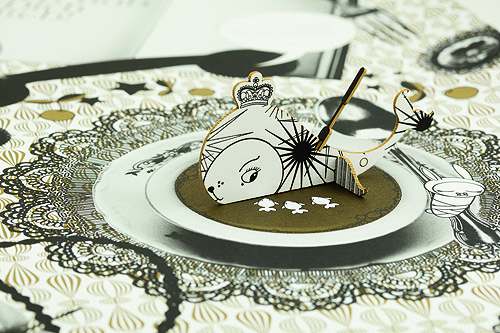 Christmas Collection, dasuno for Huber & Lerner, source: Huber & Lerner
In addition to this we offer our customers the opportunity to order custom designs for their announcements, invitations, cards and wrapping paper, especially designed by dasuno.
Show me your stationery and I tell you who you are – true or false? What does stationery reveal about its owner?
In a way this is true, I think. Stationery can be very discrete and in the contrary showing off as well, it can be just functional or elegant – it all depends which way you want to represent yourself.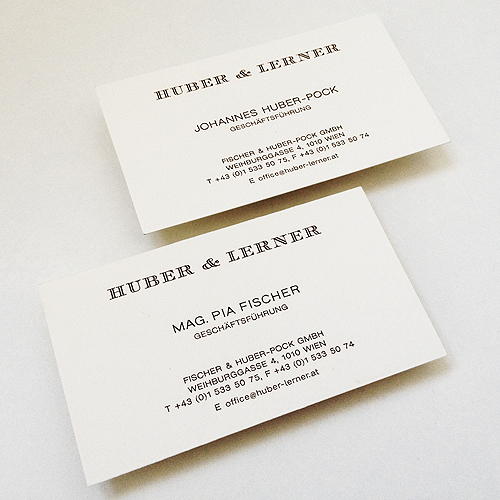 Personal business cards of the Huber & Lerner owners, source: Huber & Lerner
Our last interview partner, the stamp designer Anna Niemierko, said that the more sending letters and postcards by post becomes "archaic", the more it becomes "cool". Even Facebook CEO Mark Zuckerberg has his personal stationery. Do you also observe this trend?
Definitely, we do observe this trend with great pleasure! In digital times it has become even more important to write a special note, greetings or birthday wishes by hand. It adds a lot more personality and meaning to the message.
This attaches even more value to it and at the same time I think that we still like to touch things with our hands – again there is the haptic experience – for example what does the paper or the embossing of a special letter or greeting card feel like. This is something I can store in a special place and take out years after. Contrary to a digital message, lots of emotions and memories can be attached to a printed card or handwritten note. What a difference to an email, somewhere saved on a computer!
Another aspect is the time factor­ – a letter takes its time to get from A to B. And one doesn't have to answer as quickly as to an email. This is a pleasant side effect to a letter – one can take time….
Who designed your shop at Weihburggasse 4 and what was important for you?
Our shop was designed by the architects Eichinger oder Knechtl. We wanted to get a stylish but at the same time timeless design, which also had to be functional, because there is only a rather small amount of available space at our location. Furthermore one task for the architects was to express somehow the connection to a printing studio – that is why they choose to shape the floor with rounded edges, according to a print roll.
In remembrance of our prior location at Kohlmarkt 7, we took the old signboard and fixed it to the ceiling, using it as a container for lightening and air-condition.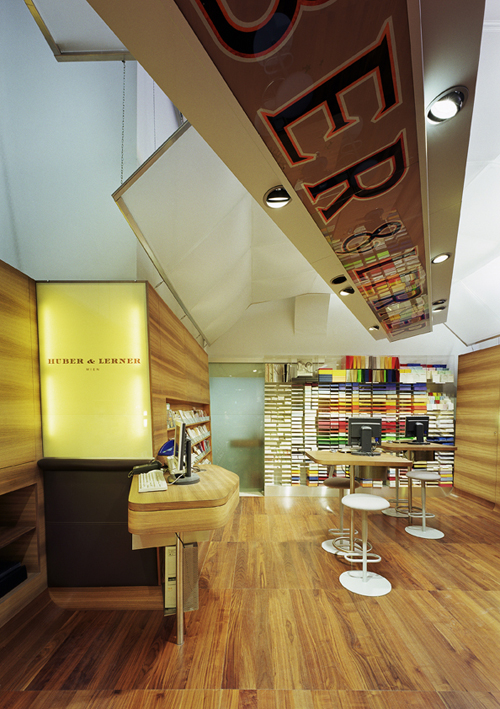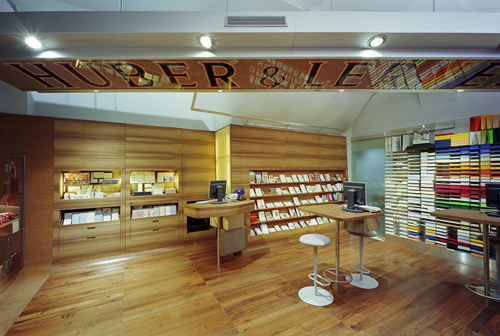 The new shop located in Vienna's 1st district, source: Huber&Lerner
Can you recommend some of your favorite places in Vienna's first district to our readers?
Lobmeyr – the very best of glassmaking, traditional Viennese family company, Pöschl – Gasthaus, Viennese food, good for lunch break or after work, Diglas – very nice, typical Viennese Café, Lia Wolf – best book shop if you are looking for graphic design, art and photography related books.
Thank you for your time and the interesting interview!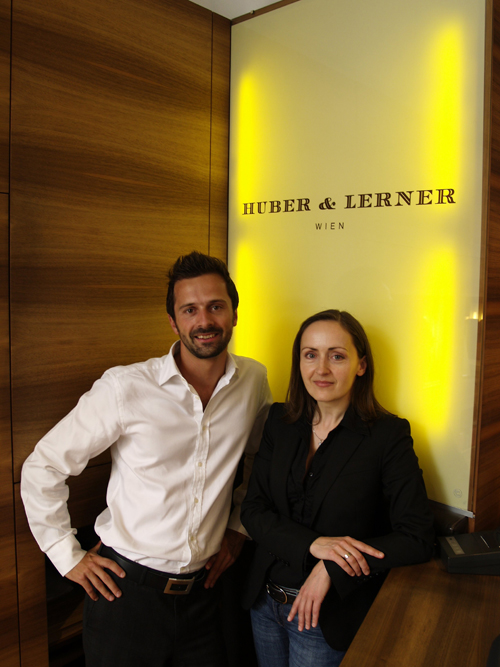 Johannes Huber-Pock and Pia Fischer, source: Huber&Lerner
Weihburggasse 4, 1010 Wien