Justus K, a Helsinki based designer and creative applied his previous packaging design studies to fashion, creating a stunning one-of-a-kind paper couture collection titled KASKI. I was lucky enough to steal some time off the young creatives busy schedule and talk to him about his style, work ethics, inspiration and the possibilities and ideas paper brings to his work.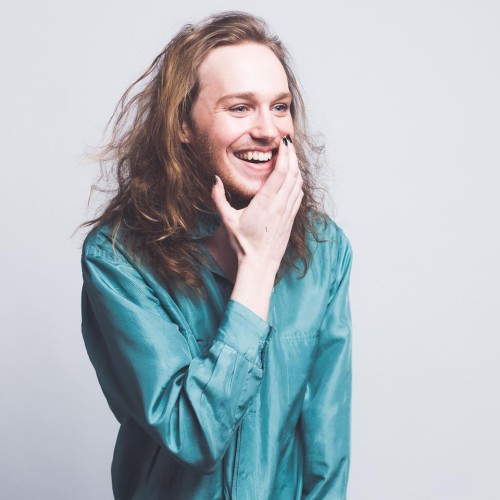 Can you briefly introduce yourself and describe what you do?
I am a fashion designer and performance artist based in Helsinki.
I studied at the Lahti Institute of Design and Fine Arts in Finland. Part of my design studies I did in Paris at the Strate Collège.

How would you describe your style, and what inspires you?
My style is Scandinavian but in addition it is quite decorative comparing to the common Nordic style. I get lot of inspiration from different old styles. History of fashion is a vital source for my design and then I mix ideas to the current time. The KASKI – paper couture collection was based on my research about the Finno-Ugric folk art. An interesting material can also be very inspiring. In general the frustration about the ecological and ethical problems is pushing my artistic creativity forward. For example my last performance Straight Way to Freedom was concentrating on the heterenormativity and how it influences on young people and me.
Your Kaski couture collection was fully done of paper. What is it exactly in paper that you find interesting as a fashion designer?
Well it obviously comes from my background at the Packaging Design and Graphics department at the Institute. Paper is an alternative material in fashion and I very much like to find something uncommon. Fashion actually has been my passion since I started my studies. When I did my exchange studies in Paris I participated in the design competition of the 1.618 Sustainably Luxury fair. I created a very sculptural Versailles inspired dress which was made of paper. The work was chosen to be exhibited at the fair. The competition honestly opened my eyes and how I could combine my packaging studies to fashion. KASKI paper couture was my graduate collection where I wanted to explore the usability of paper in a wearable item. Also the Finnish Forest Foundation supported the collection financially and I felt that there is an industrial need for this kind of experimental fashion projects.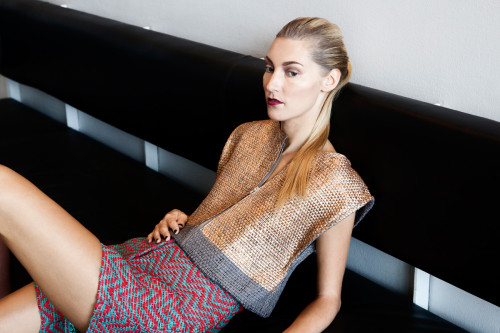 What are the positives and negatives of using paper instead of textile?
Of course paper can't replace textiles in the everyday wear but in some sectors it can. The paper yarn material that I used is washable and it has been used in shoes during the history and nowadays more in the decorative industry like carpets etc. Paper is a very sustainable material. The most positive sides of paper are the ethical and the ecological sides. Paper can be produced in the countries where there is no fear of child labour and it is a renewable material and very easy to recycle. I really see paper's potential as an alternative material to disposable wear like promotion t-shirts that are used only once or as a fine material in the high end fashion design and accessories that I do.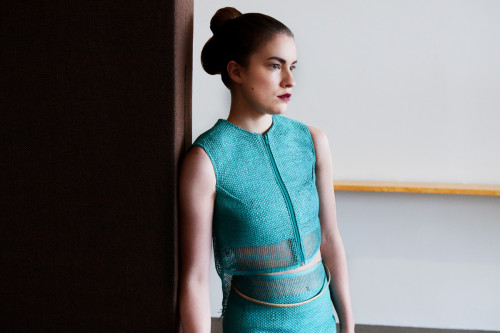 And what techniques did you use while working  with paper?
There are two different kinds of materials and techniques I used in the collection. I laser cut the graphical papers and the paper yarns I weaved into fabrics. The paper fabrics are acting more like textile.
Will you continue to work with paper?
I hope so. I have learned so much about the material after this kind of a big project. Now it is easier to start to design things made of paper because I have more know-how than in the beginning. I can say that paper is my speciality as a professional designer and I do not want to abandon it.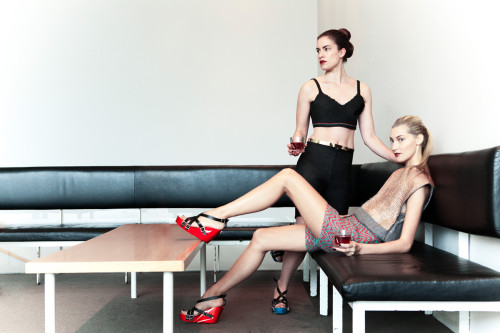 Without a doubt your designs are one-of-a-kind pieces. Would there ever be a possibility to put them in production?
Yes it is possible. At first when I started the collection I did not know what is coming up and could it be possible to be manufactured and that was one of the goals. With few changes the garments could be manufactured and few other design pieces too.
Do you compromise in functionality of a design over its aesthetics?
It is always the question that I am asking from myself in all of my designs. With the whiter graphical paper garments I was only concentrating on aesthetics and made the glossy luxurious paper to look good on a human body. I really paid attention to weaved garments to make them functional and comfortable to wear. My designer colleague Ida Urmas taught me about the balance between the functionality and the artistic expression. A garment can look a garment and be functional and beautiful instead of being only an artistic item. The functionality does not make the artistic expression any less.
As a recent graduate, what is your opinion on 'high fashion'? Do you aspire to become a high-end fashion designer in the future?
Yes I would like to become one and high fashion is the direction. I appreciate the creativity and the artistic freedom of expression in high fashion. I feel that I can be more free in high fashion side and I also think it should be for a wider audience. Luxury brands usually sell their products on very young models and that is an issue I want to explore, how fashion is represented. High fashion should be universal like art is.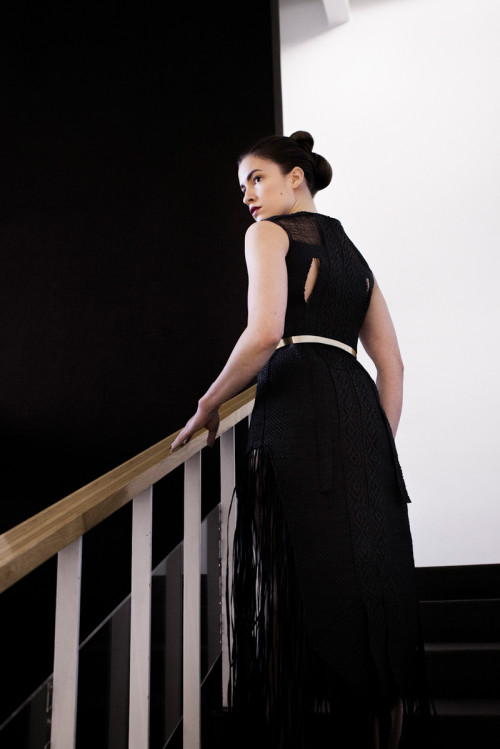 What is it like to live in Helsinki and what do you love about the city?
It's actually quite fun and easy to live in Helsinki because everything works well. The only big minus are the expensive living costs considering the city size. I feel that Helsinki is the best part of Finland. The city is open-minded and modern. The people are ready for new ideas and to create something new for example underground parties & festivals or events like design and second hand markets or the famous Restaurant Day. The citizens really want to develop the city and make it happier place to live in and that is what I love in Helsinki. It might first look serious, but it is warm inside.
What places would you recommend for a design or fashion oriented traveller?
In Helsinki I recommend tourists to go to Kallio where you can find lot of second hand stores. The area is interesting because all the locals go there and people live and spend time in that area. Naturally in Helsinki there are all the Finnish fashion brands. The Acolyth fashion store which sells few of the smaller local brands, also online, is one of a kind in the Nordic countries. The public recycling centres all over the Finland sell all kind of old items with a very cheap prize or give them even for free. The famous Finnish designs, new or old items from Marimekko or Iittala and Arabia brands can be found everywhere in Finland. I have used and found materials from the second hand department stores such as Fida, UFF or Kontti of the local Red Cross, who sell only recycled items and they have well organized logistics to collect e.g. used clothing and textiles. If you want to go to the museums there's the Design Museum in Helsinki which has a public collection of the national design. In the spring 2015 there is coming a big pop art design exhibition at the EMMA – Espoo Museum of Modern Art.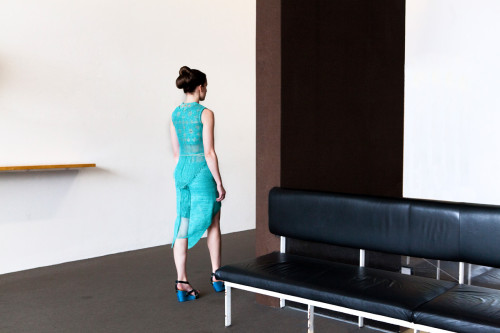 What comes next?
I will make a new collection which is ready next summer. It is going to be very artistic, something wild and classical but I will not tell more. I will continue my work with the previous KASKI paper couture collection. I would love to see it exhibited somewhere again and I will have the debriefing with the collaborators. I thalso continue with performance art projects and I am going to be on stage (or in a space!) next summer again.
Thank you Justus for talking to us, we're sure to keep a close eye on your future ventures. 
Photos: Aleksi Tikkala (portrait, look book), Verna Kovanen (editorials)
Hair: Katarina Eskelinen
Models: Nina P, Anna Talvi
Make-up: Jenni Salonoja
Sponsored by Finnish Forest Foundation & FILONA