I am sure you know the situation when you are looking for your notes concerning a certain topic and find them in bits and pieces on different pages all over your notebook. A design studio from Vienna set out to solve exactly this problem by inventing Moduletto, a notebook which you can completely customize to your needs by extracting sheets, putting in new or other ones, rearrange them, changing the cover and the colour of the binding. We met the inventor, Michele Falchetto, who told us more about the special concept of Moduletto, prototyping and his search for the perfect paper.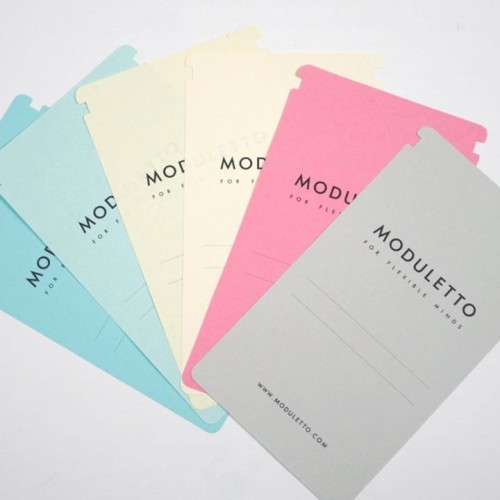 Can you briefly introduce yourself and describe what you do?
I did my degree in product design, and together with a partner I run a graphic design studio in Vienna for over 7 years. We are specialists in print design and brand development.
How did you get the idea to found Moduletto? And who are the people involved?
We used to have troubles at work keeping our to-do lists neat and tidy. To stay on track, we had to copy them over and over again. One day my co-partner was so annoyed of such a dull work, he couldn't stop nagging. That night I fell asleep remembering Roman's bad mood and woke up the next morning with the idea of Moduletto in mind. I rushed into the office and went straight to shape the prototype using the material that was in reach. The first rubber band came from an outworn underwear.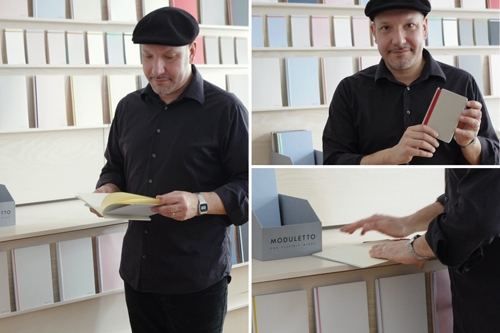 Designer Michele Falchetto with the first prototype
What makes Moduletto different from other notebooks?
Using an elastic stripe instead of a steady binding, allows to keep the pages together safely and change them anytime you like. You can extract sheets, put in new or other ones, rearrange them, change the cover and the colour of the binding. This makes each Moduletto an individual one, and it helps to organise your notes just the way you need to, while you still keep it slim and up-to-date. For example, we decided against a weekly calendar on purpose and offer a yearly "Calendario". And not to forget, Moduletto, besides the rubber band, is entirely out of paper and produced in Austria from high quality material from Austria and other EU countries.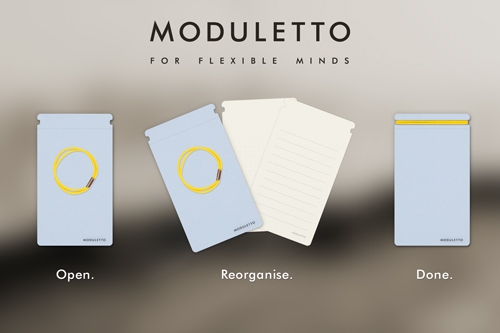 How Moduletto works
How would you describe the style of Moduletto and who is the typical user?
Moduletto is "For Flexible Minds", and it comes in two sizes, Libretto and Piccoletto. Obviously, the typical user is someone who uses a paper notebook at all and does so in the digital age. Not out of nostalgia, but to fulfil his or her specific needs in company with modern devices. Our users are up to multiple tasks, and they appreciate to choose by themselves.
The Moduletto idea is to offer the most of freedom and choice with the flexible concept of modules, a plain stage for thoughts – in a very minimalist style and clean design. It's the content that matters.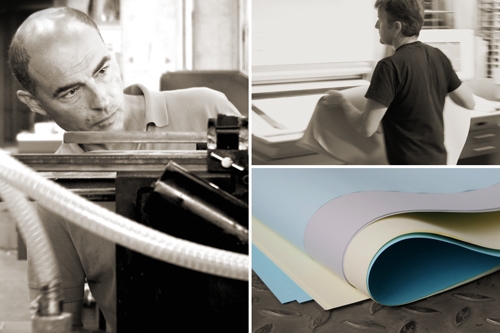 Moduletto is punched and printed in Austria, using Austrian paper
How long did it take to find the perfect paper for you notebooks?
The research took us one and a half months. We had to find a cover suitable in grammage and colour scale. The core paper had to offer a variety of colours to provide an optimized way of organising and individualising. And of course, it had to meet the high standards of quality to be perfect in writing on it.
Ending with two similar qualities, we decided which paper had the better sound. One was metallic turning the page, but our final choice sounds really smooth.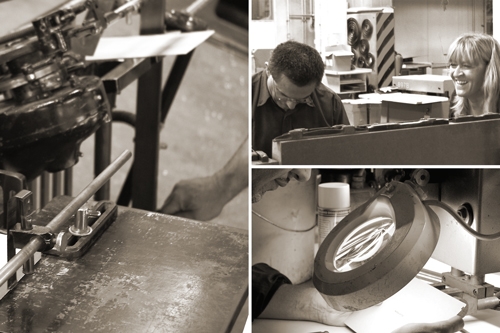 Quality check
Is there any specific person whom you would like to see using one of your notebooks?
I don't have anyone special in mind or could say it would be cool, if he or she used Moduletto. Everybody has another use for our notebook system, and that's the idea behind it: giving different people the possibility to assemble their notebook exactly the way they need it. In the end, they never come up with a Moduletto looking the same, it's different like the people who use it. That's what I like.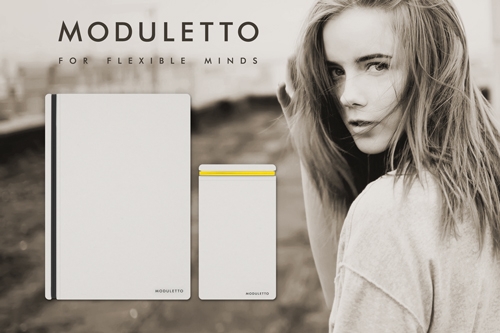 Moduletto libretto (A5) and Moduletto Piccoletto (Handheld)
How does your personal Moduletto look like?
My first Libretto was black with a yellow rubber band and had grey paper with dots. The one I use now is blue with a red and white strap. My small Piccoletto is all black with cream coloured paper.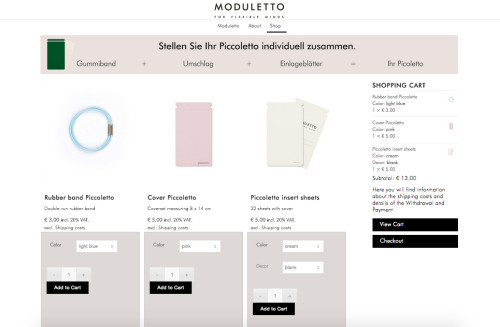 How to order your own custom made Moduletto
Where can our readers buy their own Moduletto?
We launched Moduletto in October 2014. At the same time we started our Online Shop at www.moduletto.com. That's where you can choose between many colours and decors and compose your individual Moduletto (Libretto € 15; Piccoletto € 13). In March we will present Moduletto in Germany, at the blickfang in Munich.
We initiated first co-operations with distributors as well, so that you can buy Moduletto in selected stationery shops. You'll find the retailers on our website moduletto.com. And if you are in town, just pop over and get it directly from our graphic studio.
P.S. For those who can't wait to order their own Moduletto, stay tuned! We will give away promo codes for the online shop tomorrow on our Design&Paper facebook page!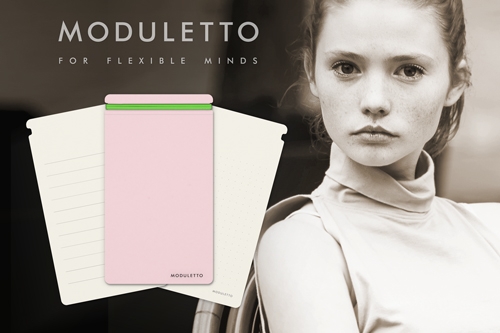 Moduletto Piccolette
Thank you very much for the interview!
Photo courtesy Moduletto