Viennese freelance designer Natascha Safarik is a true calligrapher at heart. Someone who lives and breaths calligraphy. Her beautiful designs are a testament to her dedication, practise and love towards the craft, and I was lucky enough to talk to her about everything from working for idols and inspirations to the importance of choosing the right paper and the music she likes to work to.
Design&Paper: Hi Natascha. Would you start off by telling our readers who you are and what you do.
Natascha Safarik: My name is Natascha, I'm 29 and I'm a freelance graphic designer and calligrapher– living the dream! I live with my menagerie of three cats, a boyfriend and his two kids in Vienna.
D&P: And at what age, and how you become interested in drawing letters?
N.S: I think I've always been interested in drawing letters. As I was browsing through old books recently, I found my very first "business card" I drew when I must've been around 8 or 9. I painstakingly drew every letter in a different color. It's pretty hideous but it probably laid the foundation for my current job.
D&P: That sounds so adorable. You started off young! Are you self-taught or did you do any courses etc. schooling for calligraphy?
N.S: I'm mostly self-taught, but I've been to classes abroad: Berlin and the US are where I found my teachers. There's a wealth of information out there. Barbara Calzolari (my idol) teaches classes in Europe and on the website IAMPETH.com there's tons of material for self-study. And the US, of course, is pointed pen heaven. It hasn't quite reached Austria yet, but I'm working on it. Teaching classes, getting out there, sharing the beauty.
©️ Natascha Safarik

D&P: It's nice of you to share your skills and teach others. I've read that part of being a calligrapher is believing in the motto "practice makes perfect". Do you consider it as the necessary evil or the best part fo the craft?
N.S: The best part! Luckily, everything you write is practice. So when I do client work, it also helps me to improve. I can try new letterforms, fine-tune old ones and always work on the flow of my words. However, I'm not a big fan of drills, although they are necessary to master the craft.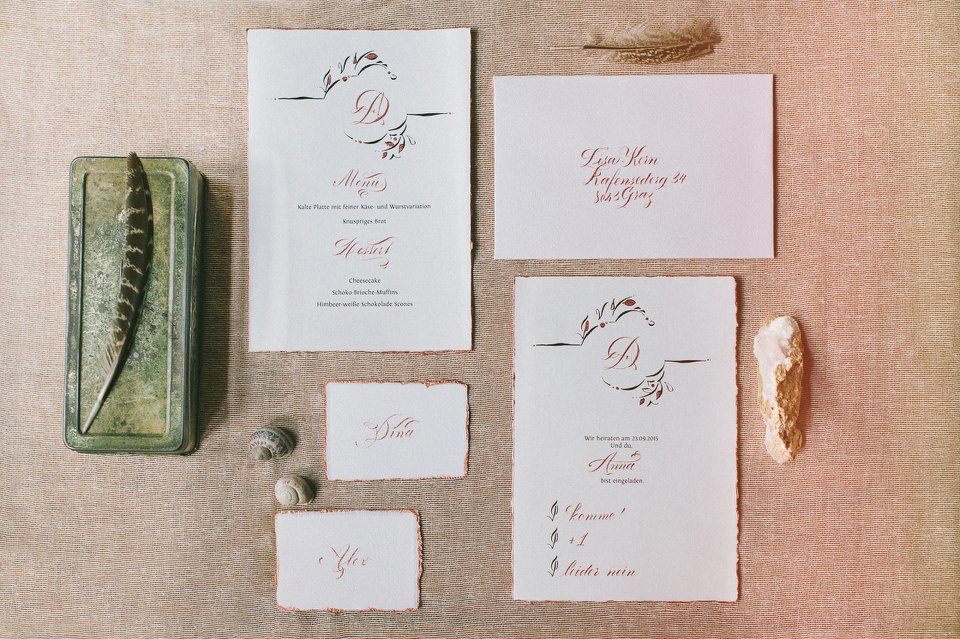 ©️ Waldkind
D&P: Last month you worked at an event for Louis Vuitton. How was it? And who would be your dream client, and what kind of work would that entail?
N.S: I think that's a dream come true already. I'm not a very fancy person who goes shopping in Vienna's first district myself, but what I love about those brands is that they have an eye for beauty and appreciate it when people are able to create beauty. And I think that is the common ground. What I would love to do though is to create work for TV shows. If they ever need a calligrapher for Doctor Who or Game of Thrones, I hope they find me!
D&P: As much as you love lettering, we love paper, so we're interested in what kind of role does paper play in your work?
N.S: Paper plays a huge role. I like touching paper, smelling it, seeing the textures it creates. I think I got that from my mother, who was a bookbinder. As a kid, I often visited her at her workplace, a printer's office. I would take home scrap pieces of paper and cards and collect them. Even now I have a big stash and I just can't leave beautiful paper on the shelf. Also, not every paper is suited for calligraphy (it has to have a very smooth surface to work) so I have an excuse to hoard and try all sorts. My favourite papers are iridescent papers and cotton papers.
D&P: Oh, so the paper is an important part of the craft. For a beginner calligrapher, what are the necessary equipment one needs to start of?
N.S: Proper paper (smooth surface), walnut ink (easy to write with and very forgiving), a penholder (oblique if you want to write slanted) and a nib. I recommend a Nikko G for beginners since it doesn't require a very light touch and is pretty much unbreakable, even for a beginner's clumsy first tries. 🙂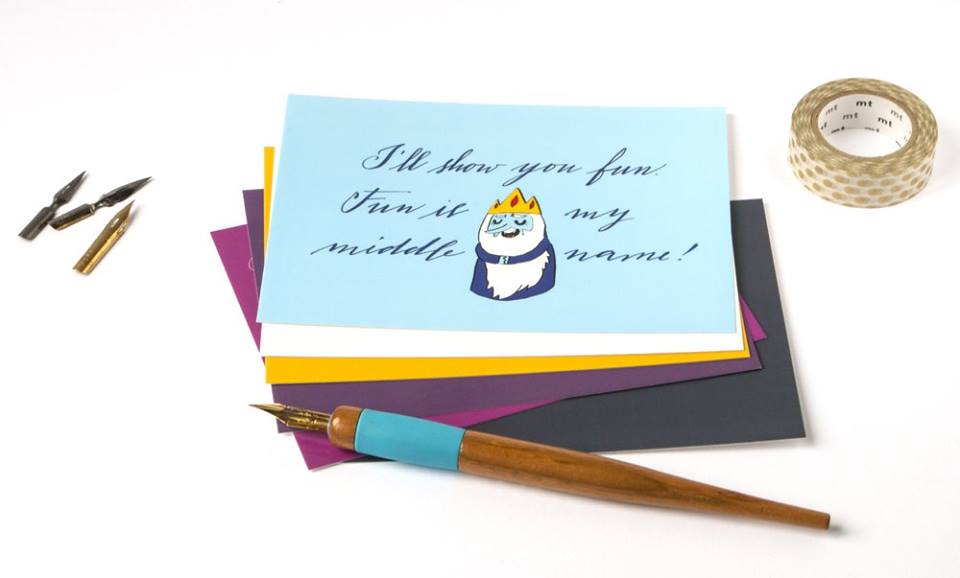 ©️ Natascha Safarik
D&P: So many calligraphers claim to be addicted to the craft. Would you agree?
N.S: Completely. I started two years ago and the longest break I had was about 10 days when I injured my hand. My life circles around calligraphy, it is even the reason I decided to go freelance, so that I could use the "down time" for practice, haha. I even involuntary do calligraphy. I sit down at my desk to look something up on the computer and only when, half an hour later, my boyfriend comes into the room and says something I realise I've been writing again.
D&P: And then some more random facts our readers enjoy reading:  What did you do for fun when you were growing up?
N.S: I read and drew a lot. I used to read everything I could get my hands on, and I drew everything I could find in our garden. Mostly animals, bugs and such.
D&P: The best holiday gift to give this year?
N.S: To me? Paper and nibs. To the rest of the world: I have no clue, are there people who want anything else?
D&P: What kind of music do you listen to? And what's the best song to calligraph along to?
N.S: I mostly listen to rock, ranging from hard to indie, but not exclusively. The best song to calligraph along to is the cover version of "Rude" by Postmodernist Jukebox. Not too fast, not too slow, just right to get into the groove for writing
D&P: Haha! I love the song. Thank you so much Natascha for taking the time to answer all our serious and silly question, we just might have to have a go at calligraphy now!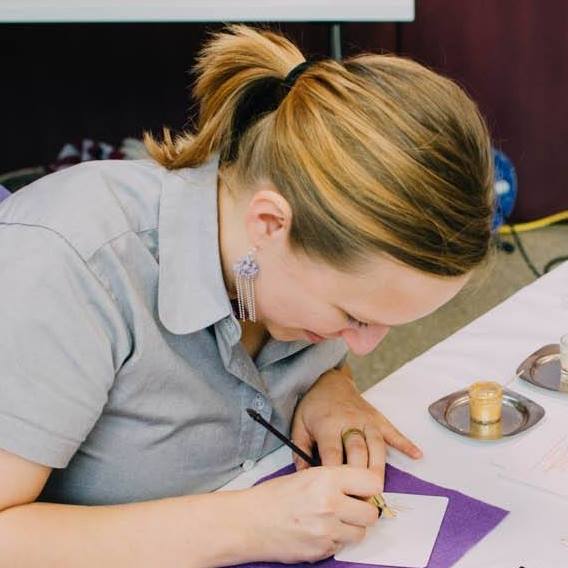 ©️ Ladies & Lord