Looking for the perfect gift for your significant other, colleague, or maybe, yourself? Let us help! Continuing the holiday tradition from previous years we've searched high and low for the best, most inspiring holiday gift ideas for paper and design lovers, and put together an extensive guide that has something for every taste, age, and interest. From our favorite books, beautiful diaries, and art posters – to clever and stylish accessories, clothing and household items. Whoever is written on your nice-list for this Christmas, we have the best paper gift ideas for them! 
And if you are wondering how to wrap that pile of gifts? Check out Print Your Own Gift Wrapping Paper With Patterned Rollers or Creative Kraft Paper Wrapping Ideas for inspiration.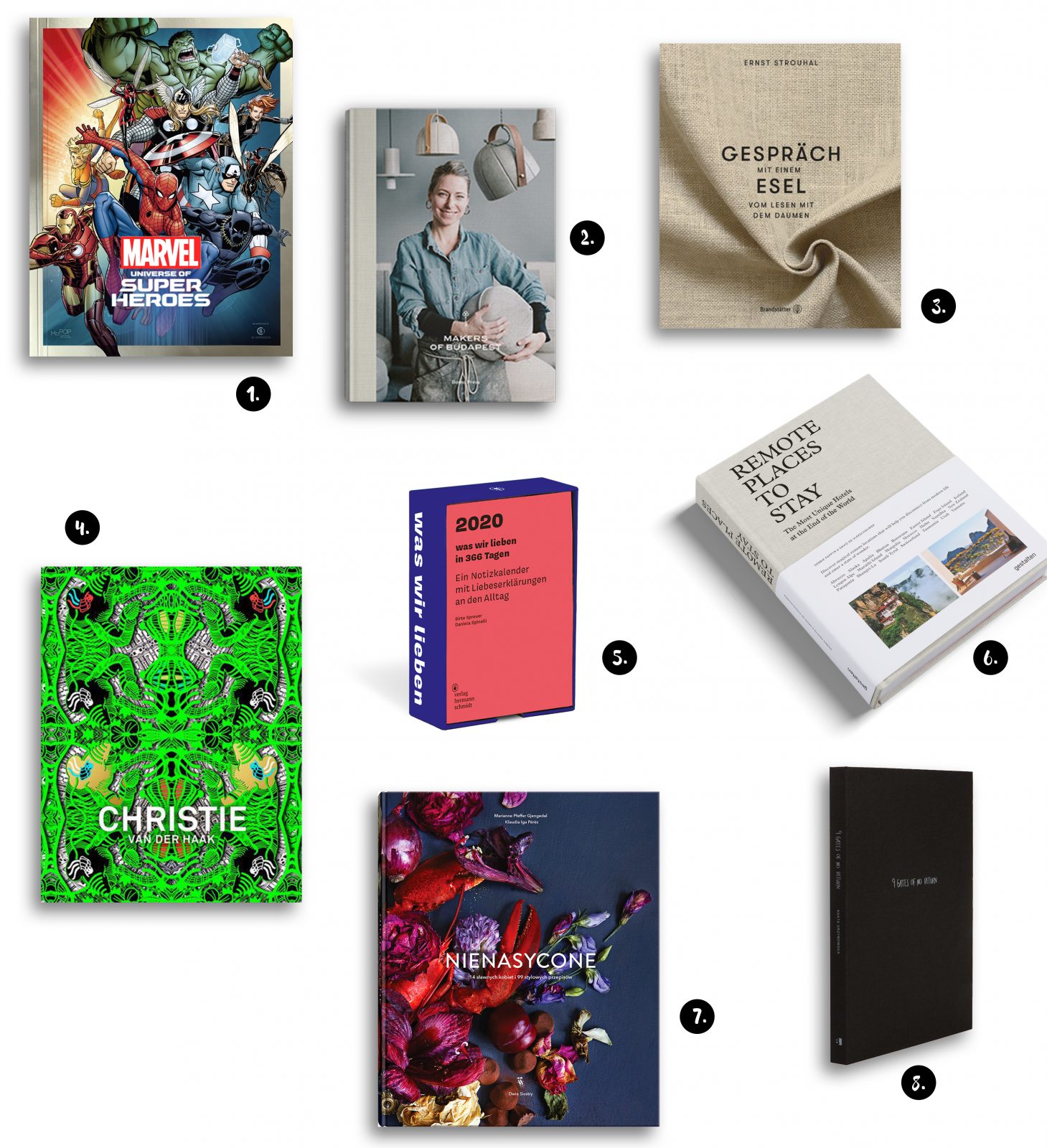 1. Marvel Universe of Super-Heroes
Accompanying the exhibition with the same name, the 'Marvel: Universe of Super Heroes.' art book has been produced this year by  Verlag für moderne Kunst, in cooperation with SC Exhibitions and published by Verlag für moderne Kunst. The book successfully brings together legendary comic creators, up-and-coming talent, editors, executives, artists, actors, and show-runners, along with articles about the history and power of the Marvel fans, with stories that stretch our conceptions of heroes, whether through personal history, fandom or fashion. Available to buy here. 
2. Makers of Budapest
This guide book creates a living imprint of our times by drawing a creative map of Budapest. It is equally informative, aesthetical and functional, and serves as a creative guidebook and an illustrated anthology of art. Besides the 38 designers grouped by field of creative activities, the 22 shops and galleries are also listed where the objects presented in the previous pages are available, other than the designers' own workshops. To help find those shops and workshops, the relevant spots are displayed on a map. Available to buy here.
3. Conversation with a donkey. (Orig. Gespräch mit einem Esel)
You've probably never seen such a lovingly and lavish book like this. "Conversation with a donkey" revives the old tradition of the magical Transfiguration book: As you leaf through it, the pages suddenly change, once texts appear, then pictures inexplicably appear; in addition, the pictures and texts get moving when you scroll through them. A book for enjoyable reading and browsing! Available to buy here.
4. Christie van der Haak. Sproken | Fairy Tales
This book documents 35 years of works by artist Christie van der Haak, who was awarded with the 2015 Ouborg Award. Originally a painter, Van der Haak moved on to designing fabrics deployed both as autonomous artworks and upholstery, wall coverings, table-cloths and the like. While operating in the field of tension between art and design these categories carry little meaning to her. Available to buy here.
5. what we love: in 366 days (Orig. was wir lieben: in 366 Tagen)
A note calendar for 2020 with declarations of love for everyday life! Birte Spreuer and Daniela Spinelli collect little moments of happiness for you. Mischievous or cheeky, cheerful or thoughtful, they tickle memories and awaken longings. You dare small provocations and spice up your everyday life. When did you last jump around like a javelin? Maybe you will: with this calendar, in the fifth pocket. Available to buy here.
6. Remote places to stay
Silence. Calm. Open spaces. These are the new luxuries. In this turbulent era of disruption and noise, it has become ever more crucial to disconnect and slow down. Remote Places to Stay shares 22 out-of-the-way places where you can get off the grid and reconnect to the essentials, surrounded by raw, pristine nature. Some remote places are only accessible by foot, others by mountain train, small boat, or bush plane—but they are all places with a very strong sense of space. Available to buy here.
7. Insatiable ( Orig. Nienasycone)
An appetite for freedom, art, and fame … And for a chocolate cake! Fourteen amazing women will take you on a great culinary journey through countries and eras. Apparently you need to eat a barrel of salt with someone to really get to know him – but probably better to eat a Pavlov cake or delicious spaghetti? The authors (Polish and Norwegian) chose fourteen famous, creative and strong women and decided to get to know them better not only through the dishes that could be on their tables. They also wanted to play them: they recreated their costumes and surroundings, during the photo sessions, for a moment entering their roles and having fun at the same time. Available to buy here.
8. 9 Gates of no return
Grzybowska presents 9 persons who for various reasons and life choices have decided to give up their lives in the city and settle in the woods of the Bieszczady Mountains, south-eastern Poland. Bieszczady, which for many are a symbol of freedom and direct, tangible contact with nature, became a trap for them, which they cannot get out of. They live far away from other people, often without electricity and running water, in the huts they built themselves. Available to buy here.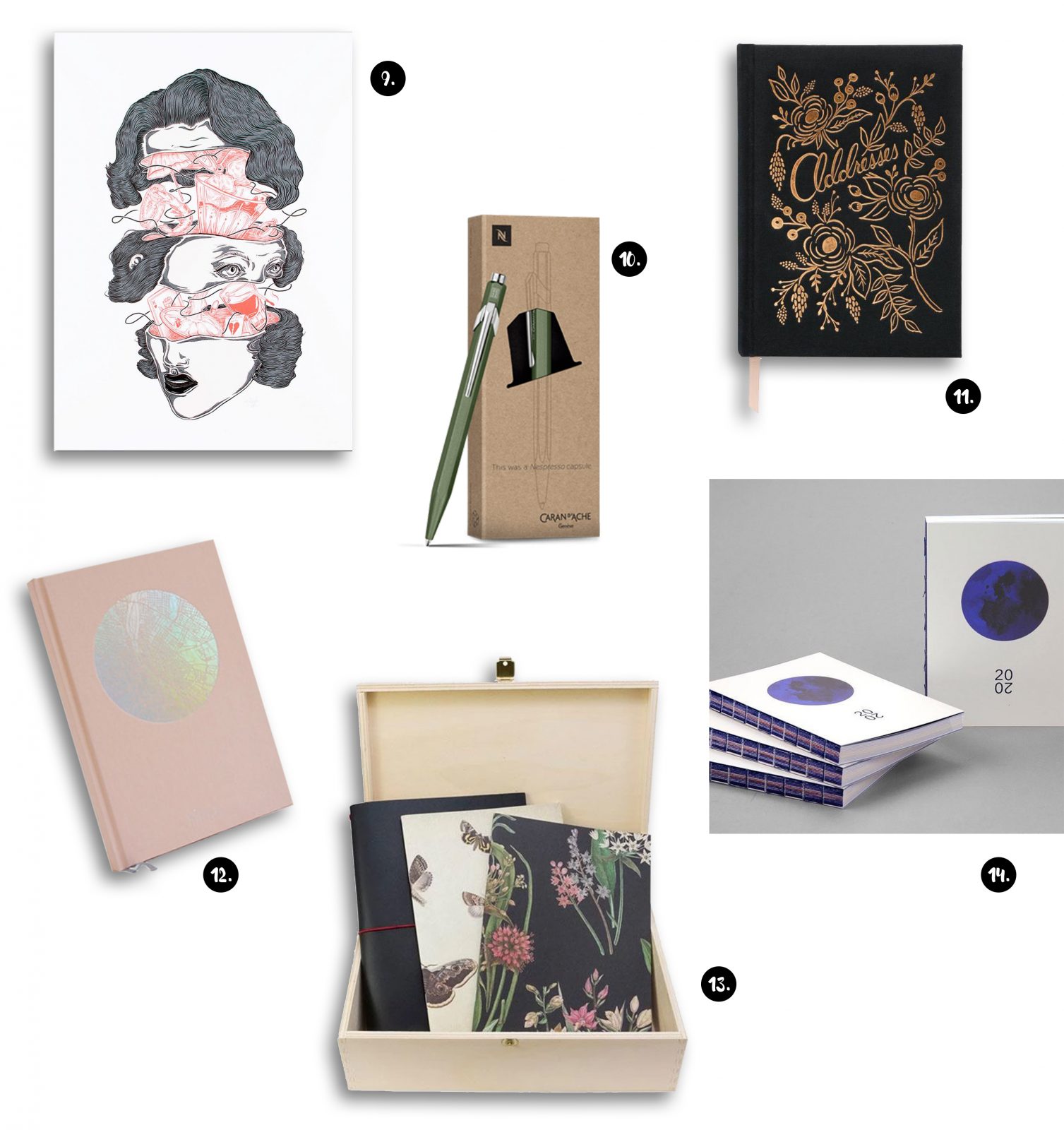 9. Art prints from Viadukt Screen Shop
Strictly limited artworks of national and international artists are presented annually within the course of Viadukt Editions. Participant artists are nominated by an expert jury and invited to a minimum four, maximum twelve weeks residency at Viadukt studios. Artworks created in the inspiring atmosphere are presented, exhibited and sold in strictly limited edition as Viadukt Edition at the end of each residency. All works are sold unframed. An original Christmas present, buy yours here.
10. Ballpoint pen 849 NESPRESSO Limited edition 2
Elegant lines, high-quality materials, pure pigments and extensive engineering have made Caran d'Ache's instruments and devices the epitome of sophisticated writing and writing throughout the world in its 100-year history. The "Ballpoint pen 849 NESPRESSO Limited edition" 2 is manufactured in Switzerland in a sustainable way, by using recycled Nespresso capsules. Available to buy here.
11. PAPER BIRD
Stands for stylish – minimalistic paper goods. The own-brand "PAPERBIRD" In addition to greeting cards and hand-bound notebooks, it also includes variations of the eponymous origami crane, which, as a single piece, garland or mobile, is a work of art in its own right. Available to buy here.
12. DOT FOR YOU – BUDAPEST FIRKA, bullet journal notebook
DOT FOR YOU designs and manufactures of one-of-a-kind paper stationery: planners, notebooks, copybooks. In cooperation with creative workshops and printing houses, DOT FOR YOU aims to manufacture products, where the production process involves considerable experimenting with traditional bookbinding techniques. The aim is to reconsider traditional printing house procedures and show off the brilliance of quality handicraft and Hungarian design made of premium raw materials, in a new light. Available to buy here.
13. Paper Republic Xmas Bundles
Exclusive bundles of wonderful, high-quality leather & paper gift packages suitable for everyone! Treasure your memories on natural, extra-smooth Swedish writing paper. Feed your imagination with fragrant leather, tanned with plants, herbs and wood, from family-run Italian tanneries. Explore the world with a travel companion that gets better with age and is made to last a lifetime. Available to buy here.
14. Munken Agenda 2020 – La Lune
There's always been something magical about the moon. This magic served as an inspiration to the graphic design students who took on the challenge of producing the Munken Agenda 2020. Their central idea and the main theme are that whether you work, study, party or relax, the day may just as well begin at midnight when creativity knows no boundaries. Available to buy here.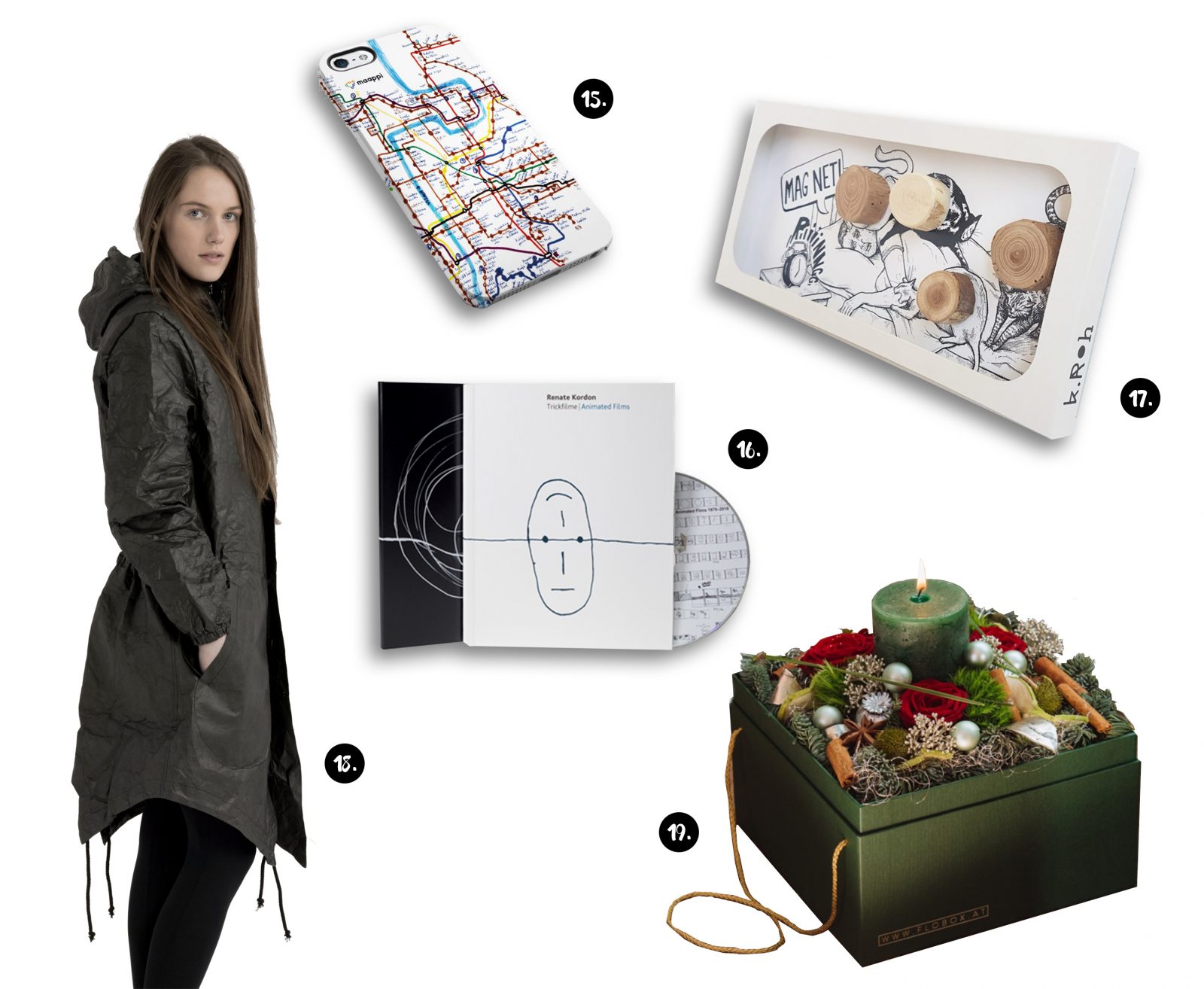 15. Maapi
Maapi is the story of 15-year-old Maty from Prague, who found his joy in designing transport maps on his computer, which are then printed on various merchandise such as tote bags, backpacks, converse shoes, phone covers, etc. Maty overcomes his Asperger syndrome with apathy-abulia syndrome by his designs and believes that one-day people will travel around Prague in his model of tram or underground train. Available to buy here
16. Renate Kordon – Animated Films (Orig. Trickfilme)
Book and DVD. Renate Kordon's animated works are inspiring examples of the possibility of inscribing non-imaginary perceptions into the imaginary medium of film, since the constant transformations remain related to the line as the basic element, thus opposing the technical identification associated with the imaginary of film. The imaginary mirror that Jacques Lacan discovers in photography and film is replaced by a window in which a cosmos becomes apparent. Available to buy here.
17. Mat net, set of 4 (cats)
These really (strong) wooden magnets hold everything for you – thin and thick maps, old and new photos, quiet and loud thoughts. Simply practical on the fridge, magnetic wall and any other metal surface – a must for nature-loving magnetic collectors. The MagNete have been produced since 2018 in the socio-economic workshop "Eibe" in the Waldviertel, Austria. The humorous illustrations are by Viktoria Strehn. Available to buy here.
18. Tyvek Streetwear by UEG
UEG creates neat clothes & accessories out of Tyvek® material! Launched in 2014 by one of the most acknowledged graphic designers in Poland – Michal Lojewski. UEG is a polish brand that plays on the concept of consumption using graphic design as its main tool. "USA E GETTA", Italian for "USE AND DISCARD" and refers to the temporary nature of today's existence.  Available to buy here.
19. Flobox Diplomat Christmas Time
The flobox Diplomat Christmas Time accompanies you during the Christmas season and is the ideal alternative to an Advent arrangement. Spices and herbs harmonize in the finest way with this flobox and spread the wonderful scent of oranges, lemons, and anticipation. Each box is unique at every opening. The candles are interchangeable, so nothing stands in the way of a merry Christmas. Available to buy here.