Last September we wrote about the new jewel in Europapier's Tinted Assortment, PERGRAPHICA® Colours, and the exhilarating campaign paper maker Mondi used to introduce their new collection to the world; Catching Feels. The campaign which was developed in unique digital to analog partnership with Adobe Stock is being continued with a new collaboration between Europapier Budapest and Edina's Paper.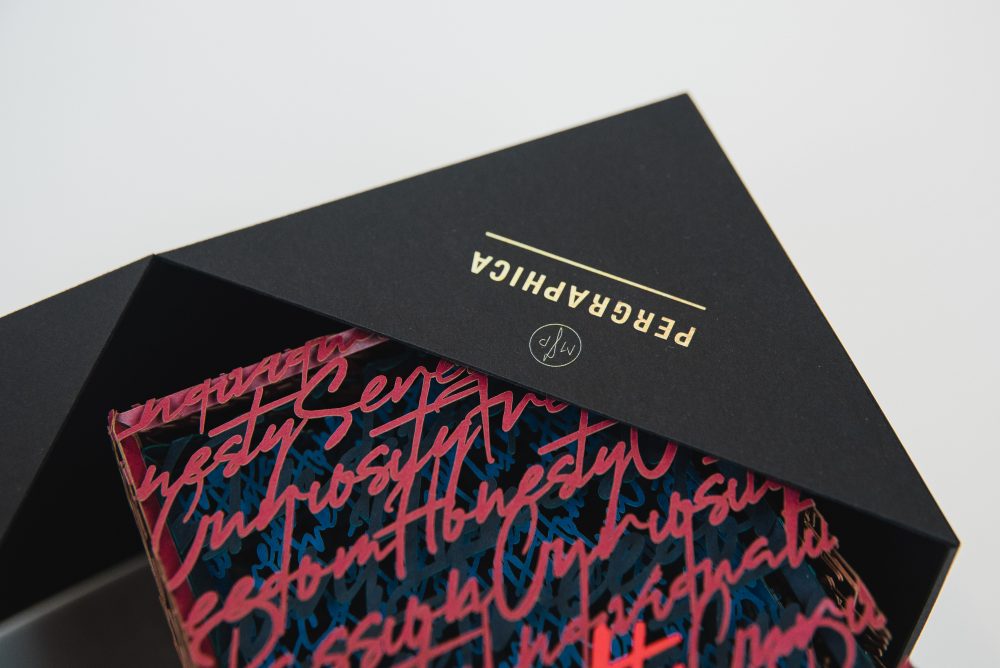 PERGRAPHICA® Catching Feels Cube takes you on a sensory journey through six feelings
Edina's Paper, whose stunning paper creations we've featured many times prior, is a Hungarian creative agency for paper designs, installations, decorations, workshops, exhibitions, and anything imaginable involving paper, is run by a creative force Edina Németh. The goal of the project showcased here was to emphasize the premium properties of the new PERGRAPHICA® Colours paper range. The concept of the Catching Feels cube is tied closely with the PERGRAPHICA® Catching Feels Lookbook by Mondi which takes you on a sensory journey through six feelings.  
The emotive and striking visuals within the Catching Feels Lookbook are by a selection of professional photographers and artists – each chosen for their ability to bring different feelings to life: Serenity: The state of being calm, peaceful, and untroubled., Passion: A strong and barely controllable emotion. Extreme interest in or wish for doing something, Curiosity: A strong desire to know or learn something. Something that is interesting because it is rare and unusual, Individuality: The quality or character of a particular person or thing that distinguishes them from others of the same kind, Honesty: Being free of deceit, truthful, and sincere, and Freedom: Elina is inspired by her surroundings, boundless sunrises and sunsets, unpopulated beaches and jungles overflowing with wildness.
"Listen to the silence. It has so much to say.."
"Nothing worth having comes easy."
"Curiosity about life in all of its aspects, I think, is still the secret of great creative people."
"It takes nothing to join the crowd. It takes everything to stand alone."
"When you photograph a face you photograph the soul behind it."
"It takes discipline to be a free spirit."

–


Combining PERGRAPHICA® Colours Noble and Imperial Red with Mysterious and Magical Blue – for an elegant and luxurious feel

The experience of the Catching Feels Cube begins with the opening of the mysterious box with UV printed logos, made of the premium quality PERGRAPHICA® Infinite black 300gsm paper. Within the outer, protective box, you find a delicate and intricately laser-cut lace-like cube, inspired by the emotion-awakening photography of the campaign.

The six Catching Feels campaign themes are also reproduced in the delicately cut typography that makes the two layers of the cube. A net of the six feelings makes up the structure of the outer cube, creating a mesh of emotion through layers, colors, and typography. The two separate cubes, each made of thingly cut typographic designs, have been carefully placed inside each other, creating a lace-like structure of words and emotions. Each side of the outer cube highlights a different "feeling", written in imperial red for a dramatic effect. The inner cube is made of two shades, PERGRAPHICA® Colours Mysterious Blue and Magical Blue, while the outer cube is made of PERGRAPHICA® Colours Noble Red with Imperial Red "Feelings".

The elegant design of the Catching Feels Cube has required both incredibly detailed design and planning, as well as careful execution by the talented Edina's Paper team, and sure is a delight and wonder for all paper, especially PERGRAPHICA® Colours range lovers. Learn more about the PERGRAPHICA® Colours paper range here. 

PERGRAPHICA® Colours is exclusively available at Europapier Group.