If you've ever visited the renown Museumquartier here in Vienna you are familiar with its beautiful buildings and impressive architecture. One of my favorite things about the area is its many snooks and gangways, one, in particular, the Typopassage. The outdoor exhibition space is an actual passageway between the two main squares and presents type design from a new edge experimental to the classics of the days past. The latest project is a temporary post office.
You can find the MuseumQuartier, short MQ, in every single tourist book and guide of Vienna, and there is hardly anybody who visits the city without going there. Even the locals love it, it being one of the main go-to places during hot summer nights and the perfect place to enjoy a cup of steaming mulled wine during winter days. It's so known, we never thought to write a single line about it, but with Typopassage we can make an exception!
Typopassage is one of those hidden gems of the MQ, complex which holds numerous museums and cultural institutes. This small passageway between the two squares hosts three different exhibitions by international designers annually, and under the same theme of typography. The place which consists of five cabinets bolted up on the walls and a vending machine where you can buy your own exhibition catalog or a related typographic piece, calls itself the Design Micro Museum With and About Lettering. It was founded in 2009 by the multidisciplinary design studio buero bauer, jointly with quartier 21. Buero bauer is an avid believer in the connection between design and the public, presenting design in an everyday context. Working as the driving force behind the Typopassage, curating the freely accessible exhibition series, they're also part of the team responsible of Typopassage in Timisoara, Romania, which we wrote about before.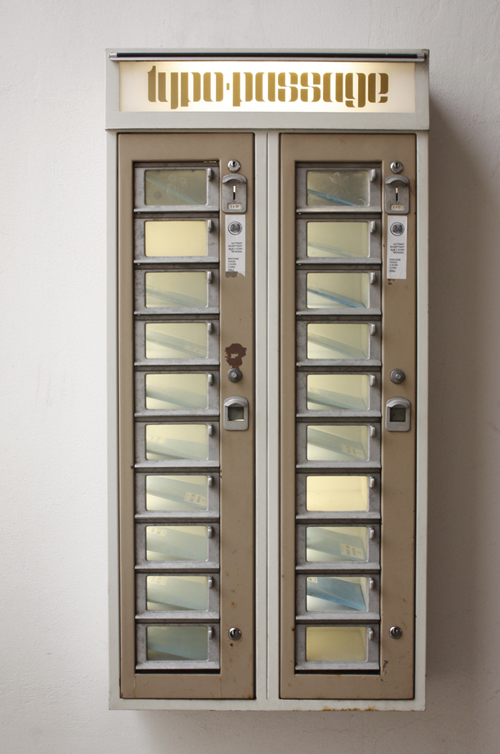 Their current exhibition is about original packagings of dairy products from the former Alpine Milk Factory between the 1930s-1980s. The charming packagings are a reminder from the olden days, with creative and sometimes almost ironic typography. A selection of these typographic findings are republished as postcards, which everyone is free to purchase from the vending machine. They even come with an enclosed stamp so you're encouraged to post them on the spot. This is a fun and humorous way to do something different from the boring holiday cards, or even more perfect for that one typography fan whose day you might make with sending one!
How to find it? Simple, at the biggest museum complex in Europe, the MuseumQuartier, find the passageway between the two main squares. It's located right next to the big yellow box next to Leopold museum. By the way, you can also find a Street Art passage, Kabinett Comic passage and a few others at MQ, but more on those later!
Images © Design&Paper