I've got to admit I'm not the biggest sports fanatic nor do I get all riled up watching men run after a ball for an hour and a half. But when it comes to FIFA World Cup, somehow I end up getting caught in the fever! A big part of the fun is rooting for your favorite team in different and creative ways, and the Yupo – We Are the Champions World Cup poster package is perfect for it.
FIFA World Cup, or simply World Cup, is an international association football competition by the senior men's national teams of the members of Fédéderation de Football Association (FIFA), the sports global governing body. The championship has been awarded every four years since 1930. The current champions are Spain, who won the 2010 tournament in South Africa. This year the World Cup is taking place in Brazil, and it starts in 7 days!
Rooting for your team is often so much fun, with dressing up, decorations, theme parties and social gatherings to raise the team spirit. And of course, we had to find a way to celebrate in our own, Design & Paper way. We'll be following the games with our SuperYupo® poster that shows the different stages the teams go through the games from group lineups, all the way to the finals. You can hang up the poster up on your wall, office hall or sports club, and by using the great YupoTako® stickers that won't smudge or tear you can follow the progress of the teams. The stickers work without glue and can be repositioned on the poster or any other smooth surface as often as you want.
The Yupo – We Are the Champions World Cup package also includes Yupo®Static flags of each participating country. And these are not just any average flags, but each one consists of two flags, held together by static power (crazy, right!). The flags can be stuck on any surface – smooth, rough, even on people! To apply the flags you need to grab them by one of the ends and pull them apart and apply them to the surface. Remember to be quick!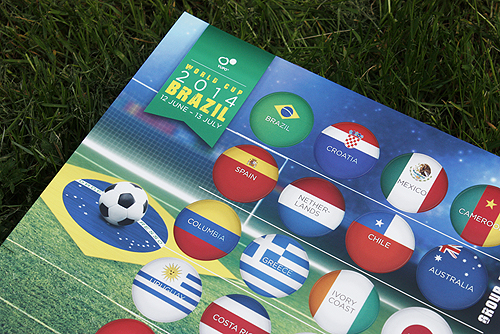 GIVEAWAY!
And the greatest part about this all is that we're giving some away! YES. All you football and paper fanatics, all you need to do is post a comment under this post and tell us which country you'll support. OR comment on our Yupo – We Are the Champions World Cup photo on facebook. And between all commentators we'll draw a winner. Simple as that!