Design papers are a fascinating and magical world where creativity, innovation, and problem-solving come together to create beautiful and functional print products. Each paper brand has its unique story behind it. And every two years, Europapier extends that story into a new Design Collection – which includes all our latest assortments, carefully curated in line with market innovations and fresh industry developments. The Design Collection serves as a crucial tool in the design process of creatives, helping bring their ideas to life, refine their concepts, and communicate their vision to the world.
The 7th edition displays over 90 brands and, next to many range extensions, also brings forward five completely new paper assortments. Our Eco Papers selection also holds a special place in this edition, as we steadily extend and perfect the range. And in addition to our new Eco Papers logo, this is the first collection where we have also highlighted the Cradle to Cradle® Certified brands. The 2023 Design Collection surpasses its already substantial predecessors in complexity and releases our most comprehensive edition to date.
During the planning and design of the new collection, one thing became very clear again. Paper is the truffle of the communication media. It impresses with its multifaceted nature. Natural, chalky, rough, or velvety soft, surface-structured, reflective, transparent, metallic, provided with stone dust, or colored with minerals, to name just a few characteristics. This variety has been carefully curated in the new Design Collection.  Every other year, we are striving to include the most exciting industry developments, in order to support creatives everywhere and to spark creativity for new, inspirational projects. And nothing is more rewarding to us than seeing those projects come to life!
                                                                             – Sandra Schmidt, Business Lead Design Papers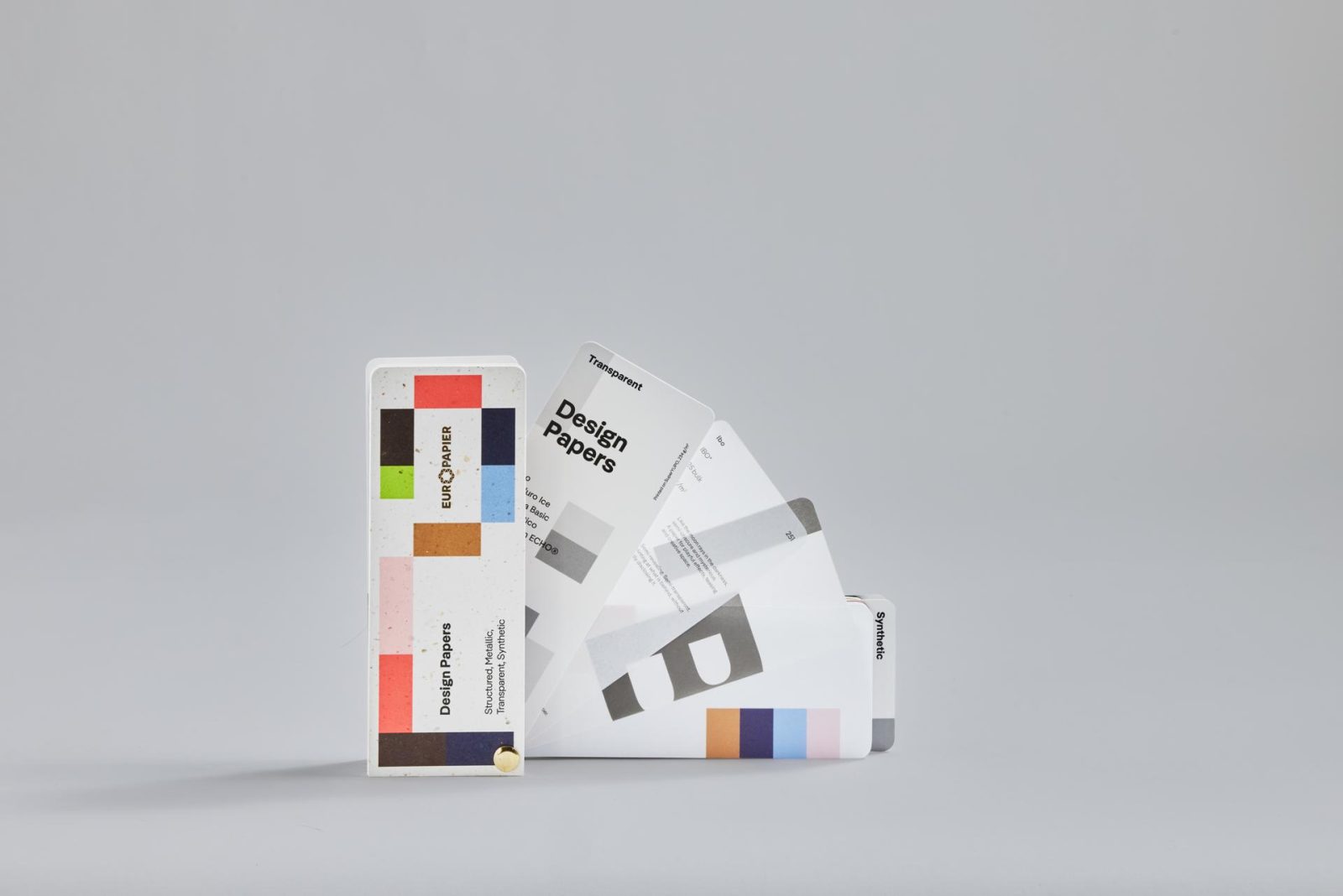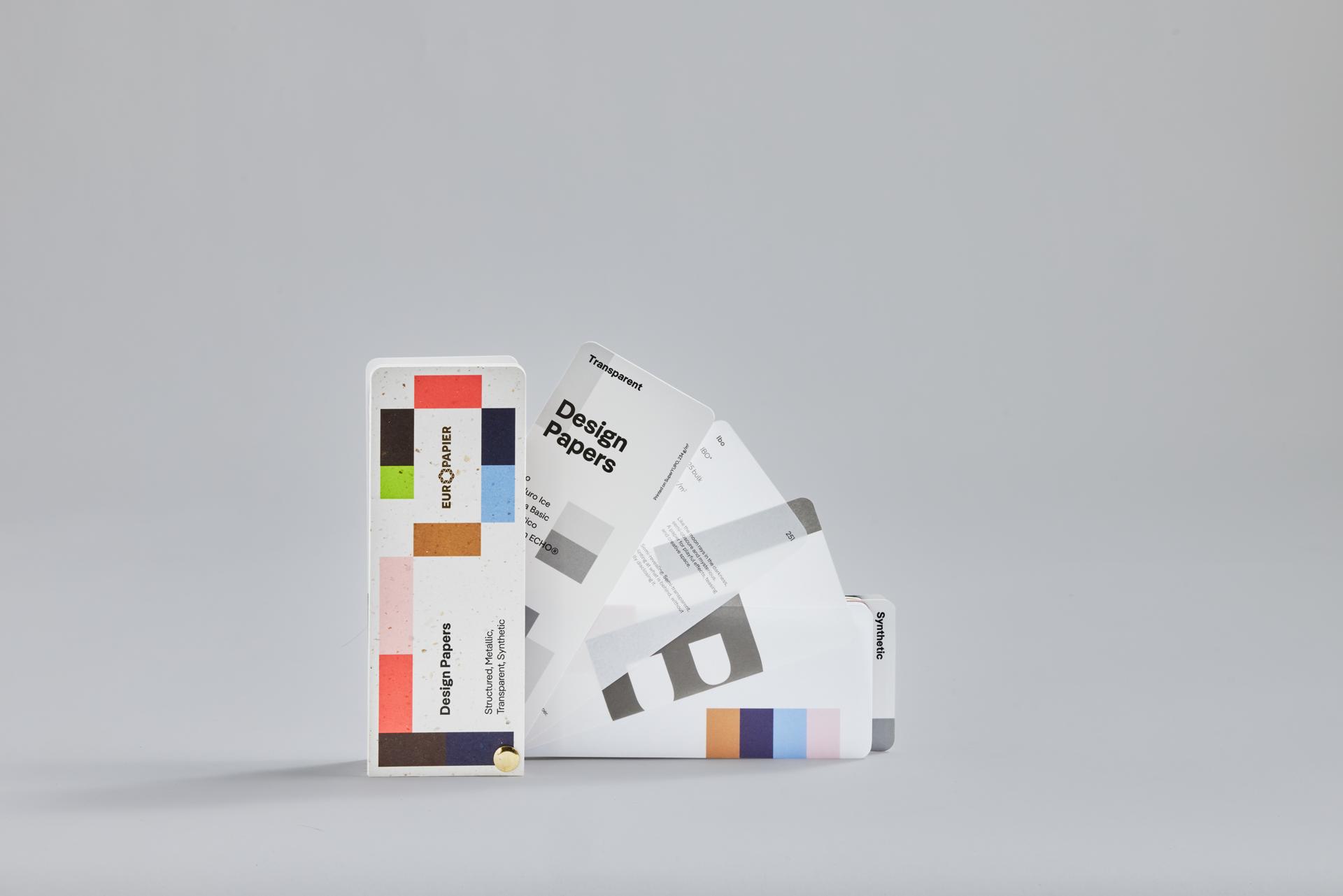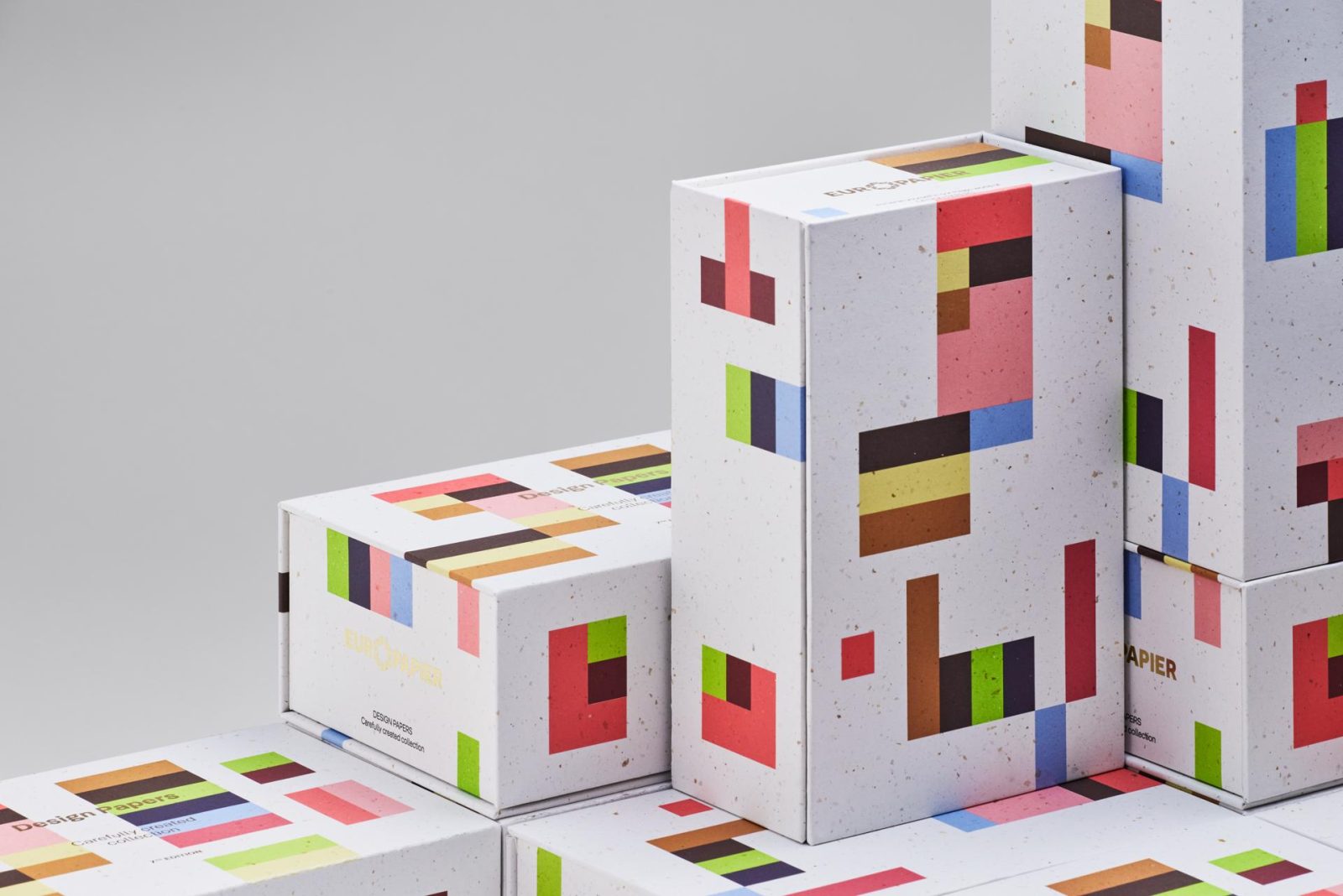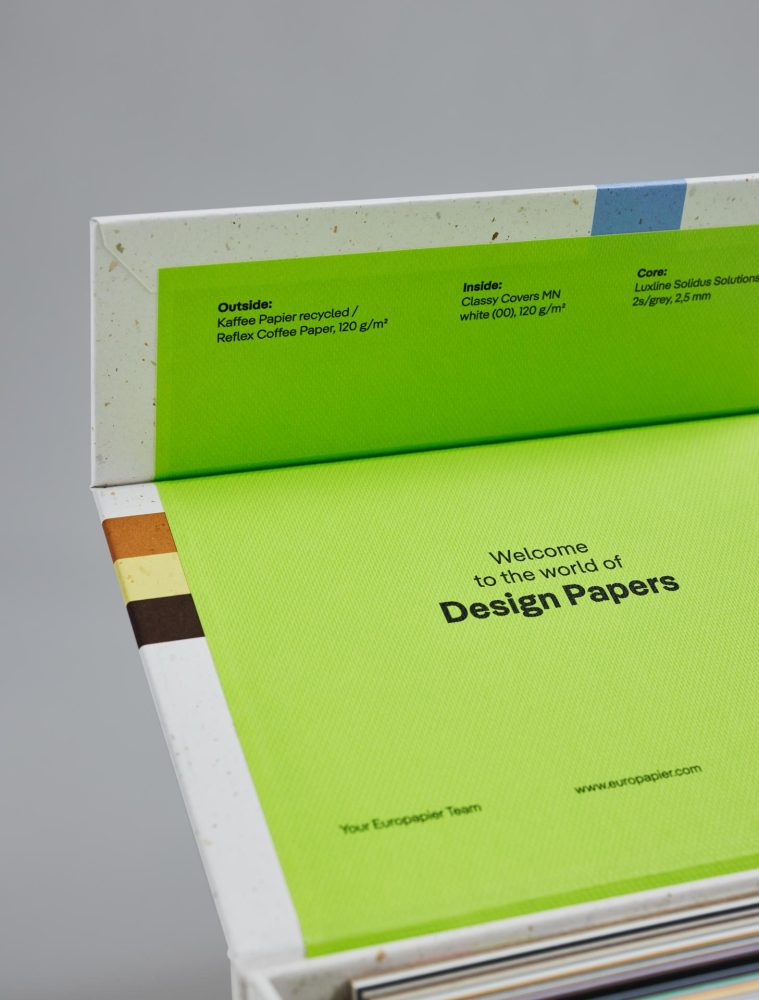 Building upon the success of its predecessors, the 7th edition of Design Papers is designed by Metaklinika, an independent design studio from Belgrade
During the design process itself, the team at Metaklinika focused on ecology and the importance of the recycling process. Wanting to use recycled paper, Coffee Paper was a logical and the best possible choice, due to its organic origin and visual dynamism, and tactile quality.
The thinking was to evoke the content of the catalogue and the rich selection of the different papers in it. The chosen color combinations shown on the box provide an insight into what kind of paper palette awaits someone when they open the lid. The pixelated packaging visuals represent the play of analog and digital, which is part of every design process. During the design process, the beauty and brilliance of combining bold geometric graphic elements with organic patterns of the Coffee Paper became evident.
The challenge of producing such a colossal and complex tool in a never-before-seen year within the paper industry was not easy. Paper availability issues, as well as big fluctuations among the players on the market, meant that everyone involved in the making always had to plan two steps ahead and consider backup solutions, much like a game of chess. Each time, the production of the Design Papers catalogue is more challenging and complex than the last time. The making of the 8 circle pages alone required 8 professionals a full 45 days to complete.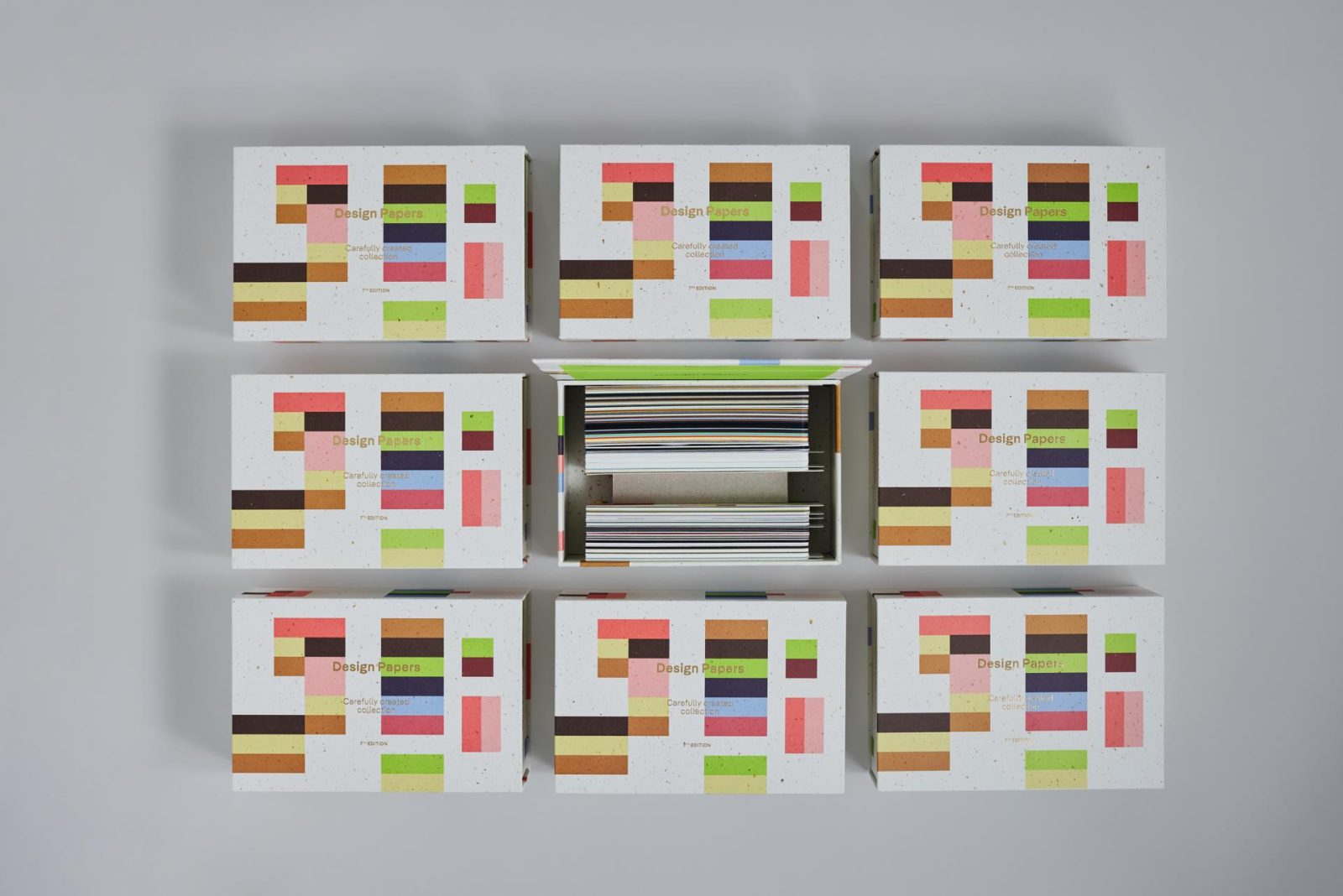 Each of the novelties in our 7th edition Design Collection tells a special, unique story, which will help creatives and industry professionals transpose their ideas into reality – as in the magical world of design papers, the possibilities are endless, and the only limit is one's imagination
New additions to the Design Collection are:
lahnur® – a unique printing substrate that perfectly combines together two previously opposite characteristics: durability and recyclability. Made with >80% renewable raw materials, this ISEGA-certified uncoated paper is twice as resistant as normal grades, durable and weather-resistant, while at the same time recyclable and biodegradable just as paper.

Koehler Eco® is the new tinted paper range made from 100% recycling fibers, which consists of two homogenous, deep shades: deep black and deep grey, developed especially for the exclusive packaging sector. The range impresses with a natural look and feel, through special, rough haptic and particularly rich colors, which are produced using a carbon-free staining method.

Crush up-cycling assortment – which replaces 15% of pulp with agro-industrial waste, has been extended with two new, fresh shades that complete the established range: Crush cocoa and Coconut – the latter's very dark shade given specifically by the coconut shell. 

Mohawk Renewal Hemp exemplifies a fresh expression of responsible papermaking: a natural paper, made from 30% hemp fibers, a fast-growing, renewable plant whose fibers are energy-saving when converted into pulp.

Gmund Canvas is a revolutionary, unique embossing that has never before been experienced on design paper. It impresses with both look and feel, which are very close to the natural aspect of linen. All four elegant shades make you think of the perfect linen textile and transmit the natural and genuine aspect of this rough texture.

When it comes to metallic papers, we have extended the already renowned GLAM assortment with a mesmerizing new, dark shade: slate gray, as well as reproduced existing colors in the one-sided pearlescent version, perfect for luxury packaging applications.
IBO tells the playful story of a 60g/m² thin paper, which is the creative solution to make content shine through from the previous and following pages of a book. Much like seeing the past, present, and future all on one page, IBO offers a further design element thanks to its semi-transparency.

Glama Basic, the already consecrated transparent paper assortment has been taken to a new level, by adding an extra white shade – for luxurious, high-quality printed matter.
In the world of synthetics, our latest addition SuperYupo® Plus offers the same durable matte polypropylene surface as SuperYupo®, with the added bonus that it can be printed with both conventional offset inks, saving on ink changing and machine cleaning times during production.
We'll be diving deep into the special characteristics and new possibilities the new paper assortments of the Design Collection offer, in future articles. So stay tuned! 
Carefully curated and made with great dedication, the Europapier Design Collection focuses on the needs of graphic industry professionals, creatives, and of course, paper lovers and invites them all to step into a world of magical possibilities.
To receive your own new Design Papers Collection, get in touch with your local Europapier paper specialist today!